Sports
Baker will see duty returning punts
Sun., April 12, 2015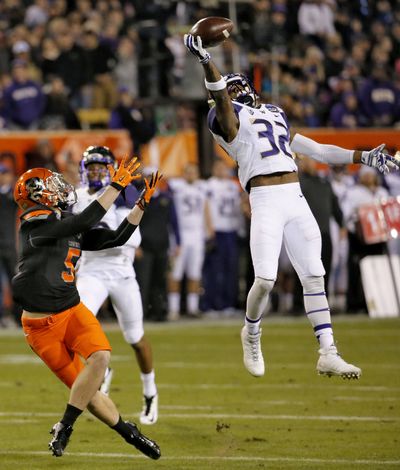 SEATTLE – He was only a freshman last season, so Budda Baker's role on the Washington Huskies football team was understandably limited.
Limited to a whole lot of defense and a whole lot of special teams, that is – so much so that he played more total snaps than anybody else on the team.
But now that Baker is older and has a more thorough grasp of his defensive responsibilities, the sophomore from Bellevue might see the field even more often – and in different ways – in 2015.
During Friday morning's practice, Baker, who started every game at free safety last season, took a few early, light snaps with the offense, and he's been working closely with coach Chris Petersen on punt-return drills the past couple of practices, too.
Petersen seemed especially intrigued by Baker's potential as a punt returner, which could spark an interesting competition. Dante Pettis, another sophomore, showed promise at the position last year, taking 28 kicks back for 288 yards and the Huskies' first punt-return touchdown since 2003.
But Baker's quickness and playmaking ability seem too enticing to ignore.
"Oh, yeah. We knew that in high school," Petersen said of Baker's return skills. "So we'll get him more involved in that whole thing. I think he's a dynamic guy on both sides of the ball, so he will definitely be factored into our return game."
And if he plays some offense, too, he'll become the third Husky in two seasons under Petersen to play both ways. All-America linebacker Shaq Thompson did it most notably last year, filling in (quite well) at tailback after injuries depleted that position. John Ross III, now a junior receiver, shifted to cornerback toward the end of last season and started UW's final four games there.
"Budda fits right in that category, as well. And I think a couple of guys that we signed are going to fit in that category," said Huskies defensive backs coach Jimmy Lake, likely referencing Marysville-Pilchuck star Austin Joyner and Federal Way athlete Chico McClatcher. "So it'll be interesting how many guys we rotate back and forth on both sides of the ball."
Baker played both offense and defense as a highly-touted recruit at Bellevue High School, where he also returned kicks and punts.
Local journalism is essential.
Give directly to The Spokesman-Review's Northwest Passages community forums series -- which helps to offset the costs of several reporter and editor positions at the newspaper -- by using the easy options below. Gifts processed in this system are not tax deductible, but are predominately used to help meet the local financial requirements needed to receive national matching-grant funds.
Subscribe to the sports newsletter
Get the day's top sports headlines and breaking news delivered to your inbox by subscribing here.
---