News > Spokane
BBQ competition draws high-profile grillers
Sun., April 12, 2015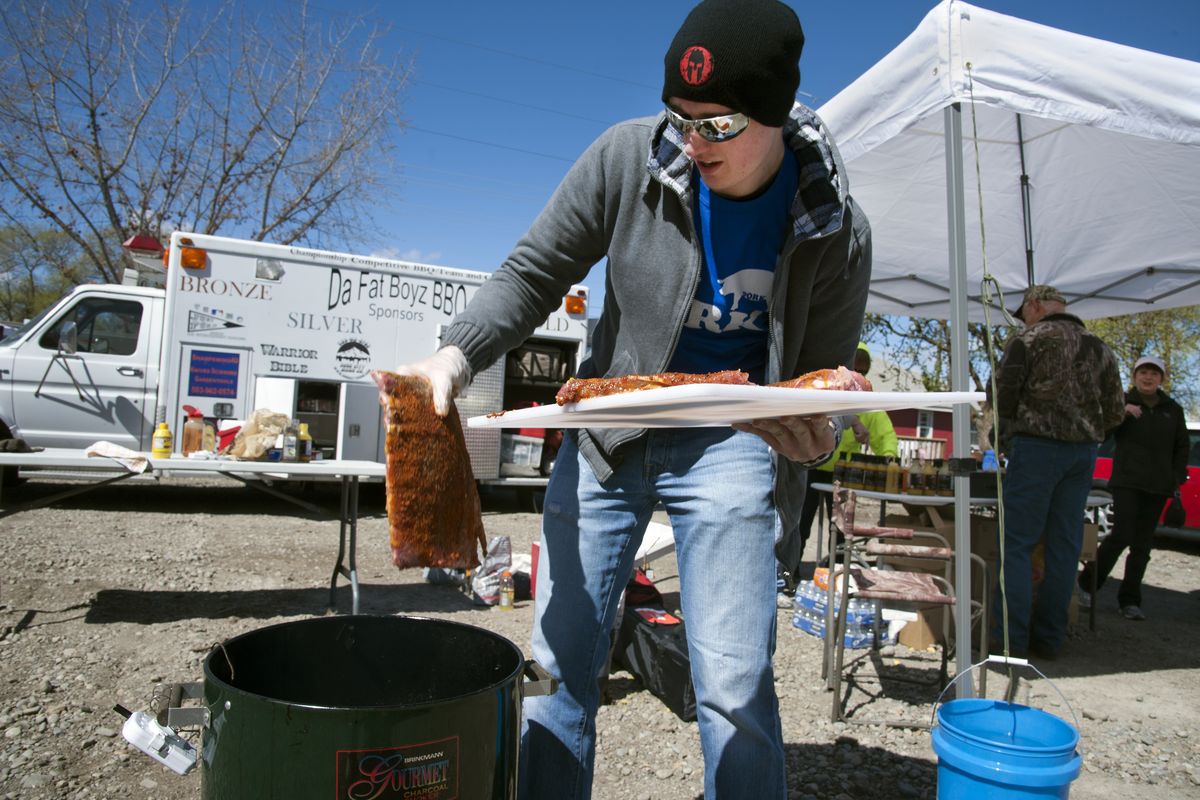 Tino Morenz slaps ribs on the grill Saturday as he participates in the Smoke in the Valley BBQ Championship at Uncle LeRoy's BBQ on Pines Road in Spokane Valley. Morenz will be a judge today when the main competitors vie for cash prizes totaling $5,000. Morenz says his secret to successful ribs is "Don't burn it." (Dan Pelle)
LeRoy Payne knows his way around a competitive barbecue. After all, he tied for second place in the 2011 Jack Daniels World Food Championship, beating Food Network star Guy Fieri. This weekend he invited a few of his friends to town for a homegrown barbecue competition.
Appetizing smells wafted over the large parking lot of Payne's restaurant, Uncle Leroy's BBQ, on Pines Road just south of Sprague Avenue on Saturday as the smokers fired up. In an effort to give the public something to do on the first day of the two-day competition, Payne had the judges behind the grills cooking on Saturday. Those competing for $5,000 in prizes will be judged today.
"It's brand new," Payne said of having the judges cook. "It went over well."
There was a waiting list for Payne's inaugural competition, which drew familiar names like Uff-Da-Q BBQ and Da Fat Boyz BBQ. "These are the guys you see on TV, a lot of them," he said. "This is 'Pitmasters.' "
Doug Root of the Ice Harbor Brewing team is in his 10th year of competing in the Northwest. "It's a good two years before you get to know the regional taste," he said. "It took us about five years to start winning."
During competition teams usually cook pulled pork, ribs, chicken and brisket. They can win for individual meats or win the grand championship, which is based on scores for all four meats.
Root's team won first place for its brisket in the World Food Championship in Las Vegas in 2012. In 2014, the team won the Idaho State Championship.
Tino Morenz traveled from his home in Bellevue to be a judge but found himself preparing chicken for the smoker Saturday. He meticulously cut the skin off each piece and scraped all the fat off the skin and meat before adding seasoning and putting the skin back on. "I'm doing the job everybody hates," he said as he scraped. "Hopefully the skin will be nice and crisp when you cook it." He also barbecued beef ribs.
It was watching episodes of "BBQ Pitmasters" that spurred Morenz to get certified as a barbecue competition judge. He liked smoking meat but couldn't do it on his apartment balcony. "You just come and eat all the good food," he said.
He has since moved to a home where he can have his own smoker in the backyard, but he's never taken his skills as a cooker on the road. "This is my first competition, I guess," he said.
It was also the first competition for Dave Carlberg and his wife, Debbie. They listened as Payne hosted a seminar on how he prepares his ribs as a crowd hung on every word. Many people asked questions and a few were taking notes. At the end he handed out a few samples. Carlberg got a rib and declared it the best one he'd ever eaten.
"It was delicious," he said.
Carlberg and his wife love watching the Food Network, but it's their son who loves barbecuing and smoking. "He couldn't come today so we told him we'd come and get some tips," Carlberg said.
Carlberg said he learned a lot and is eager to try to replicate Payne's ribs.
"It was worth the trip," Debbie Carlberg said. "We may have to come back out tomorrow."
Local journalism is essential.
Give directly to The Spokesman-Review's Northwest Passages community forums series -- which helps to offset the costs of several reporter and editor positions at the newspaper -- by using the easy options below. Gifts processed in this system are not tax deductible, but are predominately used to help meet the local financial requirements needed to receive national matching-grant funds.
Subscribe now to get breaking news alerts in your email inbox
Get breaking news delivered to your inbox as it happens.
---