News > Idaho
Former teacher immersed in love of history
Sun., April 19, 2015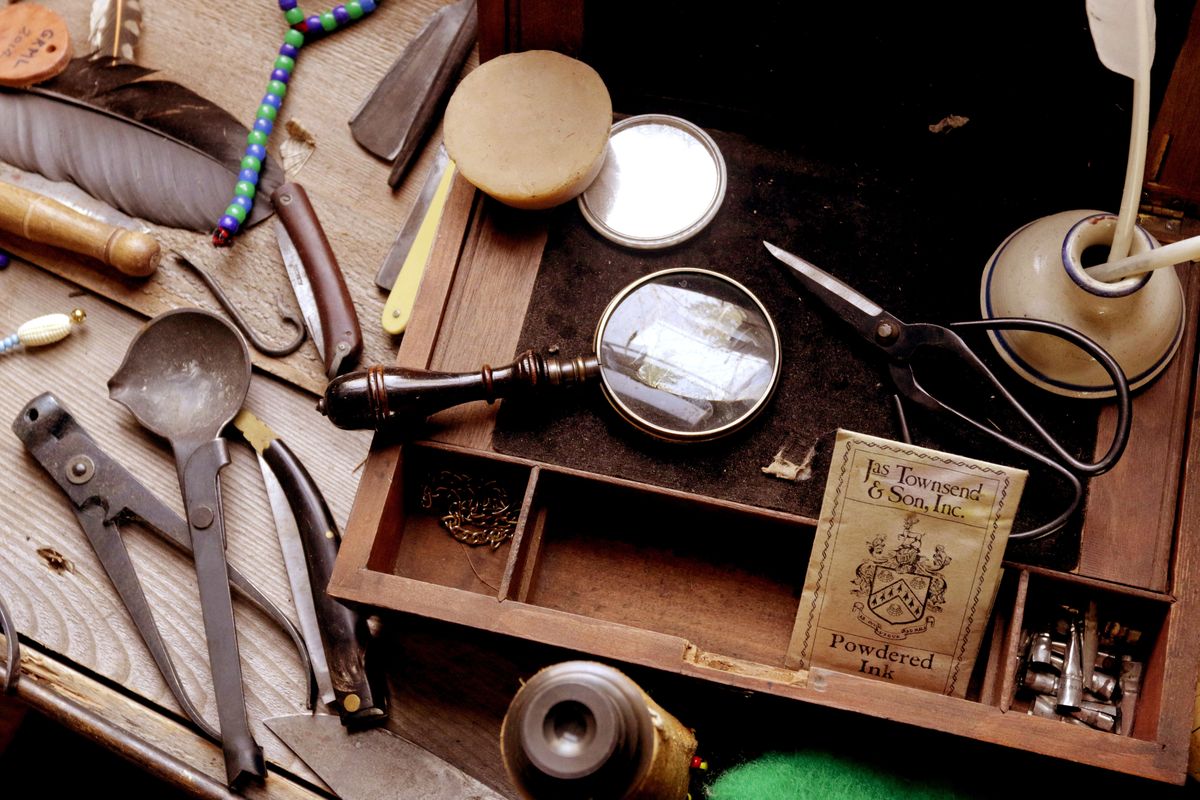 A collection of historic items Donal Wilkinson uses while on a rendezvous with the Hog Heaven Muzzleloaders is seen at his home near Moscow, Idaho, on April 7. (Geoff Crimmins)
MOSCOW, Idaho – Moscow resident Donal Wilkinson lives inside a museum disguised as a home. Or, maybe it's a home disguised as a museum.
Either way, one would be hard-pressed to find another house that contains as many historical artifacts.
Wilkinson, though, makes it clear the items adorning his walls and floors not only represent America's history, but his own.
"If I give you a tour of it, you'll get a tour of my life," he said.
The first thing one notices after stepping inside Wilkinson's rustic home is a wall of rifles and pistols used in the 18th, 19th and early 20th centuries. Most are reproductions, but Wilkinson said all are in great condition and can be fired. Wilkinson, who has been collecting guns since he was 6 years old, said he doesn't acquire guns he can't shoot – including his 450-pound, bronze 1877 Bulldog Gatling gun that fires up to 700 rounds a minute.
Firearms are not the only items Wilkinson collects. He also owns a wide array of clothing, tools and trinkets that span Native American history, the Revolutionary War and the Civil War. Some of these items were recently on display at the Moscow Public Library.
Wilkinson said his father was enthralled with history, and that enthusiasm was passed on to Wilkinson as he grew up on the East Coast. Wilkinson joined the Boy Scouts, where he gained an understanding and appreciation of early American culture, including Native American lore. He later earned college degrees in education, Native American history and biology, and eventually taught middle and high school history.
He didn't start collecting until after he moved to Moscow in 2004, when much in his life changed.
Wilkinson said he had something of an epiphany before he came to the Northwest. Seventeen of his friends have died from cancer over the years, and it changed his perspective on many things. Wilkinson said he realized he was a workaholic and wasn't appreciating life the way he should.
After moving to Moscow, he decided to work less – he now lives on $900 a month – allowing him to spend more time with family and friends and focus on his passions.
Aside from working 20 hours a week at Invertebrate Ecology in Moscow, Wilkinson also leads local youth groups and Boy Scout activities and is director of Adventure Learning Camps, a Moscow-based organization that provides educational opportunities for at-risk children through wilderness trips.
He has been involved in the Hog Heaven Muzzleloaders and the Mountain Man Rendezvous, both organizations that hold reenactments that harken back to the fur trade of the 19th century.
While on these outings, Wilkinson brings along his fur trade-era tools, guns and clothes, including a replica New Hampshire militia uniform that honors his family's East Coast roots. He also learned to make his own bullets with melted lead, much like Lewis and Clark did on the trail.
Wilkinson bought much of his collection online or at trade shows, but a portion of it came from his family.
After his father died, Wilkinson said, he visited his Pennsylvania home and cleaned out the old barn where his family kept many historical artifacts, including photos of his ancestors, and brought them to Moscow.
Wilkinson said he takes pride in learning about his family history. He said his ancestors lived in Nantucket, Massachusetts, where they were the first whalers in the country. They were also involved in the fur trade, which, he said, is the basis of one of six books he is writing.
He said he is writing the books partly to channel his love for the subjects and partly because of his father. Though they had many similarities, including a love of history, Wilkinson said, he wasn't close to his father, who only seemed to focus on the differences between the two. A gap grew between the father and son, and Wilkinson said he regrets not repairing the relationship while his father was still alive.
"I never had a chance to close the deal," he said.
The writing, he said, is "part of the processing for me."
The only issue is finding the time in his crazy schedule.
Local journalism is essential.
Give directly to The Spokesman-Review's Northwest Passages community forums series -- which helps to offset the costs of several reporter and editor positions at the newspaper -- by using the easy options below. Gifts processed in this system are not tax deductible, but are predominately used to help meet the local financial requirements needed to receive national matching-grant funds.
Subscribe now to get breaking news alerts in your email inbox
Get breaking news delivered to your inbox as it happens.
---