News > Obituaries
Obituary: Mowbray, Denny D.
Age 84
Sun., April 19, 2015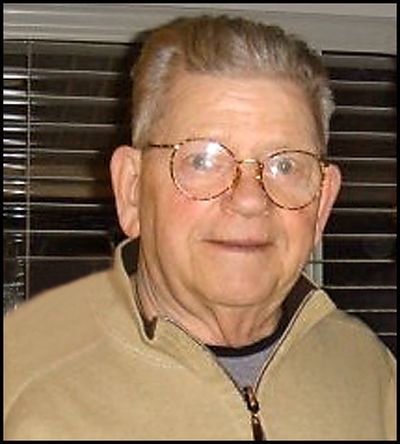 MOWBRAY, Denny D. (Age 84) Our beloved father, brother, grandfather and great- grandfather passed away peacefully on April 15th, 2015 at Fairwood Northridge Court.
Denny was born May 23, 1930 in Spokane, WA to Versal and Elenore Mowbray.
He is survived by his children Marcia (Moe) Smith, Jackie (David) Hughes, Janice (Rob) Loft, Michelle (Ron) Bergley and son Jeffrey (Alyssa) Mowbray; his 21 grandchildren, 15 great-grandchildren and two great-great-grandchildren; his six living siblings Nancy (Armon) Roschen, Glen (Virginia) Mowbray, Joyce (Dan) Soper, Gwen (Chuck) Mason, Marc (Cathy) Mowbray and Carol Anderson.
He is preceded in death by his beloved wife Lorraine of 50 years, his son Denny Stephen (Arlinda), grandaughter Heather Mowbray, son-in-law Moe Smith, his sister Connie and her husband Dave Hawes, his parents Versal and Elenore and his stepfather Chauncey.
Dad was a free spirited child.
At an early age he walked through downtown Seattle to jump onboard the Kalakala Ferry to shine shoes for a quarter.
Even as a young adult he worked as a door-to-door salesman for Fuller Brush and could tell you stories of people he met and could still remember today.
Dad spent most of his employment in sales and had a love for antiques.
He will be remembered for his generous nature, his funny impersonations, slapstick humor, and his love for children.
He was a kid at heart, we will miss the legend that he was and always remember the laughs he gave us.
The family would like to thank the Northridge and Hospice nurses for the love and care they gave to dad.
Funeral services will be held April 24, 2015 11:00 AM at Heritage Funeral Home 508 N. Government Way, Spokane, WA.
Inurnment to follow at Greenwood Memorial Terrace.
We request that memorial contributions be made to Hospice of Spokane.
Local journalism is essential.
Give directly to The Spokesman-Review's Northwest Passages community forums series -- which helps to offset the costs of several reporter and editor positions at the newspaper -- by using the easy options below. Gifts processed in this system are not tax deductible, but are predominately used to help meet the local financial requirements needed to receive national matching-grant funds.
Subscribe now to get breaking news alerts in your email inbox
Get breaking news delivered to your inbox as it happens.
---