Sports
Baseball stat geeks will love new Statcast analytical system
Tue., April 21, 2015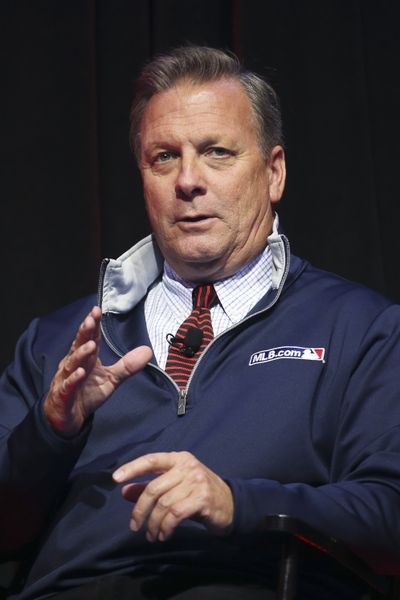 Which outfielder sprints the fastest and runs the longest to snag line drives into the gap? Which shortstop is best at throwing from the grass to nip the runner at first? Which catcher gets the ball to second base the quickest?
A new era in analytics starts today when Major League Baseball rolls out its Statcast tracking technology during the MLB Network's broadcast of the St. Louis Cardinals' game at the Washington Nationals.
Real-time access will expand quickly to Fox, ESPN and Turner, then to regional sports networks within about six weeks.
By June, fans should be able to look up leaderboards for hitters' exit velocity, fielders' route efficiency, speed and distance, and pitchers' spin rates and arm extension.
Cameras and sensors installed at each ballpark capture 120,000 bits per second. Henry Chadwick, who invented the box score in 1859, would be flabbergasted.
"Fans are ready for a deeper dive into what makes this game go," Bob Bowman, MLB's president of business and media, said.
All the equipment is in place at the 30 big league ballparks to gather information even the HAL 9000 could not compute.
ChyronHego developed high-definition arrays of three cameras apiece, each placed behind third base 15 meters apart, which capture 30 samples per second of stereoscopic video.
Trackman created a redesigned 3D Doppler radar with a panel containing multiple sensors that captures 2,000 samples of data per second.
Hardware was built specifically for MLB. Joe Inzerillo, executive vice president and chief technology officer of MLB Advanced Media, said the cost was tens of millions of dollars.
Code was written by a pair of Brazilians with Ph.D. degrees: Claudio Silva, a 45-year-old professor of computer science and engineering and data science at New York University, and Carlos Diedrich, a 36-year-old computer graphics researcher at Modelo who is a consultant for BAM.
Teams already have access to the data, and MLB thinks its biggest impact will be the defensive metrics.
All this information could be of interest to video game developers – "certainly can make them even more realistic," Bowman said.
Silva wants to see how teams will use all this information in evaluating their players and deciding which ones to sign and which to trade for.
Clearing the bases
Mets catcher Travis d'Arnaud will be out more than three weeks and reliever Jerry Blevins will miss more than six weeks after both were injured in a win over Miami. D'Arnaud will be in a splint for three weeks after his right hand was broken when he was hit by a pitch a day earlier. Blevins will be in a splint for six weeks after a line drive fractured his throwing arm. … Atlanta Braves reliever Andrew McKirahan was suspended for 80 games following a positive test for a banned substance under MLB's drug program. He was cited for Ipamorelin.
Local journalism is essential.
Give directly to The Spokesman-Review's Northwest Passages community forums series -- which helps to offset the costs of several reporter and editor positions at the newspaper -- by using the easy options below. Gifts processed in this system are not tax deductible, but are predominately used to help meet the local financial requirements needed to receive national matching-grant funds.
Subscribe to the sports newsletter
Get the day's top sports headlines and breaking news delivered to your inbox by subscribing here.
---