News > Obituaries
Obituary: Mckay, Robert Uuno
Age 67
Wed., April 29, 2015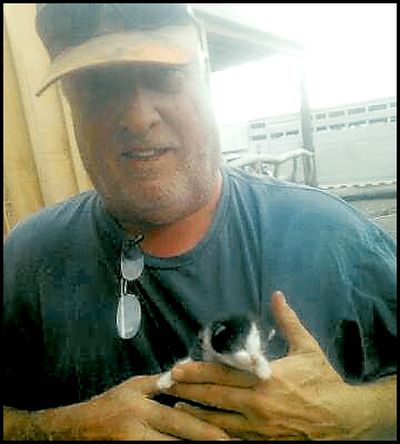 McKAY, Robert Uuno Of Sprague, WA passed away on April 21, 2015 in Spokane, WA.
He was born on December 4, 1947, to Betty and William "Bud" Tolonen.
Bob grew up in Almira, WA, and graduated from Almira High School in 1966.
After high school he followed in the family footsteps, farming.
Bob was also a volunteer fire fighter for Lincoln County Fire District 1.
Bob will be forever remembered for his great love of animals, especially the stray kittens he continually brought home.
He will also be remembered for his love of a good story.
He was famous for standing around for hours just shooting the breeze with anyone who would listen.
Bob is survived by his wife Sharon, of Sprague, WA; his children Tamara McClellan, of Spokane, WA; Travis McKay and wife Jonel, of Sprague, WA; Tj Buechner and husband Rowdy, of Sprague, WA; his stepfather Paul E. McKay, of Almira, WA and his brother William "Bill" McKay of Almira, WA.
He will be most missed, by his youngest granddaughters Addilynn, Ava "Lil Bob", and Austyn McKay.
DANEKAS FUNERAL HOME, of Ritzville is in charge of final arrangements.
The family will be holding a memorial get together Friday, May 1 in Sprague, First and B street at 2:00 PM.
Local journalism is essential.
Give directly to The Spokesman-Review's Northwest Passages community forums series -- which helps to offset the costs of several reporter and editor positions at the newspaper -- by using the easy options below. Gifts processed in this system are not tax deductible, but are predominately used to help meet the local financial requirements needed to receive national matching-grant funds.
Subscribe now to get breaking news alerts in your email inbox
Get breaking news delivered to your inbox as it happens.
---