City investment pool loan to help fund East Mission trail bridge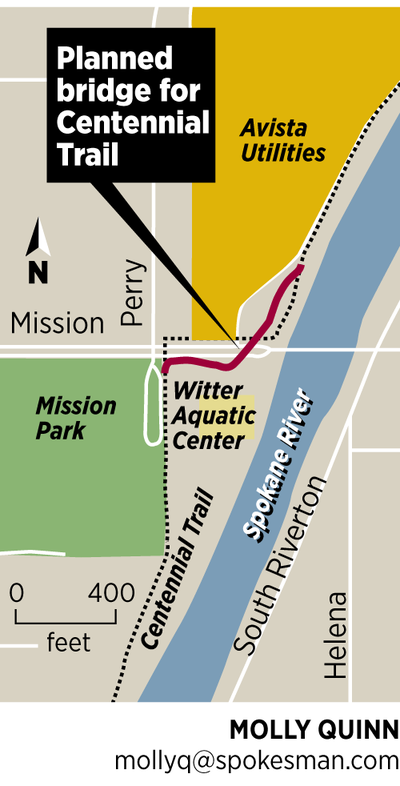 The Centennial Trail is a long ribbon of pavement running through the heart of Spokane with few places where a walker, runner or cyclist has to stop for traffic.
Now there's a plan to fix the most worrisome crossing in town – East Mission Avenue, with its four lanes of traffic, turn lanes and a rail crossing.The Spokane City Council approved last week what amounted to an intracity loan.
By borrowing $1 million from the Spokane Investment Pool, which will be repaid with traffic-calming money generated by the photo red-light program, the council hopes to find matching grants and other funding to build a $2.5 million bicycle-pedestrian bridge over Mission Avenue.
If no matching dollars are found within two years, the money would either revert back to the investment pool or would have to be put toward another traffic-calming project.
"I'm real optimistic," said Councilman Jon Snyder, who came up with the idea to use investment pool funds to find matching grants. "That's something we've been pretty good at doing in the city, and I think we can do even better."
Snyder said the likeliest source of funding was the state.
"The state likes when you've already put in a big match," he said. "You've got to put some skin in the game, and this is our skin in the game."
Gavin Cooley, the city's chief financial officer, approves of the idea.
"I think it's a really well-considered plan," Cooley said. "From a lending standpoint, the city's not losing anything. It's a small portion of our overall investment portfolio."
The city's investment portfolio now contains more than $500 million, thanks in large part to the recent issuance of $200 million in green bonds for the city's integrated clean water projects, and the $64 million Riverfront Park bond approved by voters last fall.
Cooley said the primary concern with borrowing from the investment pool is making sure there's enough cash to pay for the city's myriad responsibilities.
"When you have half a billion (dollars) in very liquid assets, cash flow is not an issue," he said. "There's no way that our $15 million or so in SIP investments has any impact on cash flow."
The Spokane Investment Pool was created in 2007 to centralize the city's funds and investing capital, and with the goal of more active management of the city's investing ability.
Under the city's existing policy, 15 percent of the investment pool can be loaned to the city, and for a maximum term of five years. With that rubric, the city can loan itself up to $75 million and not violate its own policy.
Councilman Mike Allen voted against the loan along with Councilman Mike Fagan. Allen said he was concerned the investment pool was being drawn upon too frequently, a "new panacea of money to get into."
"We are wandering off a path here," he said, expressing concern that voters would not have a say in taking on the debt. "That to me is a grave concern."
Another potential source of funding that Snyder had previously mentioned at committee meetings was Avista, which sits just north of where the bridge will be.
Months before the vote, Snyder had talked about the possibility of Avista contributing to the project. He says now that he hasn't talked to them and is focused first on finding grants, but he suggested at Monday's council meeting that Avista may still hear from the city.
"We could go to the state, we could go to the federal government, we could go to other sources, maybe even private sources who would want to contribute … to get this thing built, hopefully in the next couple years," Snyder said.
Jessie Wuerst, a spokeswoman with Avista, said the company was supportive of the project and was involved in the 2014 feasibility study that led to the current project designs.
Any talk of Avista putting money into the project was speculative, she said.
"We were initially involved with the beginning of the project because we're a stakeholder, because it's in our backyard, our employees use it," Wuerst said. "We continue to be part of the conversation, but who knows at this point? It's definitely something we're interested in."
Still, Snyder said he was excited about the bridge.
"This is something we've been trying to do for 20 years," he said. "We just need to start thinking big. We can whittle away at some of this stuff and take 20 years, or we can think big and get it done with right away."
---