Sports
EWU's Cooper Kupp one of three finalists for FCS top player
Tue., Dec. 1, 2015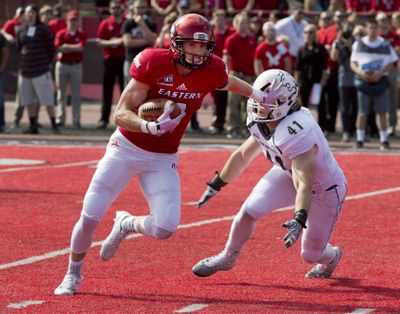 Eastern Washington wide receiver Cooper Kupp is one of three finalists for the Football Championship Subdivision's equivalent of the Heisman Trophy.
Already the top receiver in FCS, Kupp will learn on Jan. 8 in Frisco, Texas, whether he's the top player at any position. The voting has already been done: a national panel of 150 sports information and media relations directors, broadcasters, writers and others dignitaries voted after the end of the regular season.
The record-breaking junior – who announced Monday night that he would return for his senior season – will compete with a pair of running backs: Marshaun Coprich of Illinois State and Kade Harrington from Lamar for the title of STATS FCS Offensive Player of the Year.
The award replaces the Walter Payton Award; it was sponsored by The Sports Network, which was acquired this year by STATS, a sports technology and data company.
All three players were selected as the top offensive players by their respective leagues – Kupp from the Big Sky Conference, Coprich from the Missouri Valley and Harrington from the Southland.
Kupp closed the 2015 season by catching 114 passes for 1,642 yards and 19 touchdowns. Coprich finished with 1,720 rushing yards (6.2 per rush) and 20 touchdowns, and Harrington had 2,092 yards on the ground (7.9 per rush) with 21 scores.
Earlier this year, Kupp became only the second wide receiver in 42 years to win the Big Sky Conference Offensive MVP Award.
"To be recognized in this regard is a by-product of the incredible work ethic he's had since he arrived here," Eastern coach Beau Baldwin said.
Kupp led FCS in five categories – receptions, receptions per game (10.4), reception yards (1,642), reception yards per game (149.3) and touchdown receptions (19). The players closest to him in FCS were eight catches, 298 yards and four TDs behind him.
Local journalism is essential.
Give directly to The Spokesman-Review's Northwest Passages community forums series -- which helps to offset the costs of several reporter and editor positions at the newspaper -- by using the easy options below. Gifts processed in this system are not tax deductible, but are predominately used to help meet the local financial requirements needed to receive national matching-grant funds.
Subscribe to the sports newsletter
Get the day's top sports headlines and breaking news delivered to your inbox by subscribing here.
---