News > Features
Fermented tea develops a following
Tue., Dec. 1, 2015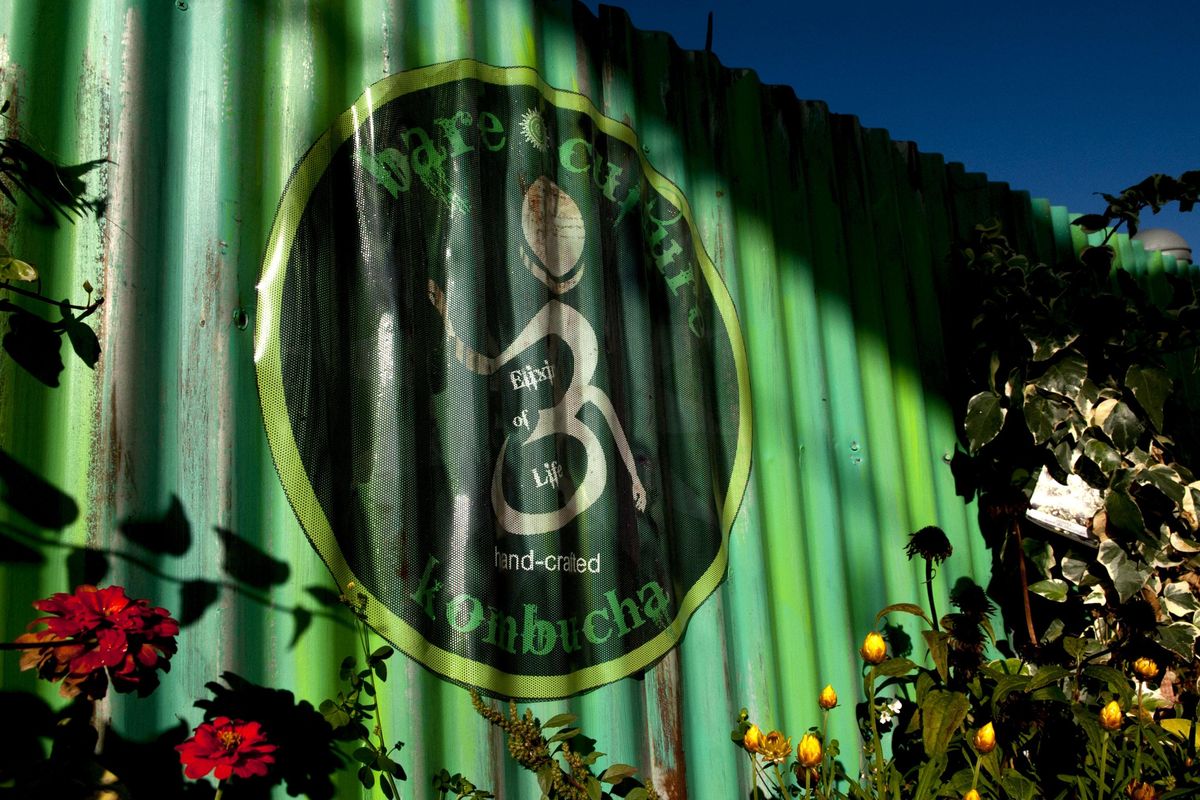 Bare Culture Kombucha is a new business in Coeur d'Alene photographed on Tuesday, Oct. 20, 2015. Kombucha is produced by fermenting tea using a "symbiotic 'colony' of bacteria and yeast". (Kathy Plonka / The Spokesman-Review)
Heather Threadgill had been fermenting tea at home for almost a decade when she decided it was time to expand.
The kombucha operation "got bigger and bigger at my home and started taking over my kitchen," she said.
In 2013, Threadgill opened Bare Culture kombucha, becoming the first commercial producer of the fizzy tea drink in the Inland Northwest. Previously, she'd been selling kombucha to other moms in the school parking lot.
"We would all descend upon her," laughed Renetta Seeley, a nurse who became such an enthusiastic kombucha drinker that she now co-owns the company with Threadgill.
Threadgill's storefront in Coeur d'Alene offers eight flavors on tap: everything from strawberry blood orange, which has a mild sweetness with hints of vanilla, to a fresh-tasting cucumber pineapple ginger. She sells kegs to natural food stores, co-ops, restaurants and taprooms in Washington, Idaho, Oregon and Montana.
"I really liked being able to have a healthy beverage that was on tap," she said.
Kombucha is a fermented beverage made from sweetened green or black tea. It's thought to have originated in China and became popular in the U.S. among alternative health enthusiasts in the 1990s. In the past few years, it's grown into a mainstream offering.
Many kombucha enthusiasts say the taste is an acquired one – a sort of sweet-acidic combination that hovers between vinegar and sweet tea. Flavored varieties have juice, purees and other ingredients added after fermentation. At Bare Culture, those flavors are about 10 percent of the finished product.
Devoted kombucha drinkers often cite its health benefits as a probiotic food. However, there's little academic research on the effects of kombucha in humans, so claims on some natural foods websites about the beverage's ability to prevent cancer or reduce joint pain remain unproven.
Some people have reported upset stomachs or other side effects from drinking kombucha, and many health websites advise new drinkers to start slow, drinking just 4 ounces at a time to let the body adjust.
But with more mainstream doctors promoting good gut bacteria as an important part of health, it's not surprising that kombucha is taking off. Threadgill said she has cancer patients who buy her product to help get their bodies back in balance after chemotherapy.
"They've had chemicals to kill all these bad things in their bodies and haven't been given anything to replenish that," she said.
Juices and flavorings can add sugar to kombucha, but a plain 8-ounce serving without flavoring has about 30 calories and 2 grams of sugar, making it a healthy alternative to soda or beer for people who want a drink after work. Spokane health coach Donell Barlow homebrews kombucha and encourages her clients to drink it.
"I use kombucha to get a lot of people off pop and sugary drinks," she said.
Scoby-do
I started drinking kombucha in college as part of a larger kick to try regulating my fussy stomach by giving it good microbes. It seemed to work, but the habit was expensive: commercial bottles of the stuff typically run at least $3 for 16 ounces. The logical course of action was to start fermenting tea in my dorm room.
The fermentation process depends on a scoby, or a circular gelatinous colony of microorganisms with an off-white hue that makes it appear somewhat extraterrestrial. The word itself is an acronym for "symbiotic colony (or culture) of bacteria and yeast."
To make kombucha, you start with hot tea, add sugar and then add a scoby with some mature liquid. During fermentation, a new scoby grows like a film over the liquid, allowing you to pass the gift of kombucha along to a friend. To keep things at an optimal temperature, some homebrewers like Barlow keep the kombucha sitting on a small plug-in heating pad.
My first scoby came from a stranger on the Whitman College student email list. It lasted a semester in my room but died of neglect after I entrusted it to my friend during a semester abroad. A second scoby acquired a few years later succumbed to orange mold, possibly due to being stored a bit too close to the fruit bowl on my counter.
Now, I'm on my third culture, which grew from a bottle sold by Hierophant Meadery. Jeremy and Michelle Kyncl's main business is mead, but they produce a few kegs' worth of kombucha per week. They sell it in bottles at farmers markets as well as in their Green Bluff tasting room. Proceeds from the sales benefit the Higher Ground Animal Sanctuary, which takes in farm animals who might not otherwise have a home.
Like me, the Kyncls started fermenting kombucha in college, though they've kept the same culture alive for eight years in Seattle, Portland, Spokane and a few other cities along the way.
"It's well traveled. It's got a richness in the microbial population," Jeremy Kyncl said.
For Kyncl, kombucha and mead are part of a larger passion for fermented foods in general. Like other kombucha drinkers, he believes bacteria-rich foods are important to promoting gut health and likes to help other homebrewers get started.
"It's just about getting people fermenting," he said.
Fresh kombucha from a local producer often tastes different than larger store-bought brands, which sometimes dilute their end product with tea. Even among homebrewers, flavors can vary dramatically depending on the cultures in the scoby.
"It's a live, living drink so it keeps its flavor really well," Threadgill said.
Basic Kombucha
Adapted from "Wild Fermentation" by Sandor Ellix Katz
1 gallon water
1 cup sugar
4 tablespoons loose-leaf black tea, or about 8 teabags (you can also do green tea or a 50/50 blend)
1 scoby with 2 cups mature kombucha
Add sugar to water and bring the water to a boil. Remove water from heat, add tea, cover and let steep for about 15 minutes. Strain tea into a glass container, ideally with a wide mouth. Let it cool to body temperature, then add the scoby, opaque side up, and mature kombucha. Cover with a cheesecloth or other cotton cloth and let sit for about a week, ideally at 70 to 80 degrees. Taste the kombucha and remove the scoby when it's reached your desired level of acidity.
Peach Basil Kombucha
From Spokane health coach Donell Barlow
1 recipe homebrewed kombucha (See recipe above)
3 drops food-grade ginger essential oil
About 5 large basil leaves
4 tablespoons loose-leaf peach tea
Follow the process for basic kombucha. Once the kombucha has fermented to your desired level of acidity, remove the scoby, add ginger oil, basil and peach tea. Let the kombucha sit for two days to absorb the flavors, then strain it out.
Local journalism is essential.
Give directly to The Spokesman-Review's Northwest Passages community forums series -- which helps to offset the costs of several reporter and editor positions at the newspaper -- by using the easy options below. Gifts processed in this system are not tax deductible, but are predominately used to help meet the local financial requirements needed to receive national matching-grant funds.
Subscribe now to get breaking news alerts in your email inbox
Get breaking news delivered to your inbox as it happens.
---