News > Business
Front & Center: Gray Dog Press binds writers' dreams
Sun., Dec. 13, 2015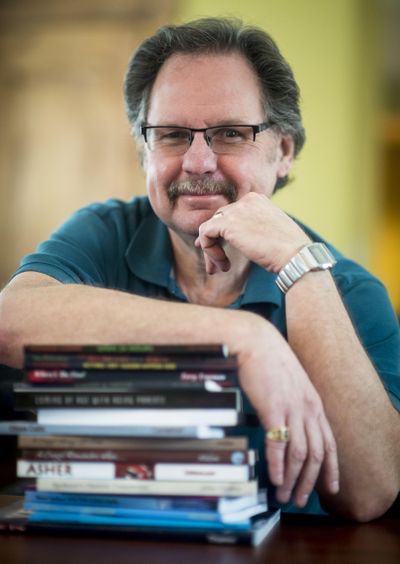 Perhaps the man's bucket list included getting published.
What struck Russ Davis was the customer's size – 6-foot-5 – and his demeanor.
"He was grouchy as hell," Davis recalled.
The man had started writing a book a decade earlier, then set it aside. When he discovered he might not be long for this world, he finished the manuscript and brought it to Gray Dog Press.
"I took the thing," Davis said, "did the layout, called him up, and said, 'I have a proof copy for you.'
"When he arrived and I handed him the proof, this big, burly guy broke down in tears. He couldn't believe he was holding a book with his name on the cover and his writing inside."
Davis has helped hundreds of authors realize their dream of publishing their own books of poetry, recipes, Western romance or crime novels – even if the print run is a mere dozen copies. And the process is faster and less expensive than most imagined.
During a recent interview, Davis discussed his circuitous route to book publishing, the origin of his company's name, and how close he came to going under during the recession.
S-R: Where did you grow up?
Davis: Denver, Colorado.
S-R: Did you read much?
Davis: I read a lot of science fiction – all of Isaac Asimov's stuff.
S-R: What was your first career?
Davis: After two years in the military, I got a degree in petroleum exploration technology. I worked at that for eight years – mostly with computers – until the big oil crash in 1986.
S-R: Then what?
Davis: I left the oil industry and took a job programming point-of-sale systems for a Spokane paint company. When my marriage ended eight years later, I moved on and started a small printing business.
S-R: Why printing?
Davis: It was one of the few businesses I could start with the money I had on hand. At first I worked out of my home, but that drove me nuts. So I created a small company that in 2001 became Dittos Print and Copy.
S-R: What led to book publishing?
Davis: We bought an inexpensive binder, and one of its tricks was binding covers onto book blocks. I played with that, and within a few months we had enough work to justify buying a proper binder. Gradually we learned the craft and launched Gray Dog Press in 2008.
S-R: What inspired the name?
Davis: Zach, a gray miniature schnauzer I had at the time. When he had to go, we got Booker, another miniature schnauzer.
S-R: Is your niche what is euphemistically referred to as "vanity press"?
Davis: To a certain degree. We help a lot of authors get their stuff laid out, designed and produced. But probably two-thirds of what we do is short-run production for other publishers – anywhere from 20 to 1,200 copies.
S-R: How did you get on their radar?
Davis: We started with universities, then picked up a couple of regional publishers. Through word of mouth, we now have clients in New York, Florida, Arizona, even Australia. During the past seven years, Gray Dog's revenue has grown from practically nothing to well over 50 percent of Dittos' gross sales. Without it, I don't know what I'd be doing, to be honest.
S-R: What distinguishes Gray Dog Press from short-run publishers one might find online?
Davis: Vanity press publishers typically offer packages that start at around $999. After all is said and done, you can easily spend $2,000 and end up with 20 copies of your book. We provide layout and design services for a run of 200 copies, and you'll probably be into it for less than $1,000. Plus we offer ISBN registration, copyrighting and a digital version.
S-R: How would you characterize the quality of the books people bring you?
Davis: From good to very bad. Even stuff sent to us by other publishers can be rough, because the process is so automated that significant errors can slip through. But once a publisher hires us, we usually end up doing all of their stuff, because our attention to detail is among the best in the business.
S-R: If an author brings you a manuscript riddled with errors and has no interest in correcting them, will you print it as is?
Davis: Yes, but my name won't go anywhere near it. The same goes for manuscripts laid out in Word, because they scream "self-published."
S-R: Are there books you won't print?
Davis: I won't print anything pornographic, overtly sexual or racist.
S-R: How has the business evolved since 2008?
Davis: As we got more into printing books, we upgraded to printers configured specifically for that job.
S-R: How much do your printers cost?
Davis: Between $60,000 and $80,000. But we just lease them, and by the end of the lease – five or six years – you wouldn't want one of them.
S-R: How much did the recession impact your business?
Davis: Quite a lot. Publishers and schools cut back considerably. On the commercial side, we had dozens of small-business clients that didn't just cut back – they disappeared.
S-R: Have you seen a rebound?
Davis: Yes. Our sales figures for this year are about where they were before the recession. But the makeup of our business has changed. We've really built up the book production. And in 2012, when we moved (to 2515 E. Sprague Ave.), we dropped the self-service stuff that was costing us $8,000 a month when we were up at Lincoln Heights. Without that change, we wouldn't have lasted another six months.
S-R: If someone brings you a completed book in digital format, how long will it take to get bound copies?
Davis: If it's literally ready to go, maybe a couple of days. If I do the prep work and layout, it usually takes a couple of weeks to generate proof copies.
S-R: Have any of the self-published books you've printed been picked up by major publishers?
Davis: A couple of books got some interest, but large trade publishers are looking for books that will sell 100,000 copies. Each year, 750,000 different books are published, and big publishers are looking for that needle in the haystack.
S-R: What do you like most about your job?
Davis: Interaction with customers. I work with really interesting people who know what they want, but have no idea how to go about it. Helping them get from a vision to a salable product gives me a chance to be creative, and usually the book turns out far better than they anticipated.
S-R: Are there common misconceptions about what you do?
Davis: We get a lot of inquiries about children's books. If you go down to Auntie's or Hastings and look in the children's section, you'll find hardcover, full-color books for $2.99. But to sell them at that price, you have to print 500,000 copies in China. People don't understand that to produce the same book on a small scale here would cost $15 apiece.
S-R: What advice would you offer someone interested in getting into book printing?
Davis: I'd say they'd probably be better off getting a job as a piano player in a bordello. As best I can tell, only 20 percent of the local printing companies that were around 10 years ago have survived, and the ones doing well today each have their own specialty. I get a lot of business from other local printers whose customers bring them manuscripts. They send those jobs to me, I print the books and send them back, and they sell those to their customer. That's easier for them then spending $100,000 on a binder, a finisher and other technology.
S-R: What sort of person is best suited for this career?
Davis: First of all, you have to be interested in the product itself – books. Also, you have to be easygoing and flexible, because you come into contact with the entire spectrum of humanity – everything from fanatical political nutcases to highly educated professors.
S-R: Could those two descriptions fit the same person?
Davis: (laugh) Sometimes. But by the time I'm through working with them, I usually consider them my friend.
This interview has been condensed. If you'd like to suggest a business or community leader to profile, contact Michael Guilfoil at mguilfoil@comcast.net.
Local journalism is essential.
Give directly to The Spokesman-Review's Northwest Passages community forums series -- which helps to offset the costs of several reporter and editor positions at the newspaper -- by using the easy options below. Gifts processed in this system are not tax deductible, but are predominately used to help meet the local financial requirements needed to receive national matching-grant funds.
Subscribe to the Coronavirus newsletter
Get the day's latest Coronavirus news delivered to your inbox by subscribing to our newsletter.
---