News > Features
Cindy Hval's regular newspaper feature inspires book of WWII romances
Thu., Feb. 19, 2015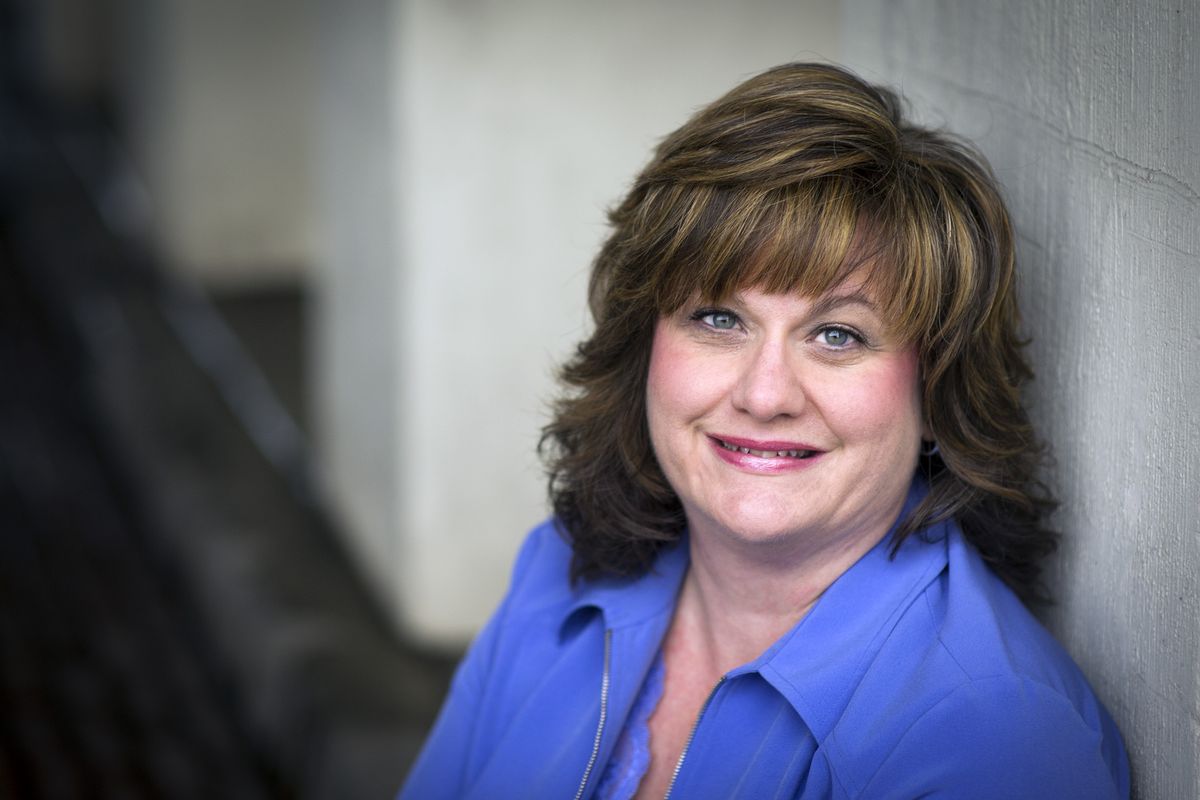 Cindy Hval's new book, "War Bonds: Love Stories from the Greatest Generation," is based on the "Love Stories" features she's written for The Spokesman-Review Voice sections for years. (Colin Mulvany)
Plenty of World War II-era books cover history, yet little ink captures the love stories behind the greatest generation.
Young couples facing wartime trials forged relationships as seeds to 60- and 70-year marriages. Now, Cindy Hval's first book "War Bonds: Love Stories From the Greatest Generation" describes 36 couples and their romances in the shadow of WWII. Casemate Publishers is releasing the book this month, and it's available at Auntie's, Barnes & Noble and Amazon.
"It's really snapshots of the couples' portraits," Hval said, although she includes some WWII history. "This is about their love stories, how they met, how the war impacted their relationship. World War II framed their stories."
Hval said courtships during that era had a unique set of challenges. Wartime uncertainties led to many couples marrying quickly. Many children were born while husbands served overseas. Yet, these men and women built lifelong bonds and emerged from the war determined to work and raise families, she said.
As a Spokesman-Review correspondent since 2006, Hval realized while writing a regular newspaper feature called "Love Stories" that the WWII-era couples seemed to resonate with readers. She recalls her husband, Derek, suggesting a book because of that response, but it was also one story in particular, about a wedding ring and Jerry and Nancy Gleesing, that really got her thinking.
"The wedding ring story really gripped me," said Hval, who spent the past three years fleshing out and finding additional WWII-era love stories for the book. "Jerry was cold and afraid in front of German soldiers in a prison camp, and he refuses to turn over his wedding ring at gunpoint."
"I can just see Jerry's face when he said, 'I promised I wouldn't ever take off this ring.' That was his line in the sand. He was afraid for his life, but he would rather be shot than take off his wedding band. That got me thinking, what kind of commitment is that?"
So she found other scenarios of that kind of commitment – and as Hval writes in the introduction – the "War Bonds" emerged from similar hardship, separation and deprivation of war.
The pages also are filled with 1940s photos, wedding pictures, and modern portraits. Hval begins each couple's story with a 1940s-era song title and ends each piece with a "Love Lesson" quote.
Many of the men and women are now in their 90s. With U.S. WWII veterans dying at a rate of about 500 a day, their stories would die with them unless documented, Hval said. In fact, some chapters in "War Bonds" end with a footnote of those who have died since she interviewed them.
During those talks, Hval heard veterans share stories previously untold.
"Frequently when I interviewed them, the wives were hearing their stories of battle for the first time, or just the hardships they endured," she said.
"What really struck me that all these couples shared is they lived their lives like what they did mattered. They lived intentional lives whether it was serving in the war or raising their kids."
Hval has her own military ties. The daughter of Tom and Shirley Burnett, she was born at Fairchild Air Force Base. The family moved around as Tom served in the Air Force but settled in Spokane when she was 16, after her father retired from the military.
"Sadly, he died when I was 30," Hval said. "Dad served in World War II, Korea and Vietnam."
She has written stories for magazines, "Chicken Soup For the Soul," and The Spokesman-Review, including a "Front Porch" column, which often centers on her life as a wife and mother of four sons ages 15 to 25. She and her husband soon will celebrate their 29th anniversary.
Nine couples – and many widows and widowers – featured in "War Bonds" plan to attend Hval's book launch Sunday at Auntie's Bookstore.
Hval said she hopes "War Bonds" readers find inspiration from the stories of ordinary men and women who held such steadfast commitment. Their marriages weren't perfect, but they hung in together, she said.
"Some of them fought, had problems with their kids, some survived infidelities – all the problems you would see today – but for some reason, they were able to hang in together, and their marriages survived 60, 70 years. More than survive, you can tell they really like each other.
"I was really struck by a comment by one of the wives, who said, 'Young people today just give up too soon. The best is yet to come.' "
Local journalism is essential.
Give directly to The Spokesman-Review's Northwest Passages community forums series -- which helps to offset the costs of several reporter and editor positions at the newspaper -- by using the easy options below. Gifts processed in this system are not tax deductible, but are predominately used to help meet the local financial requirements needed to receive national matching-grant funds.
Subscribe now to get breaking news alerts in your email inbox
Get breaking news delivered to your inbox as it happens.
---