News > Spokane
Small plane crashes in Spokane, injuring pilot
Feb. 22, 2015 Updated Sun., Feb. 22, 2015 at 4:04 p.m.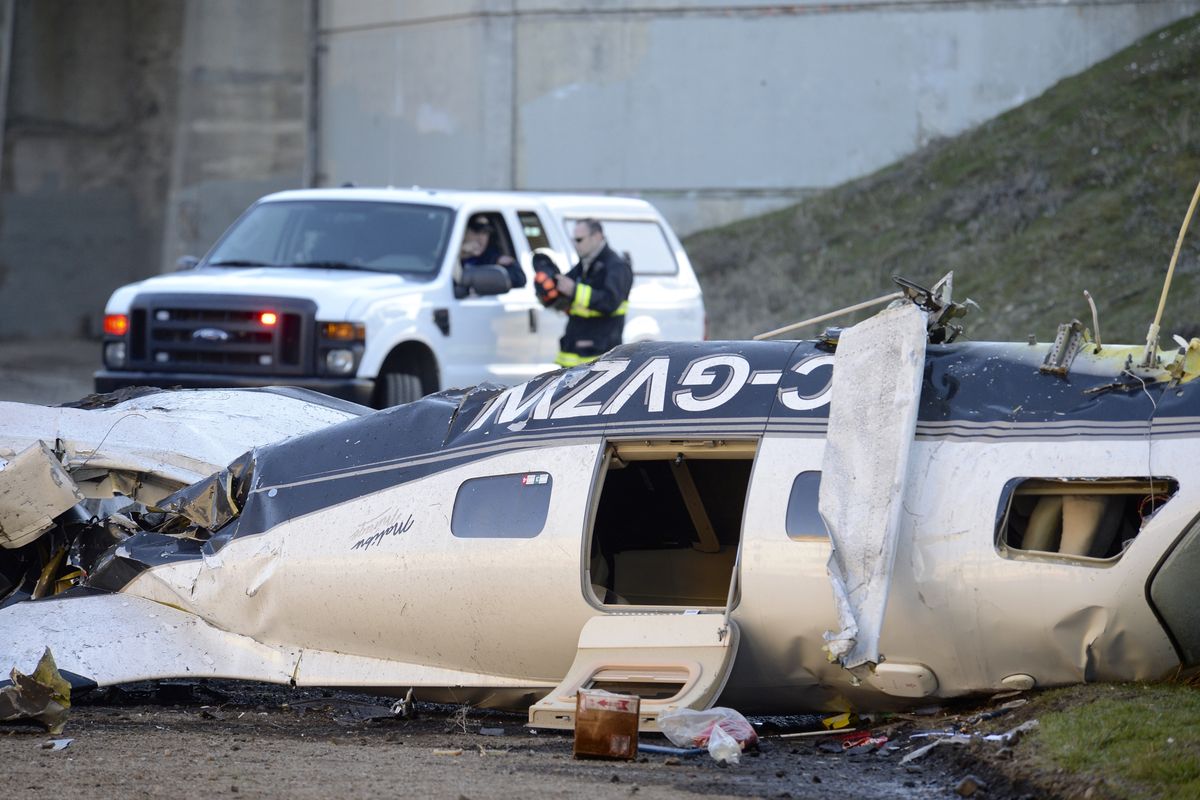 The pilot of this single-engine plane was critically injured in a crash today east of downtown Spokane. (Jesse Tinsley)
The pilot of a small airplane was critically injured today when the single-engine Piper Malibu crashed east of downtown Spokane. The private plane, registered with an owner in Alberta, Canada, had taken off from Felts Field bound for Stockton, California. It went down about 1:30 p.m. just north of East Sprague Avenue at North Erie Street, near the Hamilton Street bridge over the Spokane River. The plane lost power a short time after it took off, hit the top of a BNSF railroad viaduct over Erie and crumpled to the ground there, Spokane Fire Department Battalion Chief Steve Sabo said. Curtis Neal, who witnessed the crash, said the plane banked left, appeared headed toward a building, banked right, then crashed. Neal was first on the scene and rushed to the pilot's aid. "I ran over there and tapped on the window," he said. "He didn't respond." Neal broke out a window to try to free the pilot, who was suspended upside down. "It looked bad," he said. Two Spokane Police officers then arrived, and one of the officers cut the seat belt holding the pilot. They pulled the pilot out through a narrow opening. "They were concerned about a fire hazard," Sabo said. Although some fuel spilled from the plane, there was no fire, he said. The pilot – the only one on board – was taken to Providence Sacred Heart Medical Center in critical condition. Representatives of the Federal Aviation Administration and the National Transportation Safety Board are investigating the crash.
Local journalism is essential.
Give directly to The Spokesman-Review's Northwest Passages community forums series -- which helps to offset the costs of several reporter and editor positions at the newspaper -- by using the easy options below. Gifts processed in this system are not tax deductible, but are predominately used to help meet the local financial requirements needed to receive national matching-grant funds.
Subscribe now to get breaking news alerts in your email inbox
Get breaking news delivered to your inbox as it happens.
---