News > Idaho
Coldwater Creek may be gone, but Sandpoint is enjoying a second wind
Sun., Jan. 4, 2015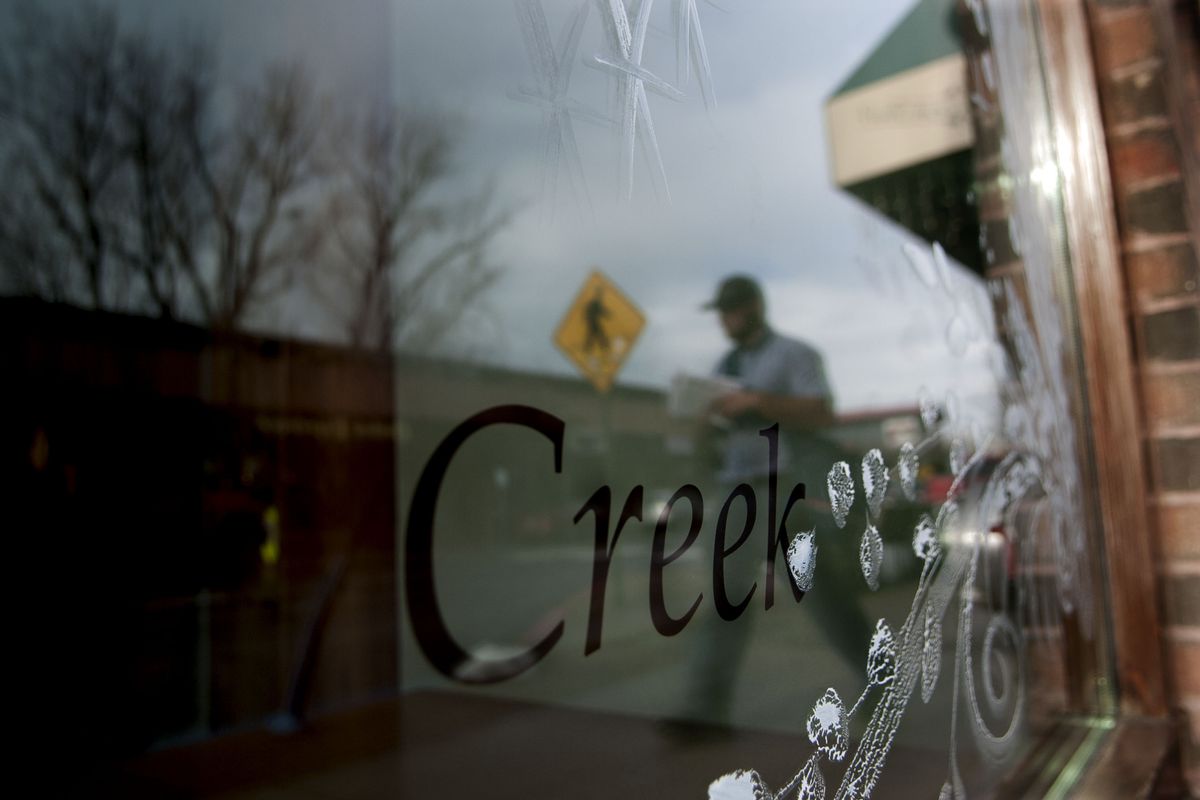 A mail carrier walks past the former Coldwater Creek storefront along First Avenue in Sandpoint on Dec. 10. (Kathy Plonka)
When Coldwater Creek went belly up last spring, Sandpoint braced for the blow to its economy. More than 300 jobs vanished, and the loss in earnings was estimated in the tens of millions of dollars.
But the demise of the national clothing retailer based here also blew the seeds of innovation across the community. New businesses have sprouted from the company's diverse talent pool – people who were committed to stay and make a go of it.
Matt Williams and Mike Peck are providing the tools and guidance for making furniture, art and gifts. Carlo Pati and Kara Berlin are promoting adventure. Tina Ward is fulfilling a dream of owning her own store, and Jennifer Pratt is bringing fresh flowers to people's doorsteps.
All of them had careers at Coldwater Creek, which employed almost 500 in North Idaho at its peak and opened hundreds of stores across the country. They are among scores of former workers from the home office who have launched their own businesses or joined a handful of growing companies in the area.
"There's definitely something very special about Sandpoint that there's this group of us that wanted to stay and make it work," said Pratt, who converted a delivery truck for her mobile florist business.
"We're all kind of helping each other grow," she said. "Because for a lot of us, this is the first time we've done anything like this. So it's nice to have that support system."
The striking scenery, outdoor recreation and small-town charm that draw so many to Sandpoint would be hard to give up, said Williams, co-founder of MakerPoint Studios, a membership workshop full of high-end tools.
"We knew that this was where we wanted our kids to be. We know and love all of our neighbors," he said. "It's hard to find another place that's like this, that has the lake, the mountain, all the outdoors. … I want to do everything I can to stay here."
Founded as a catalog-based marketer in 1984, Coldwater ballooned to nearly 6,000 employees in more than 300 stores, about 30 factory outlets and seven day spas. About 120 employees earned $75,000 and up, according to the Idaho Department of Labor.
But years of lagging sales and more than $360 million in debt led it to declare bankruptcy last April and begin liquidating assets.
The loss of Bonner County's largest private employer still stings, but Sandpoint leaders are upbeat about a wave of hiring in aerospace, biomedical, software, food production and manufacturing.
"People are choosing to relocate and grow businesses here because of the amenities, the quality of life. I know that's a cliché, but it's real in Sandpoint," said Jeremy Grimm, the city's director of planning and community development.
"We're seeing the opportunity to really write our next chapter," Grimm said. "And I think it's ours to build on these industries that have really defined their place in the markets."
The Rush is on
On Oct. 16, Rush-On went live from a cramped office inside the Sandpoint Center. CEO Devin Dufenhorst, a former professional ski jumper, started the online company to help people find action sports and adventure opportunities.
Rush-On already has over 700 merchants offering deals on hang gliding, ziplining, heli-skiing, windsurfing, hovercraft rides, whale tours and a lot more. The mobile app alerts users to the thrills available where they live or go on vacation.
"It becomes a concierge in your hand, and that way you get the best pricing," said Dufenhorst, who sold medical and pharmaceutical supplies for 24 years.
Coldwater's crash was his gain. He scooped up Carlo Pati, part of the team that handled website updates and promotional emails for the retailer. Pati in turn called on Kara Berlin, who worked in marketing at Coldwater and now is Rush-On's marketing manager.
"I was a pretty easy sell," Berlin said. "It's easy to market something that aligns with your own personal interests."
The startup is adding online articles and firsthand accounts of outings to inspire others, and it's hitting social media heavily.
"We're really more than just trying to sell good deals to people who are interested in adventure," Pati said. "We want to be the resource of everything about adventure."
The company is looking for larger office space to lease and plans to bring on a few account managers and customer service specialists soon. The allure of working for a company that's all about adventure and living in a place where outdoor adventure abounds works in Rush-On's favor, Pati said.
"We're not too far away from really good talent," he said. "That's what makes Sandpoint great."
Lifestyle pilgrims
Entrepreneurs are drawn to Sandpoint as a recreational paradise where the cost of doing business is low and the quality of life makes recruiting employees easier.
"It's really those creative-class lifestyle pilgrims that we hope to attract," said Grimm, who puts Sandpoint on par with such amenity-rich communities as Whitefish, Montana; Boulder, Colorado; Laramie, Wyoming; Provo, Utah; Taos, New Mexico; and Bend, Oregon. Lessening the community's dependence on timber and tourism jobs has been decades in the making, but now the mix of companies is blossoming, Grimm said. Manufacturing employment grew 27 percent in Bonner County from 2000 to 2010, state labor figures show.
"Sandpoint's a place where many diverse, high-tech industries can flourish," he said.
Sitting in his office at City Hall, he reels off some of the economy's strongest performers: Litehouse Foods, maker of dressings, dips and cheeses; Tamarack Aerospace Group, developer of a winglet that boosts the range of jet aircraft; Lead-Lok, a medical device manufacturer; Timbersled, maker of lightweight snowmobile and snow bike products; and Kochava, a leading mobile technology company that provides analytics and other data tools.
Grimm recently helped secure a five-year state tax break for Kochava, which in turn will hire up to 50 employees in the next five years at salaries averaging $50,000 a year.
"It's almost surreal when you think about it that a company like that could be created and launched from Main Street in Sandpoint," he said.
Owners Charles and Kimberly Manning are former Silicon Valley residents who launched Kochava here three years ago.
"We are growing significantly," Charles Manning said.
In the past year alone the company's revenues grew fivefold as the staff surged from 12 to more than 40. A dozen of the new hires are former Coldwater employees who came aboard, bringing marketing, finance, account management and data science experience.
Kochava needed high-caliber workers, and these people were invested in the community, Manning said. "We really got some of the top talent there."
He characterized Sandpoint as a small town with high-quality services where entrepreneurs can live and work in a place they love. "There isn't a better town you can live in than Sandpoint for those reasons."
Manning is an investor in one local entrepreneur's project. JD Claridge, an aerospace engineer who formerly worked at Sandpoint-based Quest Aircraft, has built a hybrid drone that flies like a helicopter or a plane.
Claridge's quad-copter design includes an upright wing that allows the unmanned vehicle to tip 90 degrees and zip through the sky at over 60 mph. Equipped with a video camera, the X PlusOne could follow a snowboarder down a mountain or keep pace with a motorbike race, for instance.
But the inventor pictures it one day being used for such endeavors as search-and-rescue missions and transmission line inspections. It could travel miles, pause to snap pictures, then resume on a course. Such applications aren't permitted now under federal aviation rules, but the potential is unlimited, Claridge said.
"There's a lot of good reasons to have these aircraft in use," he said.
He and Manning are in the middle of a Kickstarter campaign to raise $50,000 to bring the X PlusOne to market next summer.
Sharing tools and techniques
Tucked inside 3,200 square feet of industrial space on Sandpoint's north end, MakerPoint Studios opened just over two months ago. Artists, crafters and entrepreneurs pay a membership fee – from $89 to $149 a month – for use of wood and metal shops, an electronics station, sewing and textile machines, a laser cutter and a 3-D printer.
"The whole idea is to get people excited about making things," said co-founder Mike Peck, a software developer at Coldwater for almost 10 years.
He teamed up with Matt Williams, who worked there about nine years and ran the technical side of the company's e-commerce business before leaving in October 2013. They hatched the plan for MakerPoint, found space to lease and brought in some of their own tools. They picked up more machinery when Coldwater liquidated its shop, and took out a business loan to buy the rest, including precision equipment beyond the budget of many hobbyists and innovators.
The two host classes on operating the tools and even share their own ideas, such as a sleek wooden stool that went from design to assembly in under an hour using a computer-controlled router.
"Anything we design, our members can come in and make themselves as well," Peck said.
Using their $25,000 laser cutter, they made a three-dimensional wooden map of Lake Pend Oreille based on an old aerial photo – a showpiece for the home or office. The same machine can etch designs onto metal, plastic or glass.
The 3-D printer can be used to craft prototypes or models of locally conceived products – a faster and less expensive option than sending schematics to a manufacturer, they said.
"What's neat, too, is most of our members are sharing their designs" and their expertise, Williams said.
He hopes MakerPoint enables others to stay in Sandpoint and launch new business ventures.
Hang on to what we got
Luring new companies to Sandpoint may be easier than keeping them from leaving.
"We have to be proactive and vigilant, because this is a dog-eat-dog world of subsidies and offers being made from places like New York state," Grimm said.
Shortly before the Coldwater bankruptcy, another homegrown business, Lead-Lok, was purchased by New York-based medical giant Graphic Controls. Almost 70 local jobs were on the brink of leaving town.
Grimm quickly negotiated a deal with the new owner to keep the Sandpoint operation open. He offered up the entire city-owned business incubator facility at the Bonner County-owned airport, and the city is reinvesting a major portion of Lead-Lok's lease payments into upgrades there, including a clean room for high-tech manufacturing and robotics.
"They are adding 27 jobs rather than withdrawing 68 jobs," he said.
Likewise, Tamarack Aerospace nearly took flight before local officials intervened.
"They were being pursued by other communities very aggressively," Grimm said. "They needed a new facility, they needed upgrades to our airport and runway, they needed a commitment from the county and the city that we're going to take our airport seriously."
The Sandpoint Urban Renewal Agency committed $300,000 and the state kicked in a $50,000 grant for a new hangar and other airport improvements.
Moving ahead, one of the biggest challenges for economic development is making sure the growing tech sector can plug into a fiber-optic network, Grimm said. The city and county are working together to develop a fiber system.
"It's not about what's here today, it's about what we want to become as a community," he said. "And that requires robust broadband at affordable prices."
Constructing a local data center, too, will be a critical component moving forward, Grimm said.
A fresh start
Jennifer Pratt's 10 years at Coldwater Creek came to an end last April. She was in visual merchandising, responsible for window display directives for the chain of stores.
She mulled her options. "I could find another job in retail, continue what I was doing and leave Sandpoint," Pratt said.
Or she could dive headfirst into what had been an idea for a side business: a mobile flower truck.
"My mom was a florist, so I kind of grew up with flowers," she said.
She bought a used delivery truck in Seattle, and friends and former co-workers helped her convert it into a floral shop on wheels called Fresh Sunshine. Last July, Pratt began parking her truck around town and setting up at community events, and she's building a following on Facebook, Instagram and Pinterest.
"I wanted flowers to be affordable and accessible to as many people as possible, and I've definitely been able to achieve that so far," she said.
Pratt uses locally grown flowers as much as possible to keep shipping costs down. She established partnerships with growers in Bonners Ferry and Sagle last summer, and this winter gets her product through a Spokane wholesaler.
Customer convenience is a priority.
"I do a lot of house calls for people where I take the whole truck full of flowers to their home and they don't even have to leave," Pratt said. "They just go out to the driveway and pick it up right there."
She supplements her income working part time at Meadowbrook, a downtown home and gift store. Losing the steady paycheck and benefits from Coldwater was a jarring change, but Pratt also feels grateful.
"I was kind of burned out anyway on what I was doing and wanted a change for my life," she said.
The company brought her and many others to Sandpoint, and she credits Coldwater for that.
"Looking back on it, they did do a lot of amazing things for the community, and you could count this as one of those amazing things because it has generated so many different venues and opportunities for people to explore these new businesses and bring even more diversity to the community," she said.
A change of pace
Coldwater Creek's downtown Sandpoint store sits empty now, but the company name remains on the historic building along First Avenue. A few doors down, a woman who spent 20 years filling stores like that is enjoying retail on a much smaller scale.
Tina Ward, formerly a senior merchant for Coldwater, now owns and operates a kitchen supplies store called Weekends & Company.
"My husband and I have always wanted to have a small business like this and do something on our own," Ward said. "This was just a natural fit for me since my background is in home accessories. And so it was a great opportunity when the previous owners were willing to sell."
Like the others, the couple wanted to stay in Sandpoint. And she welcomed the change of pace.
"I was ready for this simpler way of life – a less corporate lifestyle," Ward said.
A surprising number of her former colleagues from Coldwater also decided to remain – "a lot more than I thought, especially ones that weren't rooted here," she said.
"There's a lot of talented people here," Ward said. "If you can make it work and pursue your dreams here, it's possible. The way the community supports each other, it's just amazing."
Local journalism is essential.
Give directly to The Spokesman-Review's Northwest Passages community forums series -- which helps to offset the costs of several reporter and editor positions at the newspaper -- by using the easy options below. Gifts processed in this system are not tax deductible, but are predominately used to help meet the local financial requirements needed to receive national matching-grant funds.
Subscribe now to get breaking news alerts in your email inbox
Get breaking news delivered to your inbox as it happens.
---