A&E > Entertainment
Exhibit explores clay's potential
Small ceramic sculptures run gamut of processes, styles
Fri., Jan. 23, 2015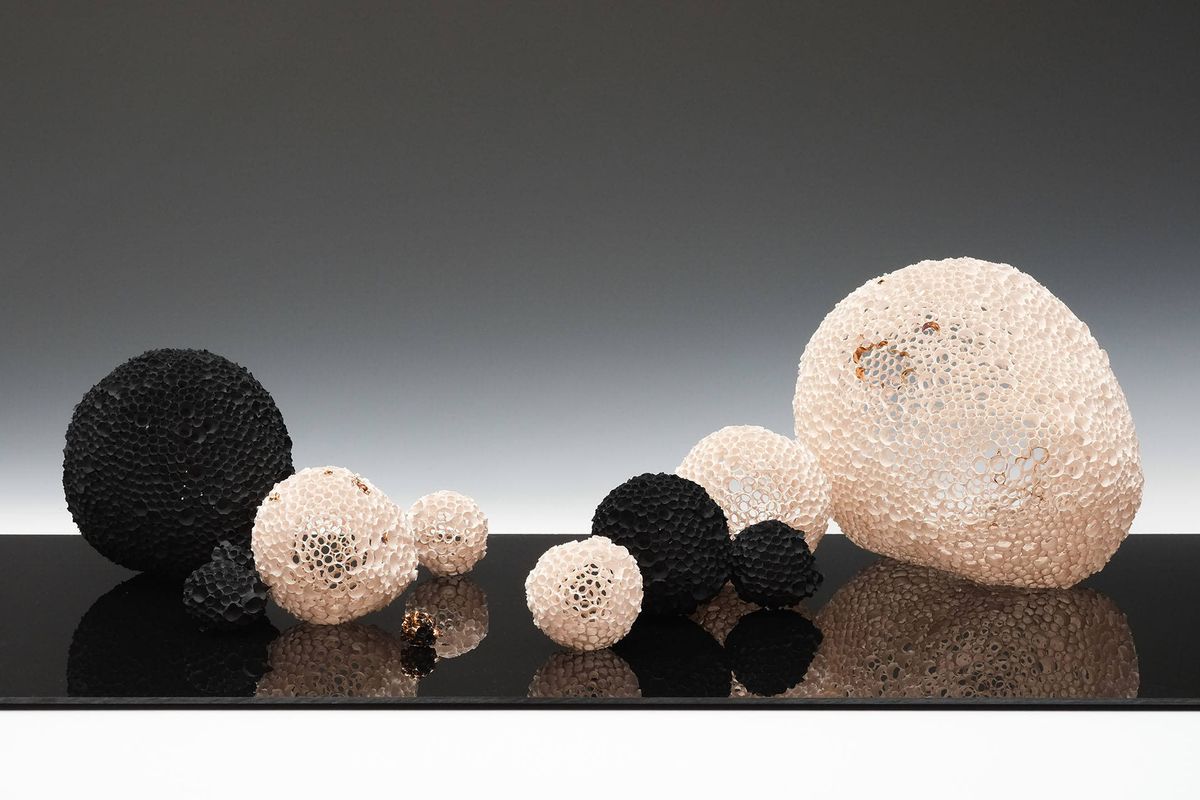 "Untitled" by Chase Grover.
Built from earthenware and steel, artist Sean Larson's piece "Bridges" conjures a cityscape but also Legos, art that can be deconstructed – literally – and put together again.
The glazed earthenware toothbrush and -paste, razor and scissors in Lauren Sandler's "Re-collections Series (bathroom)" represent disposable objects heavy with touch.
Julia Feld hand-painted an evocative scene on her coil-built stoneware piece "Don't You Dare!" before firing it.
By design, the 15 pieces by a dozen artists in a ceramics exhibit starting Jan. 28 at the Eastern Washington University Gallery of Art take a variety of forms.
Juror Timea Tihanyi, a doctor-turned-sculptor who uses ceramics in her own work, said she wanted the show to illustrate the range of possibility in clay. It features figurative and abstract work and variety of processes and materials, including porcelain, earthenware and stoneware.
"I tried to pick pieces that represented the whole gamut," said Tihanyi, who teaches at the University of Washington's art school.
But they do share one quality: smallness. Starting at just a few inches across, each piece is no bigger than 24 inches by 24 inches.
Small scale does nothing to limit expression, Tihanyi said: "Some of these pieces really could be monumental."
The exhibition – "Two by Two: small-scale ceramic sculpture biennial" – has practical roots. Ceramics get heavy. Limiting their size limits shipping costs, said Nancy Hathaway, a professor at EWU's art department who launched the every-other-year show in 2003.
"The idea was to bring a variety of ceramic work to the area, primarily for the students to have access – to be able to look at those works of art – but also for the community," Hathaway said.
It's a new show every time, with a new juror pegged to curate.
Tihanyi brings an unusual perspective.
After earning a medical degree in Hungary, she moved in 1993 to the U.S. with plans to study neuropsychology. She signed up for a ceramics class, too. Within a couple of years, she said, she was sold on a new career.
But Tihanyi still pulls from her medical background, referencing the body in her art. The pieces in her graduate show at UW combined porcelain and rubber, allowing her to refer to the body's hard and soft qualities. She's since started using natural fibers, felt, rubber and other materials along with clay.
Among the works in "Two by Two," the juror said she was "especially touched" by work by Feld, a San Jose, California, artist who combines painting and clay skills to create dreamlike scenarios, loaded with patterns, "on the surface of these playful, kind of amorphic forms."
She also admired Rock Hill, New York, artist Sandler's re-creation of domestic objects.
"There's a kind of simplicity involved there that's really interesting to me," Tihanyi said. "It is showing her touch, which is there for a reason – it's there for kind of re-creating this experience, the memory of somebody else touching."
The artists also include two from Ellensburg.
Chase Grover, a graduate student in Central Washington University's ceramics program, said the hollow honeycomb form he'll show at EWU actually represents his move toward larger pieces.
The untitled piece combines rounded forms ranging from 1 inch to 8 inches across. It tops a base measuring 24 by 15 inches.
He's builds honeycombs by stacking Q-tips covered with slip, a liquefied suspension of clay in water. When the piece is fired, the Q-tips burn away.
Grover said he went bigger for effect. He's been working with ideas about stability and instability. A handheld honeycomb would appear less fragile than a larger one, with more empty space inside.
"If something isn't very stable and it's small, it seems more stable than it is," he said.
Local journalism is essential.
Give directly to The Spokesman-Review's Northwest Passages community forums series -- which helps to offset the costs of several reporter and editor positions at the newspaper -- by using the easy options below. Gifts processed in this system are not tax deductible, but are predominately used to help meet the local financial requirements needed to receive national matching-grant funds.
Subscribe to the Spokane7 email newsletter
Get the day's top entertainment headlines delivered to your inbox every morning.
---