Sports
Schwarber shines in Futures Game
Mon., July 13, 2015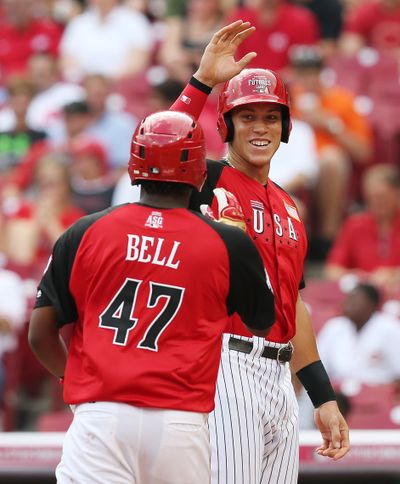 A catcher who grew up rooting for the Reds had an All-Star day in their hitter-friendly ballpark. So did the rest of the U.S. team.
Kyle Schwarber hit a two-run triple that got the U.S. rolling to a 10-1 victory Sunday in an All-Star Futures Game managed by two members of Cincinnati's Big Red Machine. And Schwarber could appreciate what that meant – the Reds were his favorite team while he was growing up in nearby Middletown, Ohio.
In the ballpark where he dreamed of playing, Schwarber got the hit that put his team ahead to stay.
The Cubs called up their 2014 top pick for a one-week stint as a designated hitter during interleague play in June.
He went 8 for 22 and homered in Cleveland. He was sent back to the minors, making him available to play in the Futures Game.
"I wasn't disappointed at all to go back down," he said during batting practice. "One of the benefits is being able to play in this game. This is awesome."
Schwarber showed 'em the swing that made him the fourth overall pick last year. He tripled into the right-field corner for a 3-1 lead in the fourth inning.
The U.S. team – managed by former Reds outfielder Ken Griffey Sr. – piled up 13 hits, including a two-run homer by the Pirates' Josh Bell.
Another former Reds star, Tony Perez, managed the World team.
Kershaw, Santiago join All-Stars
With several All-Stars pitching Sunday and other players nursing injuries, the rosters for the Mid-Summer Classic went through some changes before Tuesday's game in Cincinnati.
A look at who is in and who is out:
Yankees 1B Mark Teixeira and OF Brett Gardner, Minnesota 2B Brian Dozier, Cubs 3B Kris Bryant and Colorado SS Troy Tulowitzki previously filled spots of injured players.
They replaced Detroit 1B Miguel Cabrera, Kansas City OF Alex Gordon, Toronto OF Jose Bautista, and Miami OF Giancarlo Stanton and 2B Dee Gordon.
Here are Sunday's changes:
IN: LHP Clayton Kershaw, Dodgers; OUT: RHP Max Scherzer, Nationals
IN: LHP Hector Santiago, Angels; OUT: RHP Sonny Gray, Athletics
IN: OF Ryan Braun, Brewers; OUT: OF Matt Holliday, Cardinals.
Clearing the bases
Yankees DH Alex Rodriguez moved into the top 25 on baseball's career hit list. Rodriguez doubled in the sixth inning of Sunday's game against the Red Sox to record his 3,020th hit. That ties him with Rafael Palmeiro for 25th all-time. He hit his 672nd homer Saturday, fourth all-time. … Marlins All-Star 2B Dee Gordon may be able to avoid the disabled list despite dislocating his left thumb. Gordon will miss the All-Star Game and will likely sit out the Marlins' first series following the break. Gordon was hurt Saturday when he slid headfirst to beat out an infield single against Cincinnati. …The Rays placed SS Asdrubal Cabrera on the 15-day disabled list with a strained right hamstring and recalled infielder Tim Beckham from Triple-A Durham.
Local journalism is essential.
Give directly to The Spokesman-Review's Northwest Passages community forums series -- which helps to offset the costs of several reporter and editor positions at the newspaper -- by using the easy options below. Gifts processed in this system are not tax deductible, but are predominately used to help meet the local financial requirements needed to receive national matching-grant funds.
Subscribe to the sports newsletter
Get the day's top sports headlines and breaking news delivered to your inbox by subscribing here.
---