Sports
MLB notes: Rob Manfred considering moving back trade deadline
Thu., July 23, 2015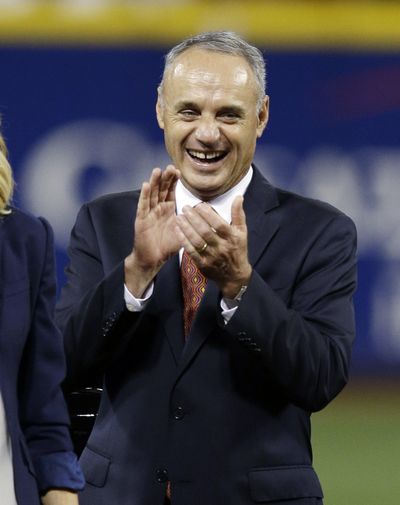 Commissioner Rob Manfred thinks baseball may need to consider moving the trade deadline back to give teams in the hunt for a wild card more time.
A second wild card in each league was added in 2012, keeping more teams in playoff contention long past the July 31 non-waiver trade deadline. And those clubs may not have enough time to evaluate whether their rosters are good enough to get one.
"I think that the July 31st deadline is something that we may want to revisit in the context of the revised playoff format," Manfred said Wednesday. "Obviously when you have two additional opportunities to be in the playoffs, you have more teams in the hunt and they may want to wait a little longer before they make decisions."
"On the other hand, you've got to remember, we want teams that the core of which have been together for the year playing in the postseason," he said. "So you have to just balance those two issues, I think."
Royals' Vargas out for season
Royals left-hander Jason Vargas has a torn ulnar ligament in his elbow and will need season-ending Tommy John surgery.
Vargas left his start against Pittsburgh on Tuesday night after throwing just 26 pitches. He had an MRI on Wednesday that revealed the extent of the injury.
"The report didn't come back good," Royals manager Ned Yost said. "He's definitely going to have to have surgery. He's going to be out for a while. I mean it's a 12- to 14-month recovery. The good thing is when he comes back he'll be every bit as good as he was before he got hurt."
The Royals filled his spot in the rotation by recalling Yordano Ventura.
Vargas, who is 5-2 with a 3.98 ERA, was instrumental in the Royals' run to the World Series a year ago. He went 1-0 with a 3.52 ERA in three postseason starts.
Affeldt returns for Giants
The Giants have activated left-handed reliever Jeremy Affeldt of Spokane from the 15-day disabled list and optioned Josh Osich to Triple-A Sacramento.
Affeldt had been out since June 16 with a strained left shoulder. He's 0-2 with a 5.96 ERA in 33 appearances.
He faced two batters in the eighth on Wednesday, allowing a single and a walk.
Osich was 1-0 with a 0.00 ERA.
Clearing the bases
The Padres have sent struggling IF Will Middlebrooks to Triple-A El Paso and recalled OF Abraham Almonte. Middlebrooks was hitting just .212 and had committed seven errors. … RHP Stephen Strasburg is scheduled to throw batting practice Friday as the Nationals star comes back from a strained left oblique. … Dodgers manager Don Mattingly says LHP Brett Anderson might not be seriously injured after leaving Tuesday's game with an irritated left Achilles tendon. Mattingly said the starter might not need to go on the disabled list. … Nationals 3B Yunel Escobar appeared to injure his left wrist swinging the bat in the second inning and left the game against the Mets.
Local journalism is essential.
Give directly to The Spokesman-Review's Northwest Passages community forums series -- which helps to offset the costs of several reporter and editor positions at the newspaper -- by using the easy options below. Gifts processed in this system are not tax deductible, but are predominately used to help meet the local financial requirements needed to receive national matching-grant funds.
Subscribe to the sports newsletter
Get the day's top sports headlines and breaking news delivered to your inbox by subscribing here.
---