Sports > Spokane Shock
Shock notes: Win over Rattlers has team feeling upbeat
Thu., July 23, 2015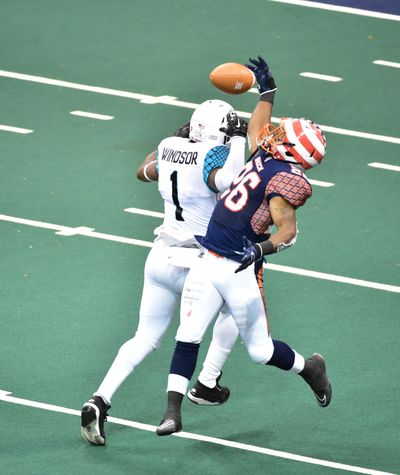 Wins do wonders for a football team's morale. Big wins mean even more.
Spokane had an extra bounce in its step at Wednesday's practice after knocking off Arizona last week. The Shock are just 5-10, but they have a good shot at the third seed – particularly if they defeat visiting Portland on Saturday – in the National Conference, which would likely mean a first-round playoff matchup against the Rattlers in Phoenix.
"It builds confidence," defensive lineman James Ruffin said. "Some of the guys who haven't been around and played arena football that long don't really know the feeling to win against good teams. Now they have experience and know what it takes, and that's (forcing) turnovers and scoring fast."
The Shock experienced their share of struggles this season and have yet to win consecutive games. Still, they've defeated two of the four division leaders (Arizona and Orlando) and hung tough with Philadelphia in Week 2.
Spokane overcame a two-touchdown deficit and a couple of turnovers to rally past the Rattlers. Quarterback Arvell Nelson, making his first start, passed for four touchdowns and ran for two.
"Super high," Nelson replied, when asked about his confidence level. "I feel like we can win any game no matter who steps on the field."
Coach Andy Olson praised his team's effort and determination, but noted there's room for improvement. That, in itself, is a positive because it means the Shock didn't have to play out of their skulls to register their biggest win of the regular season.
"Everyone's upbeat," Olson said. "We have a lot to work on. We really don't feel like we played a fantastic game, we played a good team game. Arvell has a long way to go, tons of timing to get down with receivers and making sure we're doing the right thing every single play."
Nelson led a second-half comeback two weeks ago against L.A. to earn the starting position.
"He got an opportunity and took advantage," Olson said. "He did a great job down in (L.A.), made some key throws. (Against) Arizona, he could have easily folded when we were down by two scores. Very positive guy, upbeat guy, making mistakes doesn't bother him. He steps back in and tries to make the next play. Physically he has everything, he just needs more experience."
Ruffin producing
Ruffin had 14 sacks, three forced fumbles, one fumble recovery and one interception return for a touchdown while earning 2014 AFL defensive lineman of the year honors.
Ruffin is quietly putting up big numbers again. He sacked Arizona quarterback Nick Davila twice and forced and recovered a fumble. For the season, Ruffin has nine sacks, six forced fumbles, five fumble recoveries and one touchdown.
"I have to work on being more consistent," Ruffin said. "Some games when you get that first hit on the quarterback and it's early, I know I'm going to have a great game."
Playoff picture
The National Conference playoff picture is still hazy. Spokane is currently the third seed but faces games against Portland (4-11) Saturday and at Las Vegas (5-10-1) on Aug. 8. The AFL canceled the Las Vegas-New Orleans game this week and declared it a tie in the standings. Several weeks ago the league assumed ownership of the two beleaguered franchises.
That tie could become important in determining playoff berths.
"I think it's a little weird," Olson said. "It's above my pay grade, nothing I'm part of as far as decision-making. I would rather them play the game out because if (the Outlaws) take on a loss that's good for us."
Notes
WR Anthony Amos was named the AFL offensive player of the week after making 13 catches for 144 yards and three touchdowns against the Rattlers. Amos leads all rookie receivers with 94 receptions for 1,038 yards. … Former Shock general manager Ryan Rigmaiden attended Wednesday's practice. Rigmaiden, director of U.S. scouting for the B.C. Lions, is on vacation and plans to attend Saturday's game. … Backup QB Warren Smith filled in for some snaps at wide receiver and snagged a touchdown reception.
Local journalism is essential.
Give directly to The Spokesman-Review's Northwest Passages community forums series -- which helps to offset the costs of several reporter and editor positions at the newspaper -- by using the easy options below. Gifts processed in this system are not tax deductible, but are predominately used to help meet the local financial requirements needed to receive national matching-grant funds.
Subscribe to the sports newsletter
Get the day's top sports headlines and breaking news delivered to your inbox by subscribing here.
---