'Clean Green'-labeled marijuana is pesticide-free, environmentally friendlier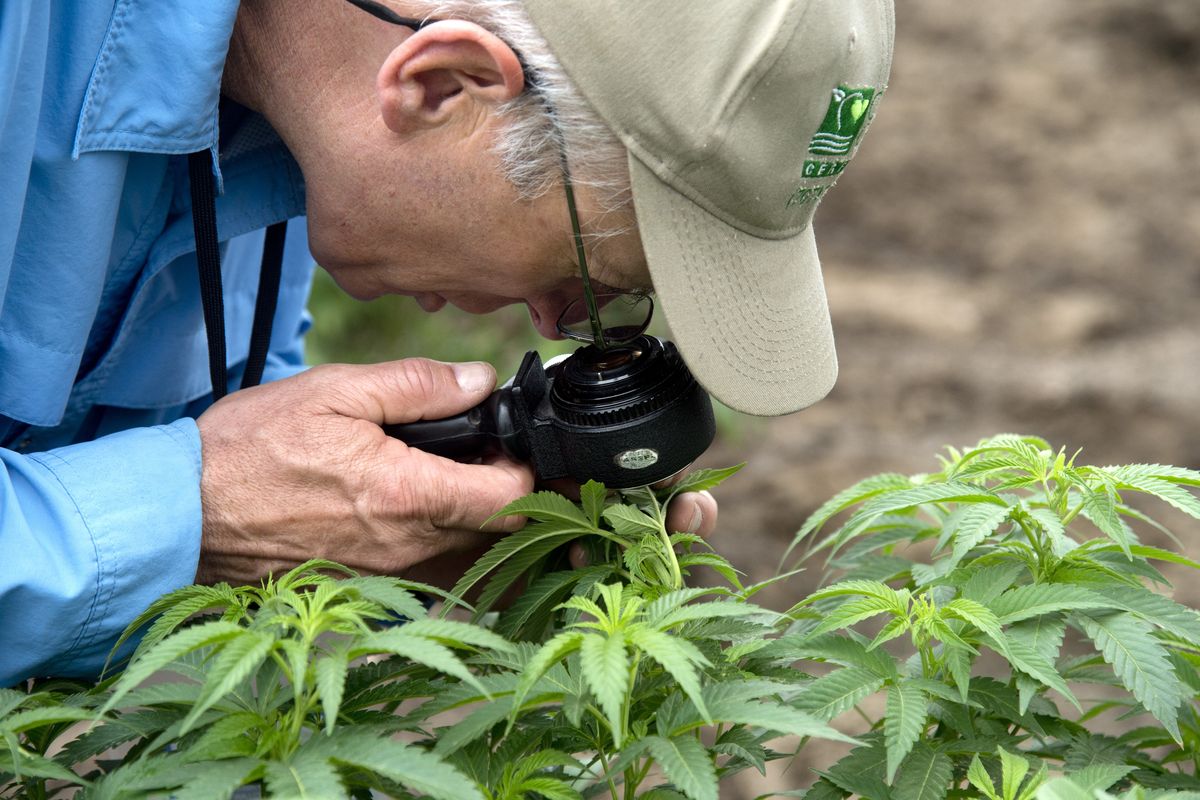 ADDY, Wash. – Chris Van Hook bent over a shrub-sized marijuana plant at Mountain High Farm with a magnifying glass last month, looking for imperfections in the fan-shaped leaves.
A few of the fronds were "chewed on," which is what Van Hook expects in a pesticide-free crop.
Pot grown at the state-licensed operation can't be certified as organic because the U.S. Department of Agriculture doesn't recognize marijuana as a legal crop. Advertising it as organic would be a federal labeling violation, inviting hefty fines.
But if Mountain High passes Van Hook's inspection, the Stevens County farm can advertise its product under the "Clean Green" label, an alternate certification Van Hook developed for pot growers touting the naturalness of their product.
It puts growers through the same process "as if they were getting certified for organically grown broccoli or tomatoes," said Van Hook, an attorney from Crescent City, California, who also runs a third-party organic certification business for other crops.
Last year, Van Hook certified about 18,000 pounds of marijuana, which was legally grown for medicinal or recreational use in five states. To be certified, farms must pass independent laboratory testing that screens soil samples for 150 pesticides. In addition, growers must take steps to reduce the operation's carbon footprint.
"It lets people know the cannabis was legally grown, in an environmentally responsible manner," Van Hook said of the certification.
Mountain High Farm, which will harvest its first marijuana crop this summer, is poised to become the third Washington pot farm with the Clean Green label. Farms in Goldendale and Vancouver also have the certification, which costs about $2,200 per farm.
Brian Crawley, Mountain High's farm manager, said there's an emerging market for pesticide-free marijuana that doesn't rely on energy-intensive cultivation methods. He sees parallels to the socially conscious "shade-grown" coffee movement.
Indoor grow operations are a drain on the electric grid, primarily from the use of artificial lighting. At Mountain High Farms, the cannabis is "sun grown," Crawley said.
The marijuana plants were started indoors from seed, but they'll spend most of the growing season in hoop-style greenhouses. Making use of natural light dramatically cuts energy consumption, Crawley said.
The plants are fertilized with manure from nearby dairy farms rather than petroleum-based fertilizers. And the farm's pest control relies on the use of beneficial insects.
To comply with Washington Liquor Control Board regulations, each cannabis plant has a bar code, which is part of the state's "seed to sale" tracking system. The 1-acre operation is surrounded by an 8-foot fence, and security cameras monitor every square foot of the operation.
Mountain High will harvest about 1,000 pounds of marijuana this year. The farm near Addy is owned by a Seattle executive who didn't want his name revealed. "I'm a closet cannabis farmer," he said.
Emerald Twist of Goldendale uses similar marijuana cultivation methods. The plants are grown in native soils amended with compost, with minimal use of artificial lights, said Jerry Lapora, the director of operations. Emerald Twist earned its Clean Green certification last year.
"Our biggest reduction in carbon footprint came from locating on the east side of the Cascades, because that's where all the solar energy is," Lapora said. "The message we want to get across is, let's be responsible in how we get our goods."
Marijuana certified as Clean Green doesn't command a higher price, but it does help sell the product, Lapora said.
Washington currently has a glut of legal marijuana for sale, with more than 500 licensed growers and processors competing to sell their cannabis to 150 licensed retail outlets. Over the past year, wholesale prices have dropped to $2 to $4 per gram from $6 to $10 per gram, which is skirting the break-even price for small operations like his, Lapora said.
But consumers are starting to ask questions about how the marijuana was grown.
At 2020 Solutions, which has two retail marijuana outlets in Bellingham, customers often ask if the stores carry organic pot, owner Troy Lazano said.
Clean Green certified "is like the closest thing to organic you can get," Lazano said. "We see a huge demand for it. People here are very mindful of what they are putting into their bodies. They want to bring good, clean marijuana into their system."
---