News > Spokane
Dolezal keeps quiet as questions persist
NAACP stands by 'advocacy record'
Sat., June 13, 2015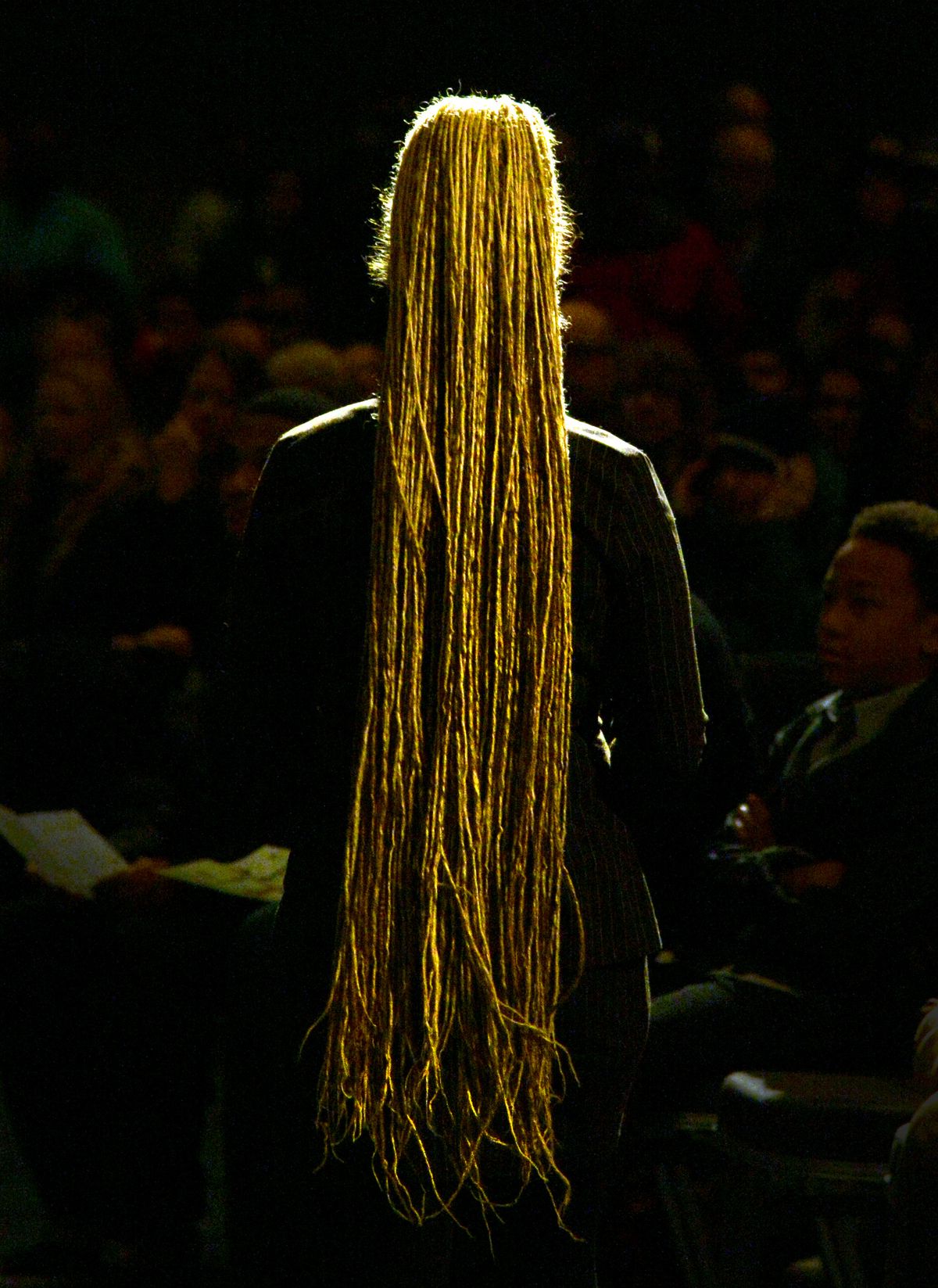 Wearing dreadlock weave hair extensions, Rachel Dolezal, president of the NAACP's Spokane chapter, leaves the podium after speaking at a Dr. Martin Luther King Jr. rally at the Spokane Convention Center on Jan. 19. (Colin Mulvany)Buy a print of this photo
Questions surrounding Spokane's embattled NAACP president Rachel Dolezal continued to mount Friday as the black man she claims is her father seemed to imply otherwise.
Albert Wilkerson Jr., who used to live in North Idaho and volunteered at the Human Rights Education Institute where Dolezal worked, said during a brief phone call Friday that he has "nothing negative to say about Rachel" but was reluctant to get involved in the controversy.
"I don't want to throw anyone under the bus," Wilkerson said. Asked about social media postings in which Dolezal identifies him as her father, Wilkerson replied: "You know the answer to that, and that's all I'm going to say," then hung up.
The comments came as international attention over disclosures from Dolezal's parents that their daughter is white and has been misrepresenting herself as a black woman for years dominated headlines and social media for a second straight day.
The National Association for the Advancement of Colored People issued a statement Friday saying that the organization's regional branch representing Alaska, Oregon and Washington is standing behind Dolezal's "advocacy record." The group's spokeswoman, Michelle Nealy, avoided questions of potential misrepresentation, saying NAACP leadership positions are open to those of any racial or ethnic background and noting that Dolezal is "enduring a legal issue with her family."
In Spokane, the local NAACP chapter's board is expected to meet Monday to discuss the developments.
Dolezal, who earlier said she wanted to discuss her racial background with the NAACP board before answering those questions publicly, declined interviews Friday.
At Eastern Washington University, where Dolezal has worked since 2010 as a part-time instructor and student adviser, her supervisor said she has represented herself as an African-American woman to students and others on campus for years.
"From my side, it was an unspoken assumption," Scott Finnie, chairman of the Africana Education program, said of Dolezal's racial and ethnic background. "That was my impression. I was just aware that she had a white mother."
Finnie said he hasn't talked with Dolezal about her racial and ethnic background since the emergence of her birth certificate showing both parents are white, and several family photos showing her as a blond-haired, light-skinned girl.
But racial background doesn't matter, he said.
"In working at this level of education, my view was that the passion, the mindset and the focus on African-American issues in this pluralistic society is what's key," said Finnie, who stressed that he was speaking as a friend of Dolezal rather than a representative of the university.
"As an instructor from quarter to quarter, she fulfilled the needs of our program," he added. As for the potential fallout of the family disclosures, Finnie said it would be inappropriate to comment on what amounts to a personal issue.
Quarterly instructors are evaluated between quarters and are selected based on the demand for classes and class sizes, Finnie said. There will be some consideration given to the current situation when the university considers whether to continue working with Dolezal, he said.
"Those deliberations are still up in the air."
Dolezal was scheduled to speak at the Africana program graduation Friday but a mutual decision was made that she would not appear as scheduled, Finnie said. It was important that the ceremony be about the graduates.
"We felt like this issue would be too much of a centerpiece," he said.
Wilkerson, the man Dolezal claims is her father, lives with his wife in Pierce County, Washington. He previously lived in Athol, Idaho.
In a Facebook post from December, Dolezal identified Wilkerson in a photograph as "my dad." She's also said in interviews with student publications that the man listed on her birth certificate is her stepfather.
Dolezal said earlier that she has been estranged from her family in Montana and that their claims are part of a dispute that has pitted family members against each other.
Staff reporter Nina Culver contributed to this report.
Local journalism is essential.
Give directly to The Spokesman-Review's Northwest Passages community forums series -- which helps to offset the costs of several reporter and editor positions at the newspaper -- by using the easy options below. Gifts processed in this system are not tax deductible, but are predominately used to help meet the local financial requirements needed to receive national matching-grant funds.
Subscribe now to get breaking news alerts in your email inbox
Get breaking news delivered to your inbox as it happens.
---