Sports
GU notes: Several Bulldogs get first shot at NCAA tourney spotlight
Fri., March 20, 2015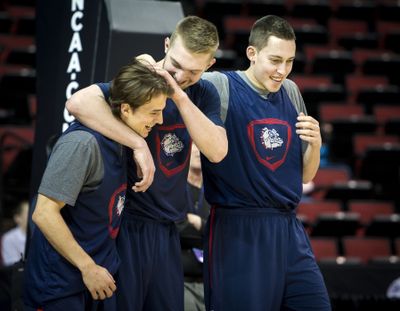 SEATTLE – Kevin Pangos, Gary Bell Jr. and Kyle Wiltjer have played in six NCAA tournament games. Przemek Karnowski and Kyle Dranginis have suited up for four and played in three.
But the Zags have several NCAA tournament newcomers, including Silas Melson, Eric McClellan, Domantas Sabonis and Byron Wesley. They'll suit up for their first tourney game tonight against North Dakota State at KeyArena.
"I don't even know what to expect," said Sabonis, a freshman forward who averages 9.5 points and 6.9 rebounds. "Now every game is going to be crazy. All my teammates have said it's an amazing experience. We hope to make it a good one."
The primary reason Wesley left USC after three seasons was to find for a winning program with an opportunity to play in the NCAA tournament. Gonzaga has won 32 games. USC won 31 in Wesley's three seasons.
"I've been watching the NCAA tournament since I was a little kid," Wesley said. "It's a place I always dreamed of making one day. At USC it was kind of tough not getting that chance to play on the big stage. Luckily, the pieces fell into place."
Wesley has filled an important role for the Bulldogs at the '3' position. He's averaging 10.8 points and 4.9 rebounds. He ranks second on the team with 79 assists.
"I knew him before college. We went to an NBA Top 100 camp," Bell said. "Watching him on film, I thought he would fit our system well. He gives us a scorer that me and Kev have never had (at the 3)."
Wiltjer said having so many NCAA games under his belt boosts his confidence.
"I was coming off the bench (at Kentucky)," he said. "Just coming in and being able to shoot well, that's a tough situation to be in but it gives me confidence I can shoot well in any environment."
Wesley has enjoyed the week of build-up, but he's ready to take the court.
"All the hype and expectations," he said, "just get away from all that and play basketball."
Road work
It takes some effort to muster concerns about Pangos' stellar career, but one that has stuck with him was that his production shrinks away from the McCarthey Athletic Center. Pangos has heard it for years, but not so much this season.
He's one of several Zags who have thrived in road/neutral court contests. The senior guard has averaged 12.6 points and 5.5 assists in helping GU compile a 16-1 record. His 3-point percentage has been equally good at home (44.6 percent) and away (44.3), but his free-throw percentage is 85.3 on the road, nearly 7 percentage points higher than at the MAC.
"All the time," smiled Pangos, when asked how often he's heard the home/away rap. "For me, I'm a routine guy so I figured out a better routine on the road throughout my years but those are just numbers."
Wiltjer's stats are markedly different. He's at 19.8 points and 6.6 rebounds road/neutral. At home, his numbers drop to 13.6 points and 5.4 rebounds. His 3-point percentage is exactly the same (46.6) home and away.
"That's a good thing," joked Wiltjer, knowing that GU will be on neutral floors as long as it keeps winning. "I didn't know that, but I've always liked playing on the road, just being able to shut up the opposing crowd."
Wesley averages 11.5 points and made 7 of 15 3-pointers away from the MAC. At home, he's at 10.4 points and 2 of 15 beyond the arc.
Tip-ins
Gonzaga has had more assists than its opponent in 31 of 34 games, more rebounds in 29 games and an equal or better field-goal percentage in 31 games. … The Zags are making their 17th straight NCAA trip and 18th overall. Few is 16-15 in tournament games and GU is 19-17 overall. Gonzaga is 3-1 in tournament games at KeyArena. … Gonzaga won the only meeting against North Dakota State, a 74-70 decision in Williston, North Dakota, in 1956.
Local journalism is essential.
Give directly to The Spokesman-Review's Northwest Passages community forums series -- which helps to offset the costs of several reporter and editor positions at the newspaper -- by using the easy options below. Gifts processed in this system are not tax deductible, but are predominately used to help meet the local financial requirements needed to receive national matching-grant funds.
Subscribe to the sports newsletter
Get the day's top sports headlines and breaking news delivered to your inbox by subscribing here.
---