Sports
Women's notes: Oregon State's program turned around with Weisner
Sun., March 22, 2015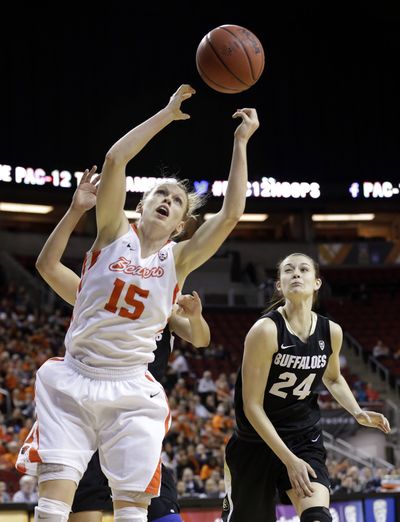 CORVALLIS, Ore. – As coach Scott Rueck sees it, Oregon State's journey to the Pac-12 Conference title began with a courageous first step from Jamie Weisner.
The former Clarkston High star could have taken the road more traveled, the one that led her every summer to basketball camps at Gonzaga. Family and friends already awaited her in Spokane. So did a tradition of winning at GU.
In the winter of 2011-12, while the Zags and other top programs were seeking Weisner's services, Oregon State had nothing to offer apart from Rueck's vision for the future. To his surprise, Weisner donned the orange-tinted glasses, shared that vision and signed with the Beavers.
"And look where we are now," said Weisner, who is one step away from returning to Eastern Washington for next week's Spokane Regional. Coincidentally, it's Gonzaga that stands in the way today in their second-round matchup at Gill Coliseum.
For Weisner, and several Zags, the game will double as a reunion.
"It's going to be fun," said Weisner, who played AAU ball with Elle Tinkle, on the Canadian Team with Emma Wolfram, and squared off against Pullman's Shelby Cheslek in some epic Great Northern League matchups.
When those were over, the 5-foot-10 guard made the brave move to Corvallis. Rueck's vision was tested in her freshman year, as Weisner averaged 12.5 points and six rebounds, but the Beavers went 4-14 in the Pac-12 and 10-21 overall.
But as Weisner led the Beavers on the court, she paved the way for more talent to follow. As Rueck likes to point out, change came to Corvallis "when Jamie came."
As the Beavers' program evolved, so did Weisner's game. In her first two years, she was primarily a catch-and-shoot player whose defense was barely adequate at the Pac-12 level.
Then came "the event." After a loss at Arizona State last year, Weisner took out her frustrations by punching a wall. It punched back, and she missed nine games with a broken hand. Forced into being a bystander, she became a better student of the game. Now she's creating off the dribble and making a bigger contribution on defense and on the glass.
"That was a significant event for her – and us," Rueck said. "It changed all of us."
By the end of the year, OSU was 13-5 in the conference, 24-11 overall and made the NCAAs for the first time since 1996.
This year, Weisner leads the Beavers in scoring (13.4 ppg) and is second in rebounding with 6.3 a game. OSU just won the Pac-12 regular-season title with a team that Weisner prizes as much for its chemistry as its 27-4 record.
"Coach Rueck brings in people that he knows will work well together," said Weisner, who also rooms with three teammates.
"It's a blessing and I'm so happy to be here."
Keeping it in the family
A quick wardrobe change was all Wayne Tinkle needed to get through Friday's first round of the NCAA tournament at Gill Coliseum.
The OSU men's basketball coach wore black and orange during the Beavers' win over South Dakota State then switched to Gonzaga red as he watched daughter Elle help the Zags to an upset win over George Washington.
The winners meet today, which means Tinkle has a dilemma. Then again, he doesn't. Tinkle will wear red and cheer for his daughter and the Zags.
"I've been with Oregon State for 10 months. I've been with Elle for 21 years," he told The Oregonian. "I want both teams to play well and it would be nice to see my daughter's team advance."
Elle's sister Joslyn, a former standout at Stanford, will join her parents for the game.
Fortier revels in EWU men's success
It's been quite a year for GU assistant Craig Fortier.
A year ago, he was an assistant to Eastern Washington men's coach Jim Hayford, but left the Eagles after his wife, Lisa, was promoted to lead the Zags.
He's no longer at EWU, but Fortier got satisfaction from watching his work bear fruit when the Eagles made the NCAA tournament for the first time in 11 years.
"I was really happy for them, not about the success itself, but the work that went into it," said Fortier, who said the transition to GU – and the women's game – has been easy.
"The ladies really embraced me. They want to be coached and work hard," Fortier said.
Local journalism is essential.
Give directly to The Spokesman-Review's Northwest Passages community forums series -- which helps to offset the costs of several reporter and editor positions at the newspaper -- by using the easy options below. Gifts processed in this system are not tax deductible, but are predominately used to help meet the local financial requirements needed to receive national matching-grant funds.
Subscribe to the sports newsletter
Get the day's top sports headlines and breaking news delivered to your inbox by subscribing here.
---
Subscribe and log in to the Spokesman-Review to read and comment on this story