News > Obituaries
Obituary: Thompson, Margaret Jean Wright
Age 78
Wed., May 6, 2015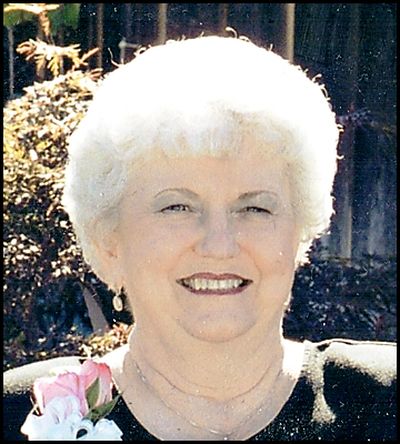 THOMPSON, Margaret Jean Wright March 2, 1937 - April 30, 2015 Margaret was born on March 2, 1937 in Calgary, Alberta, Canada.
She passed away peacefully surrounded by her family on Thursday, April 30th.
Margaret grew up in Mountain View, Alberta, Canada and attended school until her ninth grade year.
She then got a full time job working in Lethbridge as a secretary to help support her family.
She and her family only lived in Lethbridge for one year and then moved back to Mountain View.
When she was 19, she was set up on a blind date with Bud E. Thompson.
They dated and then were married on November 17, 1956.
After they were married she moved to Moscow, Idaho where Bud was attending college at the University of Idaho.
She worked while Bud completed his degree.
After his graduation they moved to Walla Walla, WA.
In January 1960 their daughter, Kimberlee Jean was born and 15 months later twin daughters, Connie Lynne and Bonnie Lee were born.
They then moved to the Spokane Valley where they purchased their first home.
In 1967 their fourth daughter, Leslie Diane was born.
They had their dream home built in 1969.
It was a huge accomplishment with both of them coming from such humble backgrounds and no financial help or support from anyone.
Her greatest joy was being a wife, mother, grandma and homemaker and she excelled in all these areas.
Margaret loved to have company and cook for large groups.
She was a kind and compassionate person and loved to help others.
She was a member of The Church of Jesus Christ of Latter-Day Saints and served in many positions.
She was a great example of Christ-like service to those she was around.
Bud passed away in June 2006, six months before their 50th wedding anniversary.
Margaret continued living in their home until last June and was moved to Orchard Crest Assisted Living Facility.
Margaret was preceded in death by her parents, Benar and May Wright, her two brothers, Gordon and Bryant and her husband, Bud.
She leaves behind her sister, Charmayne Scanlon; sisters-in-law Karen Wright and Barbara Goodaker; daughters Kim (Clint) Skelton, Connie (John) McCoy, Bonnie (Phil) Routsis, Leslie (Lance) Simon; 15 grandchildren, 13 great-grandchildren and numerous nieces and nephews.
Margaret will be greatly missed.
Funeral services will be held on Monday, May 11, 2015 at 11:00AM, with visitation starting at 10:00AM at the Church of Jesus Christ of Latter-Day Saints located on the corner of 40th Ave. and Bowdish Rd.
in the Spokane Valley.
Local journalism is essential.
Give directly to The Spokesman-Review's Northwest Passages community forums series -- which helps to offset the costs of several reporter and editor positions at the newspaper -- by using the easy options below. Gifts processed in this system are not tax deductible, but are predominately used to help meet the local financial requirements needed to receive national matching-grant funds.
Subscribe now to get breaking news alerts in your email inbox
Get breaking news delivered to your inbox as it happens.
---