Sports
Soccer: Garfield ends Mt. Spokane's run
Wed., May 20, 2015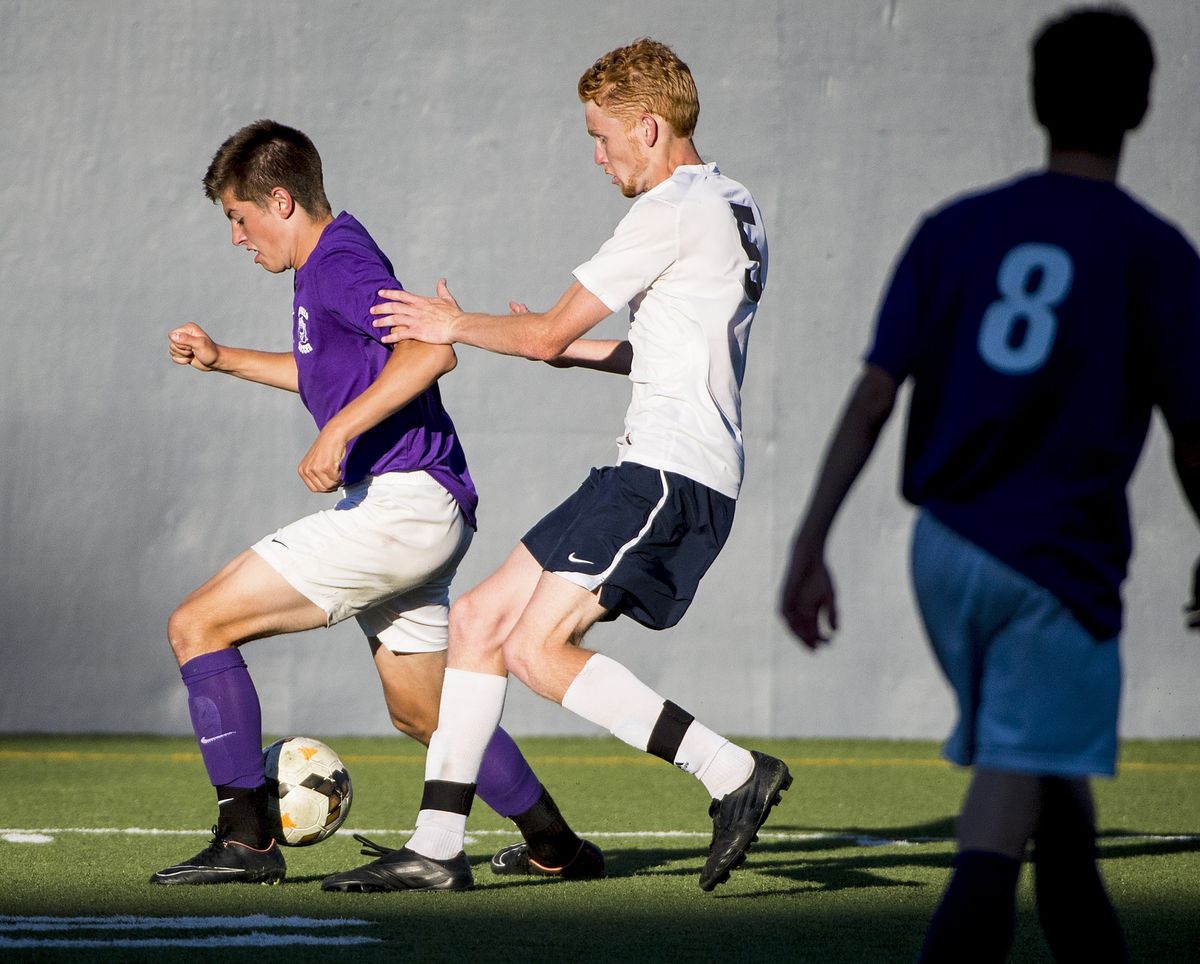 Garfield's Rainier Schlekewey, left and Mt. Spokane's Alex Foust battle for ball. (Colin Mulvany)
The little engine finally ran out of steam.
Mt. Spokane's magical postseason soccer run ended abruptly Tuesday night at Albi Stadium, where Garfield claimed a dominating 4-0 win over the Wildcats in a first-round State 3A playoff game.
"It's hard to go out this way," said Mt. Spokane senior midielder Jake Morse, who a week ago was celebrating two assists in a regional title win over Kennewick that got the Wildcats to state.
Winning district, regionals and getting to state, we checked all the boxes," Morse said after posing with his teammates for a picture that included the regional championship plaque.
If that assuaged some of of the disappointment of Tuesday's match, Morse wasn't buying it.
"We didn't play well, and they shouldn't have gotten that many goals," Morse said.
Garfield, the third-place team from the Metro League Sound Division, had the better of it despite the long bus ride from Seattle. The Bulldogs (13-4-2) missed two early chances, and the match settled into a see-saw affair until a free- kick opportunity went horribly wrong for Mt. Spokane in the 12th minute.
Thirty yards from goal, Morse kicked the ball wide. A Garfield defender pounced on the ball and sent a long ball downfield. Forward Roko Bedalov touched the ball in stride and scored from 15 yards.
"It was really just a busted play," Campanella said. "That's not something we usually do right off the bat. … Our defense was up a little higher than they should have been and we got exposed."
Mt. Spokane, which finished 6-9, played the visitors evenly into first-half stoppage time. But Garfield freshman Josh Chestnut's cross eluded Mt. Spokane goalkeeper Evan Kamerer and found Tommy Renehan for an easy tap-in and a 2-0 halftime lead.
A minute into the second half, Mt. Spokane almost got back in the match. Tyler Smith found space on the right and blasted a shot that clanged off the crossbar.
Fifteen minutes later, Bedalov notched his second goal with a 20-yarder following a pass from Jameson Goff. Holton Halfaker sealed the deal in the 71st minute with a perfect free kick from 25 yards that curled past Kamerer into the upper left corner of the goal.
Garfield outshot Mt. Spokane 11 to 5.
Garfield advances to a quarterfinal match this weekend against Auburn-Mountainview, which won 1-0 at Kamiakin earlier Tuesday.
2A
Ryan Campbell and Micah Lagerquist both scored goals in the first half as host Pullman held off Quincy 2-1 in the first round of the State 2A tournament.
The Greyhounds (16-3) will play a quarterfinal match at either Othello or Whitewater on Saturday. Pullman was outshot 12 to 9, but made four saves.
1A
Luis Orozco scored two goals as Brewster defeated host Colville 4-2 in the first round of the State 1A tournament. Alberto Cisneros scored both goals for Colville, which trailed 1-0 at halftime.
Local journalism is essential.
Give directly to The Spokesman-Review's Northwest Passages community forums series -- which helps to offset the costs of several reporter and editor positions at the newspaper -- by using the easy options below. Gifts processed in this system are not tax deductible, but are predominately used to help meet the local financial requirements needed to receive national matching-grant funds.
Subscribe to the sports newsletter
Get the day's top sports headlines and breaking news delivered to your inbox by subscribing here.
---