News > Washington Voices
EWU students survey East Central's history
Thu., May 21, 2015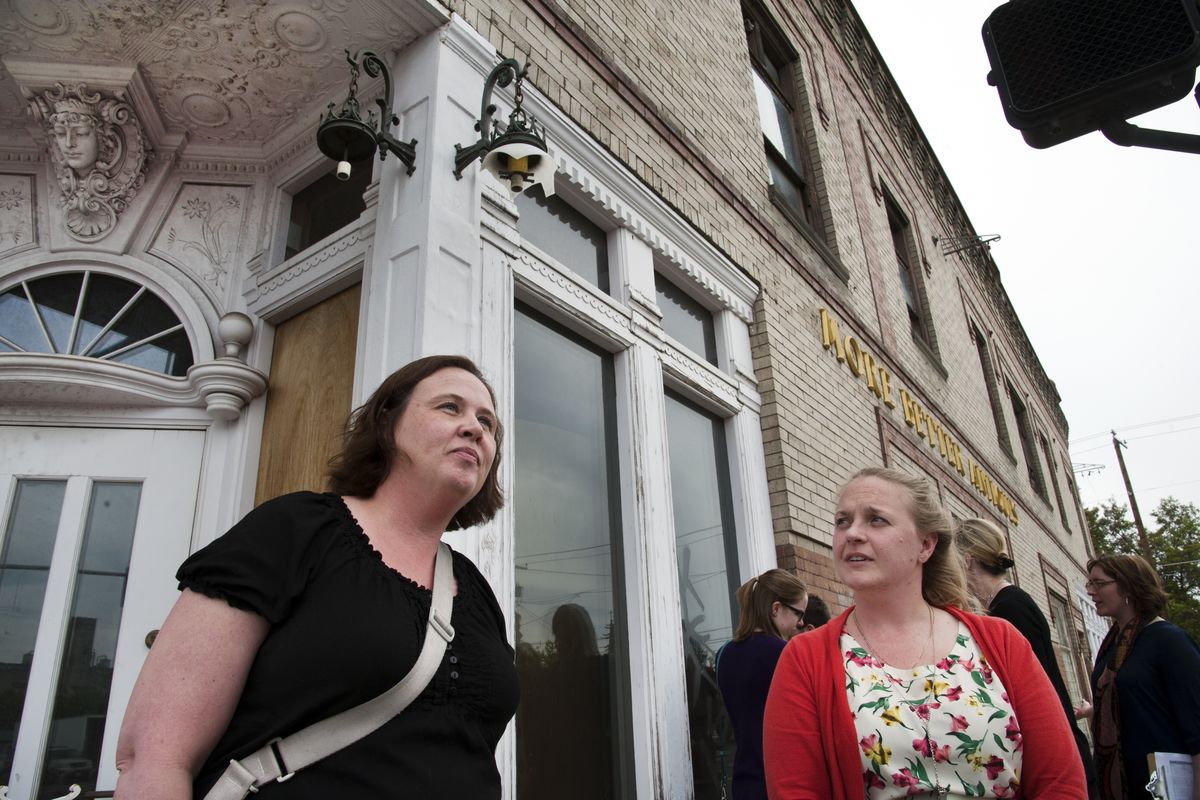 EWU student Jessica Bell, left, and Emily Vance, project employee for the Historic Preservation Office, visit the More Better Building on Friday in East Central Neighborhood. (Dan Pelle)
A group of Eastern Washington University students has been nosing around East Central in recent months to help with ongoing efforts to revitalize the aging district.
They are undertaking a historical survey of 144 properties in the heart of East Central, including several older buildings on Sprague Avenue.
One of them is the former Union Park Bank at 2002 E. Sprague Ave. that has stood vacant since a fire burned out a tavern on the ground floor of the building. The owner has been using it for storage.
The building holds historic pedigree, including a prominent clock stand on the front sidewalk and ornate decorations on the entry. Inside, a surviving bar would be the envy of most barkeeps.
"This neighborhood was a working-class area," said Anthony Taylor, an undergraduate in urban and regional planning.
He said construction of Interstate 90 divided the East Central Neighborhood and contributed to its decline.
The state has been buying up and razing homes along Second and Third avenues in advance of construction to connect the North Spokane Corridor with I-90, including new collector and distributor lanes alongside the main through lanes.
The state has made funding available to the city to mitigate for the loss of housing stock.
The Spokane City-County Historic Preservation Office is using some of that money to undertake the historic survey with Taylor and four other student interns helping out.
As part of their assignment, the students are expected to come up with recommendations for revitalization.
Most needed, the students said, is reconstruction of Sprague Avenue to create a more pedestrian-friendly environment with street trees, better sidewalks and other amenities. They said the change in recent years to one lane in each direction and a center turn lane was an improvement from the former four-lane configuration.
Megan Duvall, the city-county historic preservation officer, said the historic survey will be used in targeted efforts to obtain grants and other funding for improvements. She said the historic texture of East Sprague is often overlooked by the broader public.
Emily Adams, a graduate student in urban and regional planning, said that East Central should capitalize on its historic trolley lines. Pieces of old brick pavement are still visible. The neighborhood could use the trolley connection as a theme for local identity, she said.
Also, Adams said that I-90 should have more buffering with landscaping to block the traffic and noise. In addition, Riverside Avenue one block to the north is so wide that it could be turned into a neighborhood boulevard, the students said.
Many of the storefronts on East Sprague are vacant, but the neighborhood seems like a good place to develop cafes, a brewery and other shops, Duvall said.
The Bay Oriental Market has a constant stream of customers. So does Sonnenberg's Market and Deli at 1528 E. Sprague Ave. There are numerous other thriving businesses, including the Tin Roof home decorating, electronics and furniture store at 1727 E. Sprague Ave.
Also having a prominent presence is Strong Solutions, an Apple outlet and service business at 1718 E. Sprague Ave. It is located in an Italianate-style building that once housed the Electro Mart store.
Bennedito's Pizza announced this month that it is opening a brew pub at an expanded location on Sprague near Magnolia Street.
Taylor said the neighborhood has reason to be proud of its history. He said that the Full Gospel Missions for All Nations Church at 1912 E. First Ave. was one of the first integrated churches in Spokane after it opened in 1908 as the Trinity Presbyterian Church. It has a wooden Gothic tower that is an important landmark in Spokane.
The students said they were surprised at the extent of religious life back in the day. "There are a lot of churches," Taylor said.
Local journalism is essential.
Give directly to The Spokesman-Review's Northwest Passages community forums series -- which helps to offset the costs of several reporter and editor positions at the newspaper -- by using the easy options below. Gifts processed in this system are not tax deductible, but are predominately used to help meet the local financial requirements needed to receive national matching-grant funds.
Subscribe now to get breaking news alerts in your email inbox
Get breaking news delivered to your inbox as it happens.
---