Sports > Outdoors
John Wayne Trail irreplaceable asset for Eastern Washington, advocates say
Wed., Nov. 11, 2015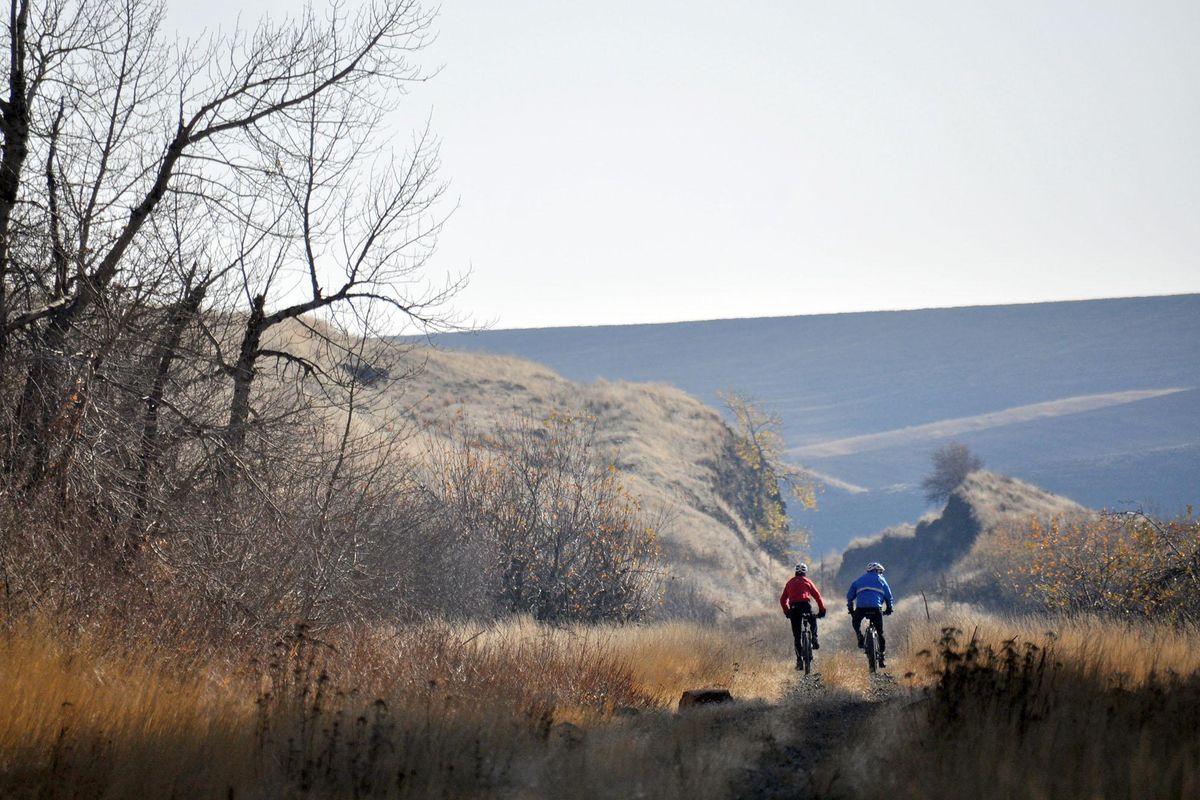 Chip Andrus, left, and Pat Sprute of Spokane cycle on the abandoned railway called the John Wayne Trail near Rosalia. (Rich Landers / The Spokesman-Review)
In the hours before a Tuesday noon hearing in Rosalia, a few people were walking and biking nearby on a special ribbon of public land.
They were reminding themselves why they would testify before state legislators in favor of maintaining the entire 250-some-mile abandoned railway known as the John Wayne Trail.
"This is unique and irreplaceable," said Pat Sprute of Spokane, who pedaled the entire route from the Idaho state line to Western Washington in 2012.
It's the largest rail-to-trail conversion in the nation, one of only two cross-state trails in the United States.
As Sprute and Chip Andrus pedaled their fat-tire bikes out of the Whitman County town, they passed through wheat fields and over the century-old railway's two spectacular concrete arched trestles that catch the eye of motorists on U.S. Highway 195.
Later they joined about 100 people in the town's community hall for a hearing on whether a portion of the trail should be closed and turned over to adjacent landowners.
They hashed out opinions with farmers such as Jay Allert, whose property is crossed by the trail for two miles. Allert said the trail is a public nuisance and burden on landowners.
The meeting was the first of three set by Rep. Joe Schmick, R-Colfax, and Sen. Mark Schoesler, R-Ritzville. Others are set for Monday in Lind and Nov. 23 in Ellensburg.
Opposition to the trail from landowner groups dates to 1981 when Gov. John Spellman signed the Washington Legislature bill that authorized purchasing 213 miles of right of way from the bankrupt Milwaukee Railroad for $3.5 million.
Because the railroad owed back taxes, the state paid only $1.9 million for the 4,024-acre ribbon of land, which had some private inholdings that disrupted continuity. Total cost including administrative expenses and 59 bridges was $2.5 million.
The acquisition was completed despite formal opposition by East Side ranchers and farmers and county commissioners from Adams, Grant, Kittitas and Whitman counties.
Legislative efforts to force sale of the railway to adjoining landowners continued in 1982. A trail plan was studied for several years and was one of the most controversial topics in the 1983 Legislature.
Lawmakers could not agree on a plan for the trail until 1985. Jurisdiction to the trail east of the Columbia River was turned over to the Department of Natural Resources, which set restrictive use guidelines and a permit system that squelched recreation use.
The trail west of the Columbia, where it links into other rail trails all the way to Puget Sound, has become popular while East-Side use is light. Today the John Wayne Trail is managed as part of Iron Horse State Park, but only portions of the route have been developed.
The new round of debate over selling or preserving the rail trail was sparked in September when trail advocates learned that the right of way was a typo away from being disposed in a 2014 legislative bill.
Rep. Schmick and Rep. Mary Dye, R-Pomeroy, attempted to shut down a 130-mile portion of it by inserting a last-minute provision into the state's capital budget without public announcement or input. An error in the language negated the action that would have closed the trail from the Columbia River east to Malden.
The legislative scheme caught the attention of the Tekoa Trail and Trestle Association, which has been working to gain funds for rebuilding the railroad bridge on the trail near their small town.
"When asked later why he made such a definitive move as to close the statewide trail forever in the shadows of secrecy rather than the openness of democracy, (Schmick) said he did not want to waste his fellow legislators' time by having a hearing for such a trivial matter," said Ted Blaszak, association member and Tekoa city councilman.
A contentious public meeting was held in Tekoa last month. While polarized opinions on closing or preserving the trail remain strong, the Rosalia meeting was informative and civil through 150 minutes of testimony.
The people at least were listening if not agreeing.
Many trail advocates stressed the potential for boosting the economies of rural towns along the way, citing studies on rail trails in other states.
Brandon Spencer, noting that his family has opposed the trail from the outset, said it runs through their 10,000-acre ranch for six miles.
"It's 25 miles in either direction from my place before you hit a town," he said, suggesting that trail users have little impact on scattered towns.
Spencer said the trail is "just another case of Washington making it hard for farming families."
Landowners testified that the trail increases problems with weed control, trespassing, fencing, trash dumping, vandalism, illegal hunting and fire danger.
"I totally get it," testifed Blaszak, noting that he understood why landowners were bitter. But he said the 200 landowners along the trail have to find some agreement with the 7 million Washington residents who have a stake in rail-trail's potential.
Several trail advocates pointed out that property owners in towns and cities suffer from crime, too.
Dar Brady of Ellensburg, president of the John Wayne Pioneer Wagons and Riders Association, said she's crossed Eastern Washington nine times on the trail during the group's annual treks.
"About 160 people from across the country join us on that ride," she said. "Some of the best times on the trail are with the ranchers who greet us along the way," she said, noting that all landowner don't oppose the trail.
If trail users can be blamed for littering and posing a fire risk, the finger also can be pointed at landowners.
"I rode my bike on the trail from Tekoa (to Rosalia) for this meeting," said Dan Schafer, who's been instrumental in developing the popular Fish Lake rail trail out of Spokane. "I didn't see any litter. I did see some junked farm machinery and two moose."
In 1982, Julius Sauer, 74, let a fire get away and burned a bridge near his property in the Ewan area. In April 1985 when emotions continued to be hot about the new trail, an arson-cased fire burned a 300-foot bridge near Rosalia.
"I'm here to represent the future for my kids," said Doug King of Farmington, who pedaled his two young towheads on the trail in a trailer behind his bike before the meeting.
Despite the disappointment of being the senior-most ranger terminated in the Washington State Parks budget cuts of 2012, King said the John Wayne Trail is a park feature that will continue to increase in value.
"I want a place where the kids can't get cellphone service and where they can go 25 miles without seeing someone," he said.
Garry Kehr of the Spokane Bicycle Club joined others in saying the key to compromise was seeking more money to develop the trail in Eastern Washington. More traffic by legitimate users increases self-policing.
In recent years, millions of dollars of federal funding have become available for alternative transportation projects, he said: "There's money out there. It's up to us to ask for it."
Other new developments, such as growing interest in the Ice Age Floods geology the evolution of fat-tired bicycles, increase the potential for use of the trail, Sprute said.
"Even the gnarly rough-rock sections near Lind can be ridden on a bike with 5-inch-wide tires," he said.
Several trail advocates said they were angry that the state charges adjacent landowners for the right to move equipment on the trail.
"That's nuts," Andrus said. "Landowners should be treated as trail partners."
Blaszak and the Tekoa group presented a list of points they hope Rep. Schmick will use as a basis for any further legislation he propose to the Legislature. They include weed control, fencing and removing landowner fees for moving equipment, as well as adding ranger service and volunteer cleanup programs.
They also include replacing trestles, removing recreation permit requirements, improving trail surface and developing trailheads.
Citing the history of trails throughout the country, including the Spokane River Centennial Trail, Rich Wesson of Pullman noted a common evolution.
"A lot of people who were against trails come around to becoming supporters," he said.
Local journalism is essential.
Give directly to The Spokesman-Review's Northwest Passages community forums series -- which helps to offset the costs of several reporter and editor positions at the newspaper -- by using the easy options below. Gifts processed in this system are not tax deductible, but are predominately used to help meet the local financial requirements needed to receive national matching-grant funds.
Subscribe to the sports newsletter
Get the day's top sports headlines and breaking news delivered to your inbox by subscribing here.
---