News > Spokane
Windstorm taught us we're all connected, either by electricity or concern
Sun., Nov. 29, 2015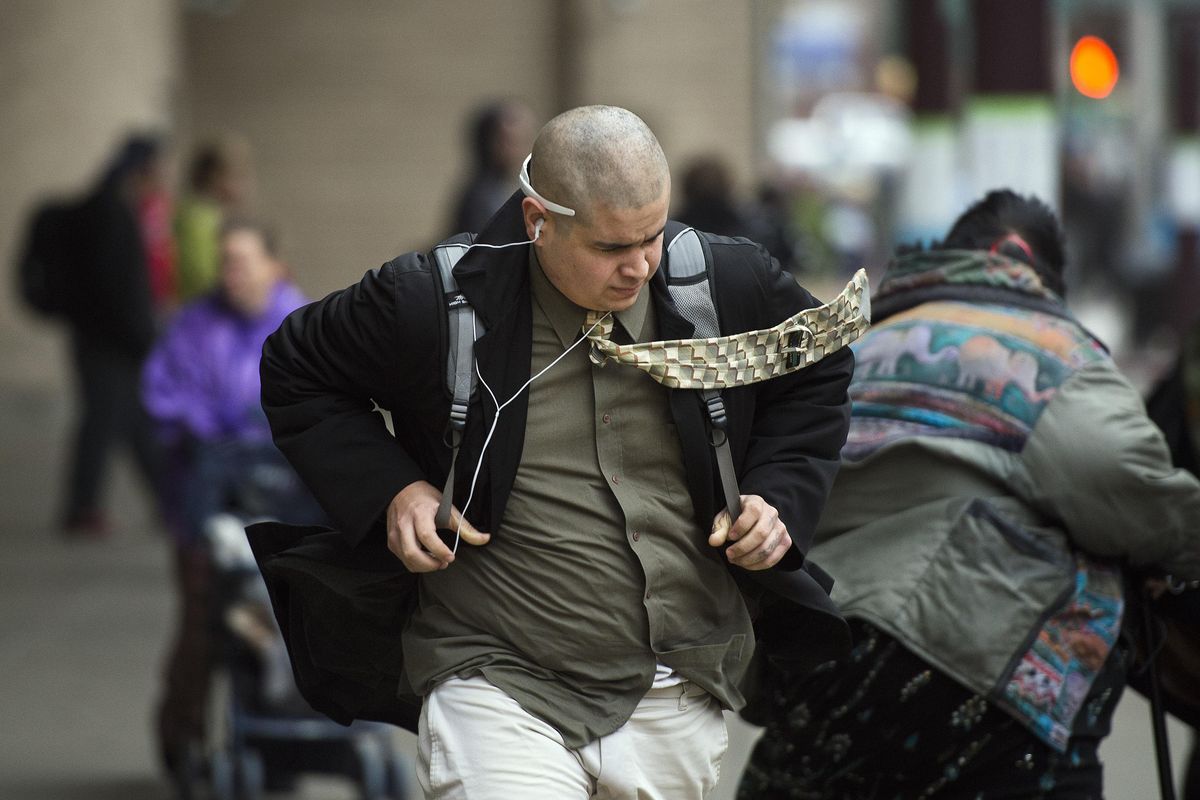 Zach Trujillo battles the high winds as he catches a bus, Nov. 17, 2015, at the STA Plaza in downtown Spokane, Wash. (Dan Pelle / The Spokesman-Review)
On Nov. 17, a ferocious wind blowing at near-hurricane levels tore into Spokane, slamming 100-year-old trees to the ground, flattening power lines, injuring many and killing two people. The wind stretched Spokane's citizens and infrastructure to a breaking point.
But at the same time it revealed an undercurrent of humanity and strength often forgotten in a busy world. As the wind forced us out of our homes and into the streets, it revealed our ability to care.
Each toppling tree and exploding transmitter highlighted the fragility of infrastructures. Families huddled in darkened homes, bundling up to stay warm. Trees blocked roads for days. Schools closed. Thousands remained powerless.
The poor, sick and elderly had it the worst.
"A lot of people are suffering here," said Matthew Watters, in his frigid apartment near the Perry District. "There are people here like me who are disabled. Single parents. People with electric wheelchairs."
Watters and his 9-year-old son spent their days driving in search of shelter.
Sharon Alexander cared for her husband, who has dementia. She kept him warm with blankets and hot drinks. He didn't know what was going on, she said.
The wind revealed our weaknesses. Yet it exposed the strength and compassion coursing just under the surface. Alexander's neighbors brought her hot drinks and checked on her regularly.
"It's unfortunate it happened," she said. "But we got to know our neighbors much better, which was nice in some respects."
Strangers, hearing about the Watters' plight, sent supplies to him and his son. One generous benefactor paid for them to spend a night in a hotel.
People banded together to clear downed trees, helping in whatever way they could.
Line crews worked around the clock while individuals and organizations opened their pockets.
"It's great to be part of a neighborhood that takes care of each other," Tammara McGovern said. Her husband, Jon, added, "It's sad, but something like this brings the neighbors together."
Children played outside, cut off from television and video games. Families gathered around candlelight or in front of fires.
Curtis Tensley, a 13-year-old eighth-grader at Chase Middle School, said he enjoyed playing Pictionary and Connect Four with his family. He spent his days away from school with friends at Grant Park.
That current of connection raced through Spokane in the storm's aftermath. The suffering was, and is, real. The effects serious and long-lasting. But the response was equally impressive and a reminder that, ultimately, we're all connected, by electricity or concern.
Local journalism is essential.
Give directly to The Spokesman-Review's Northwest Passages community forums series -- which helps to offset the costs of several reporter and editor positions at the newspaper -- by using the easy options below. Gifts processed in this system are not tax deductible, but are predominately used to help meet the local financial requirements needed to receive national matching-grant funds.
Subscribe now to get breaking news alerts in your email inbox
Get breaking news delivered to your inbox as it happens.
---