News > Features
Memory 2.0 Café uses tablet, smartphone technology to help those with memory loss
Mon., Oct. 19, 2015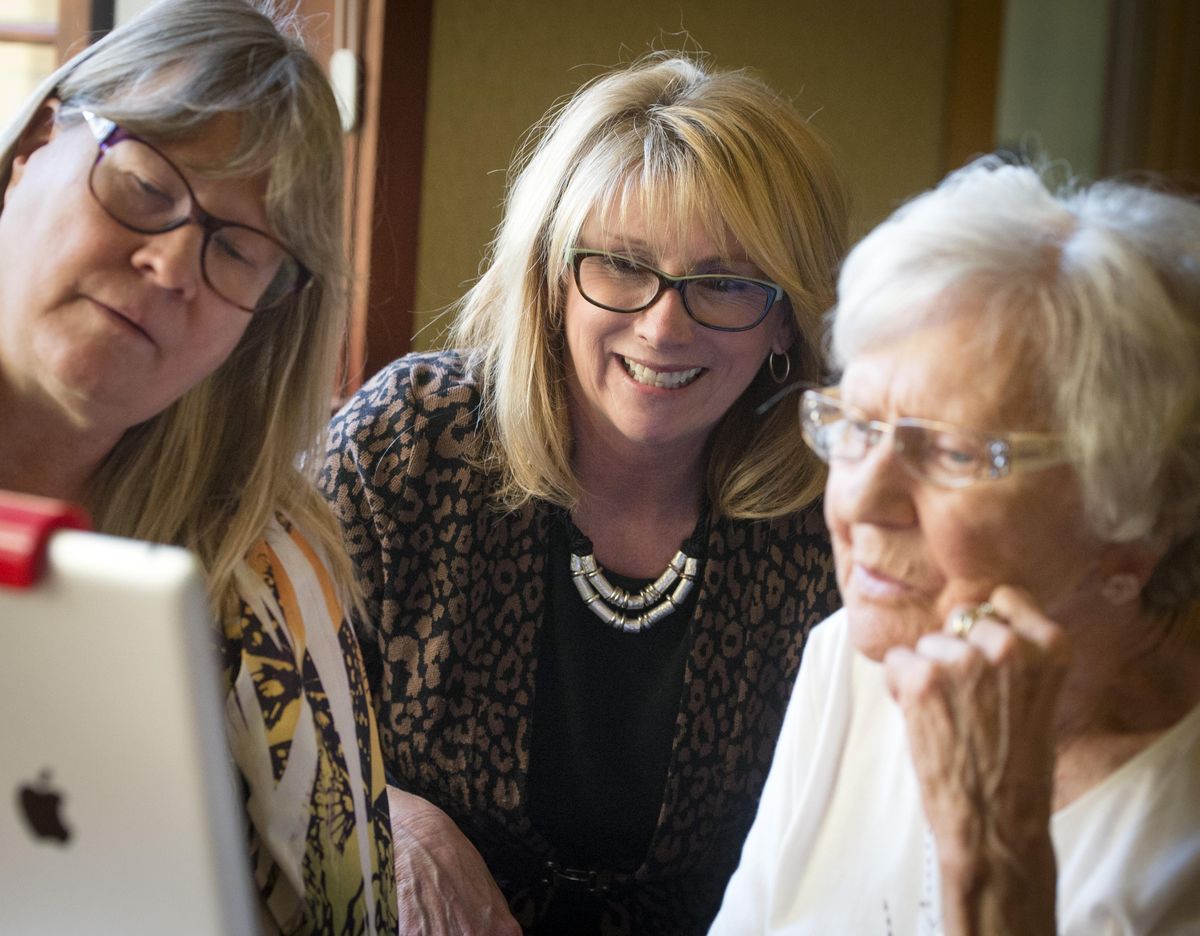 Debby Dodds, center, has started offering workshops for people with memory loss and their caretakers on how to use iPads to help memory. She's modeled the programs off her work in southern california.COLIN MULVANY colinm@spokesman.com (Colin Mulvany / The Spokesman-Review)
Frances Weishaar looks confused and lost, nervously rubbing her wrinkled hands.
Then the music reaches her ears. Weishaar's face opens into a smile and she starts to sing and clap.
"My Bonnie lies over the ocean," she sang quietly. "Oh, bring back my Bonnie to me …"
Instant success in the first five minutes of the Memory 2.0 Café, a new workshop using iPads and therapy and game apps for people with memory loss – from severe to slight – and their caregivers.
Debby Dodds, whose husband is a Spokane native, recently moved to the area after completing a master's degree in gerontology at the University of Massachusetts. Her capstone project was developing the workshop to use digital technology to engage and inspire people with memory loss.
The idea came when Dodds bought an iPad for her own mother, Hazel Brown, who has dementia. She was surprised more care facilities weren't taking advantage of available technology.
Besides singing programs, there are puzzles, apps to create memory and picture books, storytelling and other games all geared for older adults. Dodds said because the technology is portable it can help ease the anxiety of doctor's appointment or travel, or even at home when family is looking for ways to engage with an elder who has memory loss and seems distant.
Researchers are already developing apps for people with memory loss. Dodds' goal is to connect people with those technologies and let them know it is as easy as turning on a smartphone or tablet. She started a similar program with the library in Santa Cruz, California, which continues to have success helping people with memory loss – whether from Alzheimer's, traumatic brain injury, dementia, Parkinson's disease – connect with loved ones and caregivers while socializing in society.
More than 10 percent of people age 65 and older have memory loss. By age 85, it's 50 percent.
"There really is a need that exists," Dodds said in between helping the three participants at a recent session at St. John's Cathedral.
Dodds is having the Memory 2.0 Café sessions every Wednesday until Nov. 18. She encourages anyone with memory problems, whether it's just general forgetfulness to full blown dementia, to attend. She's also looking for volunteers to help at the workshops. Participants must register for the free program by calling the St. John's Cathedral office.
She will continue with the sessions in the new year.
Weishaar, a resident in Touchmark on South Hill's memory care facility, has visited the Memory 2.0 Café for several weeks. Although she doesn't remember, she is alert, participatory and enjoying the in-the-moment activities during the hour-long sessions.
Weishaar can no longer read or remember the words of songs when asked. But by using the free SingFit app, which people can download on their phone or iPad, she can sing with friends and caregivers – an activity that always boosts her mood. Music is known to spark memories, heighten mood, decrease stress and pain, and promote socialization, Dodds said.
"Music hits all parts of the brain," she said. "On an MRI it lights up the whole brain."
SingFit, designed by music therapists, provides a verbal cue of the song lyric, allowing listeners to sing along with the music. The volunteers who work at the café pick music lists from the 1940s and '50s. Weishaar and Betty Vande Kamp, who also lives at Touchmark, put on green headphones connected to the iPad. The ladies smile at each other as "This Little Light of Mine" starts to play.
Afterward, Vande Kamp lets out a big sigh of relief.
"Phhhhh," she said. "I haven't sung in a year."
She claps as a new song starts; soon she's making hand gestures for the number of strikes in "Take Me Out to the Ballgame."
Later, the two women are playing Tangram, where they arrange puzzle pieces on the table so they match the on-screen shape.
At another table, Niles Schomburg surfs for pictures of Paris to use in an electronic storybook he's creating to email to his wife, memories of their European vacation. He's sharp and vocal, but Parkinson's is robbing his word recall and causing tremors. He shakes as he holds the mic to narrate the picture show.
Karen Schomburg, Niles' wife, arrived to pick him up with her two adult sons who often are caregivers. She marveled at the Paris pictures and her husband's description of the trip, especially the food.
"It's a powerful use of technology," she said.
Local journalism is essential.
Give directly to The Spokesman-Review's Northwest Passages community forums series -- which helps to offset the costs of several reporter and editor positions at the newspaper -- by using the easy options below. Gifts processed in this system are not tax deductible, but are predominately used to help meet the local financial requirements needed to receive national matching-grant funds.
Subscribe now to get breaking news alerts in your email inbox
Get breaking news delivered to your inbox as it happens.
---