Sports
Nothing but the Best
EWU line coach understands how to teach
Thu., Sept. 3, 2015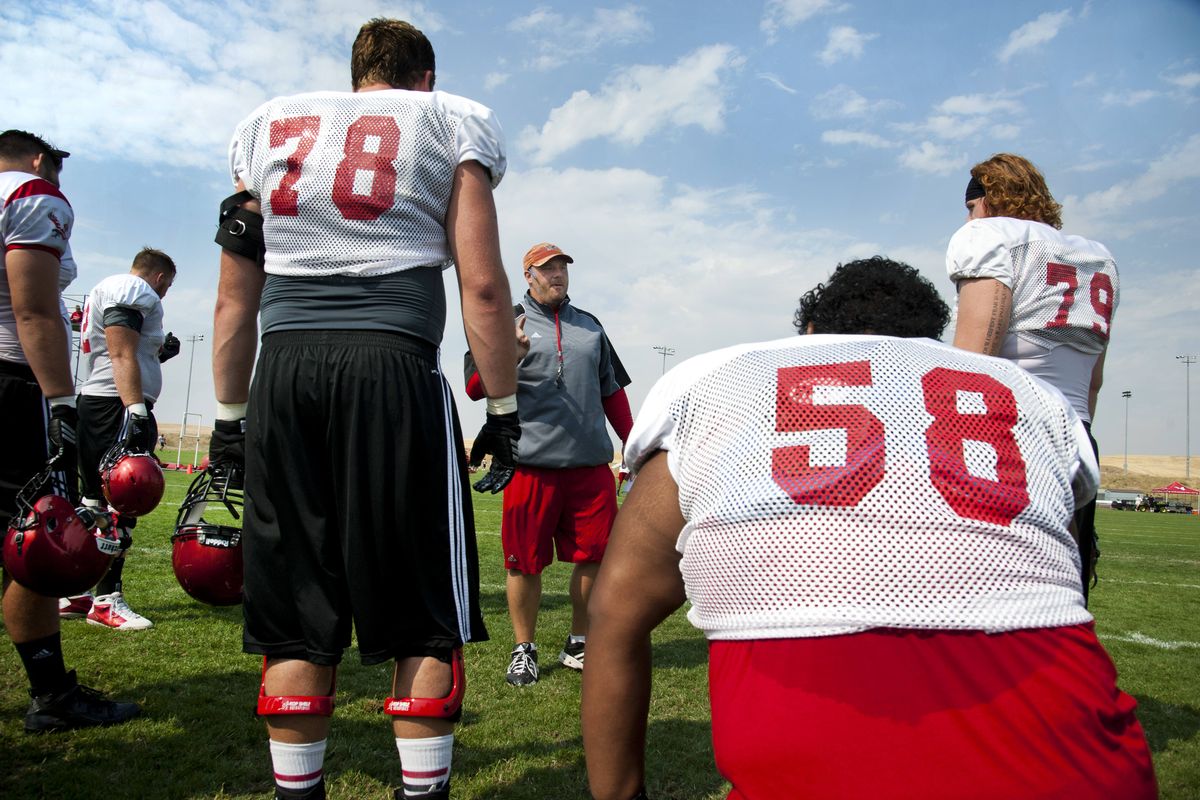 When Eastern Washington offensive line coach Aaron Best talks (or yells), you can bet every offensive lineman at practice is listening. (Dan Pelle)
Football is full of teachable moments, which is why Aaron Best joined this business in the first place.
At a recent Eastern Washington practice, the Eagles' offensive line coach had barely stepped on the field when he noticed a receiver's telltale body shift.
"Now everybody knows you're going to run a bubble screen," Best deadpanned. "Am I right?"
A few seconds later, the receiver changed his stance in silent admission of the truth: that Best was right. Again.
Even deep in the trenches, there's no place to hide from the truth, because that's where Best has lived for most of his 37 years.
Says Eastern senior tackle Clay DeBord, "If you make a mistake, you know you're going to hear about it – not just in football, but in life."
And that's the whole point. In the scheme of things, football is just a practicum in pads, and Best is the right guy to teach it. Cerebral and salty, he delivers his message with crystal clarity.
"You can see the teaching qualities," EWU coach Beau Baldwin says. "He has 16 to 20 guys, but he can engage them all."
"The best coaches are teachers," Baldwin says. "It isn't how much you know, it's how well you can convey what you know."
The Tacoma native has become a fixture since arriving in Cheney in the fall of 1996. He eventually started 22 straight games at center, earning all-conference honors on the field and in the classroom. And except for one year in the Canadian Football League, he's never left.
After giving due respect to EWU coaching legend Dick Zornes, Baldwin said that "Right now, Aaron Best is the face of Eastern football."
This time of year, that face is covered on top by old ball cap and on the bottom by unshaven stubble. Even on the hottest days, he wears a jacket, his arms folded as he appraises every stance, every shift, because that's where games are won or lost.
Love is on the line
Just ask them: Offensive linemen are the most underappreciated and misunderstood players on the football field.
Says DeBord, "Your average fan, they don't pay attention to what we're doing." To the guy in the stands, good plays happen because the quarterback made the right read; disaster strikes because the O-line broke down.
It isn't that simple. A running back can pick up 12 yards, but if he evaded two unblocked linebackers along the way, "that's not an attaboy" for the offensive line, Best said.
Conversely, a blind-side sack may be the result of a running back missing a blocking assignment in the backfield.
"From the stands you see the big picture … we see the little picture, the tight angle," Best says, confirming the old adage that the quarterback usually gets more praise and blame than he deserves.
For all coaches, the devil is in the details, and the hours spent sorting them out. With film sessions, meetings and practices, Best reckons he works 80 to 90 hours a week during a season – standard fare in this business but overwhelming for most people.
"I don't wear a watch, but if I did, I wouldn't be one of those guys who's looking at it all the time," Best said. "If you want greatness, you can't like this job – you have to love it."
The job goes far beyond the meeting room. To his players, he's a teacher, a drill sergeant, a surrogate father and a friend, in varying doses depending on the athlete – and his ego. That ego gets deflated in the first fall camp, but Best is careful "not to take all the air out, because the next year you may have to lean on them."
That was the case in 2011. The Eagles were coming off an FCS national title, but lost their first four games partly because most of the starting offensive linemen were injured.
"You want a level of confidence … you need to know your players, how they tick," Best said.
Hard work pays off
The results are startling. Last year, the line blocked for an offense that broke school and Big Sky Conference records with 618 points and 84 touchdowns.
Among the All-Americans coached by Best are Michael Roos, Jake Rodgers, Chris Powers, Gabe Jackson and Matt Alfred. In the last 22 years, the 23 Eagle O-linemen earned All-America honors while winning 24 first-team All-Big Sky Conference honors.
"I was very lucky to have the best offensive line coach possible in Aaron Best," Roos said after having his EWU jersey retired at EWU in 2009.
"He taught all of us the meaning of hard work and perseverance," Roos said.
Perseverance extends beyond the field, where Best is the Eagles' academic coordinator. He downplays his role – "I'm more of a reminder guy," he says – but he's helped the team surpass a 3.0 grade-point average.
Most incoming freshmen don't think that far ahead, but Best does. Since the Eagles coaches divide recruiting geographically and not by position, his new linemen might not be familiar with Best and his past successes.
"You may not know me, but you know what the results are," Best said. "If you just give yourself to us, truly give yourself, you'll be better off."
Local journalism is essential.
Give directly to The Spokesman-Review's Northwest Passages community forums series -- which helps to offset the costs of several reporter and editor positions at the newspaper -- by using the easy options below. Gifts processed in this system are not tax deductible, but are predominately used to help meet the local financial requirements needed to receive national matching-grant funds.
Subscribe to the sports newsletter
Get the day's top sports headlines and breaking news delivered to your inbox by subscribing here.
---