News > Marijuana
Washington marijuana sales amount to $357 million in 15 months
Wed., Sept. 16, 2015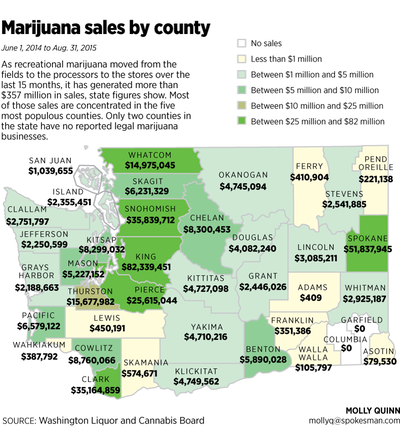 One-third of a billion dollars.
Sales of all marijuana products – from the plants grown in the fields, to the individual portions to smoke or eat processed in factories large and small, to their purchase by Washington residents and visitors – topped that figure in the first 15 months recreational marijuana has been available in the state.
Sales by businesses in Spokane County lead the state in two of the three license categories issued by the state, a computer analysis by The Spokesman-Review of data compiled by the state Liquor and Cannabis Board shows. The agency has figures for all sales collected through Aug. 31, and they top $357 million.
Spokane County edged two more rural counties, Chelan and Benton, in sales by licensed marijuana growers, with about $1.5 million sold from 69 producers. Most are relatively small, although three license holders in Cheney – Mean the Green, D & L Enterprises and Montgomery Avenue Growers – are among the state's largest and accounted for more than half the county's total with some $813,000 in sales.
Spokane County was also the top location for processing operations, where marijuana from the fields is packaged and labeled for individual sales, turned into edibles or oils or mixed with liquids. The county's 64 licensees sold nearly $20 million worth of pot products, with the top two, Grow Op Farms and Farmer J's in the Spokane Valley, accounting for more than $8 million of that total. Spokane pot processors sold more than $4 million worth of products over King County, which is in the No. 2 slot for processing.
But the majority of money generated by marijuana businesses is through retail sales, which were just short of $250 million statewide.
King County leads in the most visible part of the recreational marijuana industry, with some $66.5 million in retail sales. That's more than the next two highest counties, Clark and Spokane, combined. When the first recreational marijuana stores opened in July 2014, sales in the state's most populous county lagged because many stores there were slow to open. But King County now has 35 of the state's 173 marijuana stores, and the third largest retailer, Uncle Ike's.
The state's two biggest stores, based on sales, are in Vancouver, where New Vansterdam and Main Street Marijuana reported sales of more than $13.5 million each. Their initial sales may have been boosted by visitors from Oregon, a situation that could change because that state recently legalized recreational marijuana.
Spokane County has 15 licensed stores. None cracked the top 10 for total sales, but they do have four of the next five spots:
Sativa Sisters, in the Spokane Valley, was No. 11 with $4.5 million in sales.
Satori, in north Spokane, was No. 12, with almost $4.4 million.
Greenlight, in Millwood, was No. 13, with $4.3 million
Spokane Greenleaf, in north Spokane, was No. 15, with just under $4 million.
When voters legalized recreational marijuana in 2012 with a statewide initiative, they approved a system that collected taxes on every step of the process. This year, the Legislature revised the taxes with a system designed to collect the same amount of tax, but from the retail sales. That took effect in July, and there was a slight increase in taxes that accompanied the increase in sales. All taxes for August haven't been collected yet, but the state estimates when nearly $13 million of taxes for that month are paid, marijuana will have generated about $90 million in excise taxes.
Local journalism is essential.
Give directly to The Spokesman-Review's Northwest Passages community forums series -- which helps to offset the costs of several reporter and editor positions at the newspaper -- by using the easy options below. Gifts processed in this system are not tax deductible, but are predominately used to help meet the local financial requirements needed to receive national matching-grant funds.
Subscribe now to get breaking news alerts in your email inbox
Get breaking news delivered to your inbox as it happens.
---