Sports
Eagles thin at running back
Mon., April 11, 2016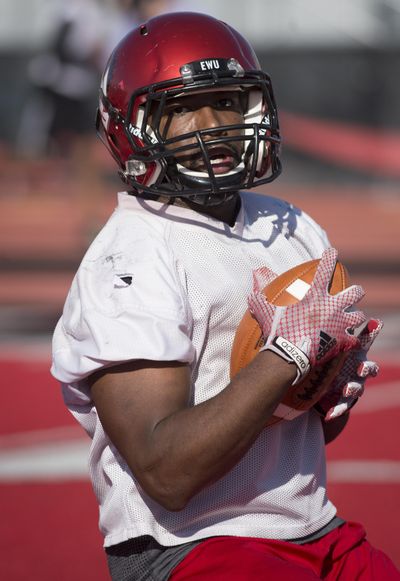 There's nothing like a little individual attention.
The Eastern Washington running backs – all three of them – are getting plenty this spring from assistant coach Kiel McDonald.
That's a good thing, insists Sam McPherson, a true sophomore-to be who says "practice is really tough, but it's fun getting a lot of reps, and it lets him (McDonald) focus on our mistakes."
"That's a nice benefit," said McPherson, who's working alongside senior Jabari Wilson and redshirt sophomore Ashanti Kindle.
Numbers are down partly because of injury-related departures of Jalen Moore and Malcolm Wiliams Jr.; however, the ranks will double this fall with the addition of three touted high school recruits.
In the meantime, the focus this spring is on "continuing to progress in what's going to be our staple running plays," coach Beau Baldwin said.
There's hard work ahead. Last year saw a regression in the EWU run game in every major category. Carries were down from 552 to 358, while yards per rush dropped to 3.8 – 96th in the Football Championship Subdivision.
Baldwin said that circumstances – Eastern went with its strength last year, throwing 462 passes – were a big factor. "I don't get too caught up in it unless it gets to out of whack," Baldwin said.
"But we've got to make sure to stay true to what we believe is a good balance," Baldwin said.
This spring, the biggest factor may be the development of a young offensive line; the Eagles must replace all five starters, plus their top two reserves.
"We have some new bodies up front, so we've got to find the best things we can to play to those guys strengths, and (the running backs') strengths – there's a number of different runs we can go to," Baldwin said.
If the running game is going to hit its stride this fall, Wilson figures he needs to do the same.
"I'm just focusing on getting better," said the 5-foot-11, 200-pound Wilson, who enters his senior year as the closest thing Eastern has to a go-to running back. Last season, Wilson managed 661 yards on 137 carries even; better yet, he missed just two games to injury, compared with 13 missed games the previous two seasons.
"I'm just trying to keep my body right," said Wilson, who didn't see action in Eastern's first scrimmage, on Saturday.
The 5-10, 200-pound McPherson also has a bounce in his step after recent surgery to clear out scar tissue from an ankle injury. He said his 16 carries (for 40 yards) last year as a true freshman were "definitely a pleasant surprise – it's always fun to play as a true freshman."
Kindle also hopes to get more playing time this season; last year he had 14 carries for 34 yards.
Eastern also signed three running backs who combined for more than 12,000 rushing yards and 180 total touchdowns in their careers, as well as winning 85 percent of their games (105-18). They include California two-time All-State selection Antoine Custer Jr. out of powerhouse Concord De La Salle High School, as well as All-State selection Tamarick Pierce from Oakland.
The third running is Jason Talley, an All-State pick from Oregon State 6A champion Jesuit of Portland.
Local journalism is essential.
Give directly to The Spokesman-Review's Northwest Passages community forums series -- which helps to offset the costs of several reporter and editor positions at the newspaper -- by using the easy options below. Gifts processed in this system are not tax deductible, but are predominately used to help meet the local financial requirements needed to receive national matching-grant funds.
Subscribe to the sports newsletter
Get the day's top sports headlines and breaking news delivered to your inbox by subscribing here.
---
Subscribe and log in to the Spokesman-Review to read and comment on this story