Sports
Claressa Shields ready to throw punch at history
Wed., Aug. 3, 2016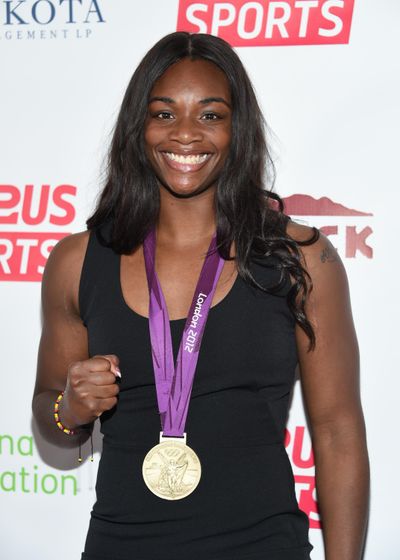 COLORADO SPRINGS, Colo. – Claressa Shields got the Olympic rings tattooed on her powerful right bicep five weeks ago. "Rio" and "London" are inscribed within the bottom two loops.
On top, the American middleweight added a simple, confident declaration: "2X."
"When I win my second Olympic gold medal, I'm going to put 'Au' right here," Shields said, pointing to the special spot. "Because 'Au' on the periodic table stands for gold. I'm always going to keep this as 'Two times,' but if I go to Tokyo, I'm going to put "Tokyo" right here in the middle. And if I go to another one, I'll put another city over here."
Four years after Shields unexpectedly dominated the first Olympic women's boxing tournament, she is taking confident steps toward a tantalizing future.
The teenager who overcame a childhood of poverty and abuse to win gold in London is now an independent 21-year-old woman and a favorite to become the first two-time American Olympic boxing medalist. She boldly moved out of her native Flint, Michigan, and into the Olympic Training Center last year, narrowing her focus on her historic task in Brazil.
Shields hasn't lost a fight since London, winning two world championships and a Pan-Am Games title between Olympics. The youngest boxer in the 2012 games is now older than all of the U.S. boxing team's six men, who look up to their nation's only gold medalist since 2004.
"I'm around her a lot, and I don't think the pressure gets her," said U.S. bantamweight Shakur Stevenson, likely the Americans' top medal hope among men. "Claressa is like super-confident. It doesn't seem like anything ever gets into her head. She feels like she's the best at boxing, like there's nobody better than her. So she fights every time like, 'OK, I'm about to go in there and I'm about to whup this girl.' I love her attitude."
Shields was 17 years old in London, but she only seemed precocious to those who didn't know her. Shields had to grow up well before she ever reached the Olympics, which she approached with a determination formed by necessity.
Shields' remarkable rise has been chronicled in print, on television and in a documentary film. Her mother struggled with addiction and her father spent time in prison, but she found her purpose and gift in the boxing gym six years before she won in London.
Gold didn't really change Shields' life. She had already transformed it herself.
"I'm glad I won an Olympic gold medal," Shields said. "I trained hard for it. But now the goal is to win another Olympic gold medal, so the first one I've already got, that's in the past. I look at my gold medal, and I think, 'Oh, I was 17 when I did it. That's awesome. That's great.' And it is, but I can't really think too deep about it. I've got to think about what's ahead of me."
Shields said she is more focused and much happier since moving away from Flint. She spent the past year living among friends and eating for free in Colorado Springs, where top training and medical care are easily available.
Even after Shields' run in London, endorsement deals and wealth didn't immediately follow. She was disappointed, but not surprised – and she simply went back to work in the gym, making her achievements impossible to ignore.
Her corporate tie-ins now include multiple sports-related companies, an auto manufacturer and a film rights deal with Universal. She doesn't even have to mention her gorgeous custom-made Under Armour boxing boots, with her initials and "Never let them see you sweat" embroidered on the tongue.
Despite the enormous demands on her time as the greatest fighter in one of the most eye-catching amateur sports, Shields assertively balances her pursuits of fame and fortune with her athletic needs.
"After going to the ESPYs (last month), it was great, but I was like, 'Back to training,' " Shields said. "I ran 4 miles that night. I ran 3 1/2 miles the next morning. I sparred 10 rounds nonstop. It's like I'm back in my groove and I've got the motivation that I needed for the tournament. It always comes when I need it."
She's still chasing one particular endorsement, however.
"Hopefully I get on a Wheaties box," Shields said. "That's my ultimate goal. Or they can put me on Frosted Flakes, I don't care. I need to be on some kind of cereal box."
Shields has been an enormous boon for USA Boxing, which didn't have a men's medalist in London. Her success – and the rising popularity of women's boxing in general – allowed USA Boxing to get the funds to hire veteran Irish amateur coach Billy Walsh, who oversees the entire team from his official position as the women's head coach.
Walsh only got the job late last year, and his true focus is on the 2020 Olympics as he attempts to build a cohesive program. He still became a fervent backer of Shields, lauding her example to his other seven fighters.
"None of these guys understood what I was trying to build with Team USA when I got here," Walsh said. "Claressa is the only one that caught on. It was massive. She said, 'You're trying to build a team.' Exactly. We're trying to build a bond, and she sees it better than anyone."
The middleweight tournament doesn't begin until the second Sunday of the Olympics, so Shields has plenty of time to cheer on her teammates before getting back in the ring for her singular run at a second gold.
"I've never followed anybody," Shields said. "I really didn't like listening to anybody or taking instructions. I was open-minded to learn new things, but I've always been my own boss and did what I wanted to do, despite what anybody wanted to say. I've never been a people-pleaser, and I think that's kind of one of my benefits."
Local journalism is essential.
Give directly to The Spokesman-Review's Northwest Passages community forums series -- which helps to offset the costs of several reporter and editor positions at the newspaper -- by using the easy options below. Gifts processed in this system are not tax deductible, but are predominately used to help meet the local financial requirements needed to receive national matching-grant funds.
Subscribe to the sports newsletter
Get the day's top sports headlines and breaking news delivered to your inbox by subscribing here.
---