Sports
Eagles start fall practice with determination, upbeat mood
Tue., Aug. 9, 2016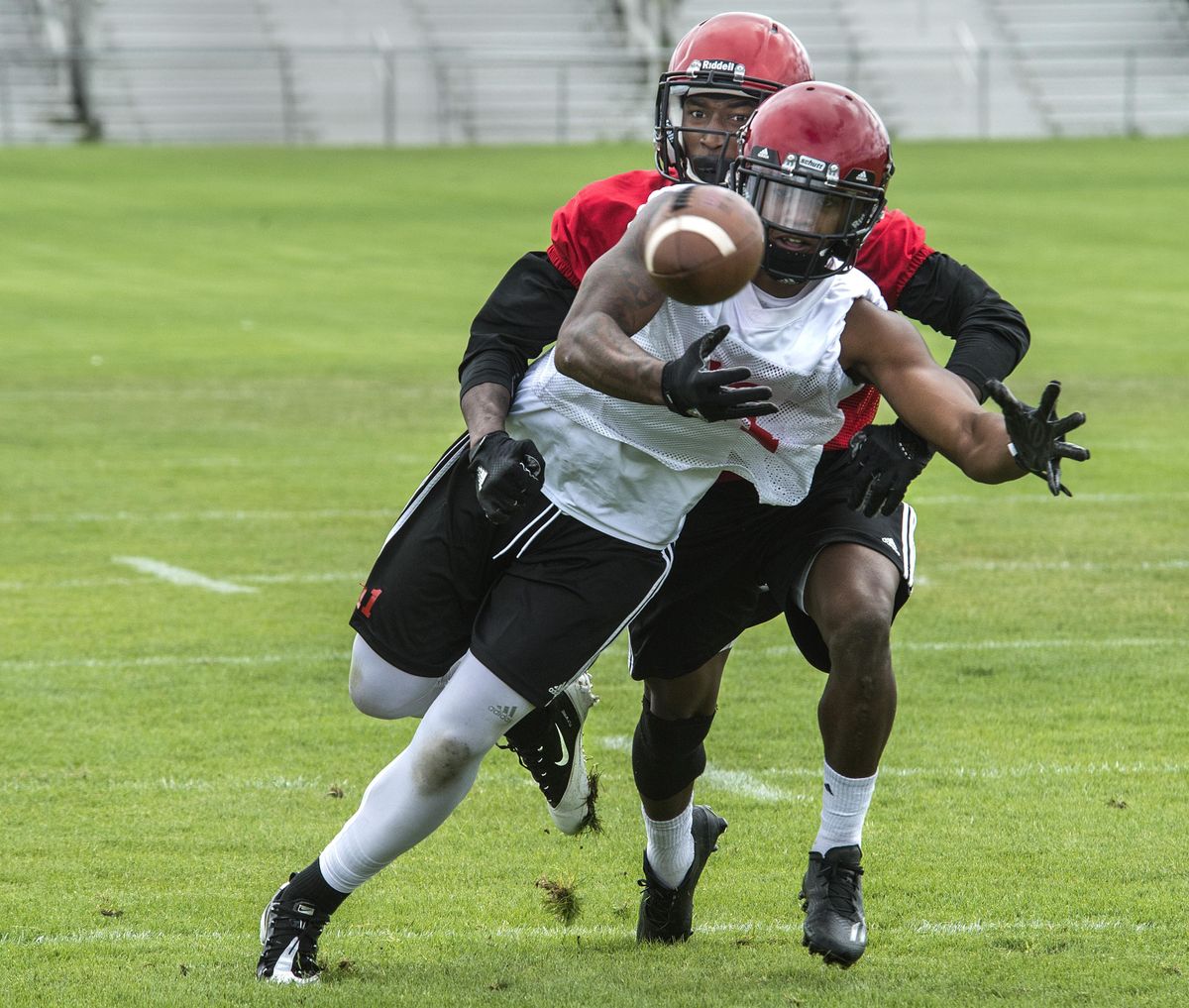 Eastern Washington University receiver Kendrick Bourne, front, fights off the defense of D'londo Tucker during passing drills in Cheney. (Dan Pelle / The Spokesman-Review)Buy a print of this photo
Beau Baldwin figures he's a lucky man.
"How many jobs are there where you're about to work four months, seven days week, and you're in a good mood on day one?" the Eastern Washington football coach said Tuesday morning.
Not even the leaden skies could dampen the Eagles' enthusiasm on the first day of fall practice. More likely the cool, rainy weather put a few extra bounces in the steps of players and coaches who already had plenty of motivation.
That stemmed from last year's 6-5 season, which ended abruptly with three straight losses.
"That's not a feeling that we're used to," said senior safety Zach Bruce, who said the Eagles put those feelings into action during the past nine months.
During the summer, that meant more than the usual 7-on-7 drills. Often it was 11-on-11.
"It was definitely worth it," said Simba Webster, who's competing for snaps in perhaps the best receiving corps in the Football Championship Subdivision. "During the summer we were coaching ourselves and working on our connections and chemistry, so going into fall camp, it should be easy."
Well, not that easy. The 17th-ranked Eagles have plenty of work to do in the 24 days before the season opener on Sept. 3 at Washington State:
Settle on a starting quarterback: Baldwin said it again Tuesday: If the season began today, redshirt sophomore Gage Gubrud would be the starter because of his superior mobility.
Gubrud, who played sparingly last year, returned last spring displaying "a different confidence level that's exciting to see," said Baldwin, who added that he hasn't set a timetable for naming a starter from a field that also includes senior Jordan West and sophomore Reilly Hennessey.
No matter who throws the ball, Webster said the receivers are ready. "We know what they're capable of," Webster said.
Build chemistry on the offensive line: One thing is certain: The Eagles will start five new O-linemen. There's plenty to choose from, including sophomore tackle Jerrod Jones and guard Matt Meyer, a Washington State transfer. "They're very good players, but like any talented group, it takes playing together as a unit," Baldwin said.
There are 14 players in the mix, including nine redshirt or true freshmen. Jones is the only upperclassman.
Improve the defense's physical play: Second-year coordinator Jeff Schmedding said the young Eagles learned a lot last year in the transition to a 4-2-5 scheme. "We're finding out who we are … and we have a lot of faces who've played football before," said Schmedding, who returns nine starters.
Schmedding also praised the players' work ethic during voluntary summer workouts. "With the effort they've put forth, it gives us a chance to have a great fall camp," Schmedding said.
The Eagles seemed poised to do that on Tuesday. All the quarterbacks – including true freshman Eric Barriere – looked sharp, and All-American receiver Cooper Kupp made them look even better.
On one play, sophomore wideout Zach Eagle took a short pass, froze a defender and went the distance. A few minutes later, true freshman running back Antoine Custer Jr. sliced off tackle and raced to daylight.
Notes
The Eagles will hold two more practices without pads on Wednesday and Thursday before putting on full pads on Friday. The first two-a-day session is on Saturday, with start times at 9:15 a.m. and 3:15 p.m. The first scrimmage is set for Aug. 20. … Former defensive lineman Kaleb Levao has been moved to the offensive line after the offseason departure of Ben PuaPuaga. Wide receiver Jalani Phelps also has left the team. That leaves EWU with 53 returning lettermen.
Local journalism is essential.
Give directly to The Spokesman-Review's Northwest Passages community forums series -- which helps to offset the costs of several reporter and editor positions at the newspaper -- by using the easy options below. Gifts processed in this system are not tax deductible, but are predominately used to help meet the local financial requirements needed to receive national matching-grant funds.
Subscribe to the sports newsletter
Get the day's top sports headlines and breaking news delivered to your inbox by subscribing here.
---