Sports
Gubrud solidifies chances to start EWU opener
Sat., Aug. 20, 2016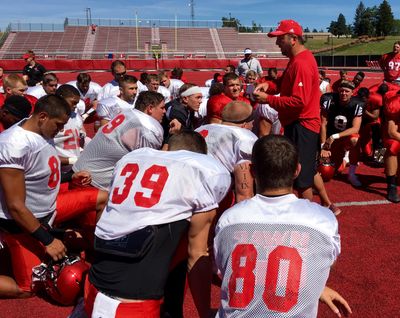 Eastern Washington coach Beau Baldwin has said it since spring ball: If the football season begins tomorrow, Gage Gubrud will be the starting quarterback.
Well, bring on Washington State – the sooner, the better.
With every eye in Roos Field fixed on him, Gubrud turned in a stellar performance in Saturday's scrimmage to all but clinch the starter's role in the Sept. 3 opener in Pullman.
The redshirt sophomore McMinnville, Oregon, warmed quickly to the task on a toasty morning, completing 16 of 17 passes for 202 yards and three touchdowns.
Getting a quick start was half the battle, as far as Baldwin was concerned.
"I thought one of the things he (Gubrud) struggled with early in camp was how he started a practice. Sometimes it would take him the first 10 minutes or that first series or two to kind of get going and get his mind right," Baldwin said.
"I think he's made great strides – you saw early on in the scrimmage he was on point mentally and making the plays," Baldwin said.
Gubrud showed his speed on four runs for 28 yards, but also showcased his arm with a pair of 21-yard touchdown passes to Stu Stiles, a 15-yarder to Jayson Williams and a 10-yarder to Shaq Hill.
"(Mobility) always helps, but I don't want to be running all the time, and I don't think I will, because the O-line is doing a great job protecting," Gubrud said.
Gubrud said he benefited from getting the lion's share of snaps with the first unit during the first two weeks of camp.
"Everything has slowed down as far as reads, and my O-line was doing a great job of letting me go through my reads," Gubrud said.
"It's like snapping your finger – you know exactly what you're doing and you don't have to think about it," said Gubrud, who also was tasked with keeping the Eagles' uptempo offense humming.
Sophomore Reilly Hennessey was 8 for 14 for 130 yards and a touchdown, while Jordan West – the starter for most of 2015 – was 2 for 4 for 14 yards and an interception.
Fans also glimpsed the future, as freshman Eric Barriere went 2 for 4 for 16 yards.
For several of Barriere's classmates, the future is now.
Freshman running back Antoine Custer Jr. rushed for 21 yards on just three carries. He also had a 5-yard touchdown run to push himself further into the conversation about seeing playing time this fall. Newcomer Tamarick Pierce had five rushes for 21 yards.
Redshirt sophomore Sam McPherson was the leading rusher, with 39 yards on seven carries.
The Eagles defense gave up 494 yards in 71 plays and struggled to stop the pass, but did get four sacks and a pick.
Roverback Dehonta Hayes had six tackles and linebacker Kurt Calhoun had five, with a pass broken up. Tackle Andre Lino had a pair of sacks.
"You are going to have things go up and down," Baldwin said. "You have to keep responding and have to keep finding ways to grind no matter what's happening the play before – whether it's our offense or our defense. That's what I'm looking for with our guys."
The Eagles will scrimmage again on Friday at about 9:45 a.m.
Local journalism is essential.
Give directly to The Spokesman-Review's Northwest Passages community forums series -- which helps to offset the costs of several reporter and editor positions at the newspaper -- by using the easy options below. Gifts processed in this system are not tax deductible, but are predominately used to help meet the local financial requirements needed to receive national matching-grant funds.
Subscribe to the sports newsletter
Get the day's top sports headlines and breaking news delivered to your inbox by subscribing here.
---