Sports > Seattle Seahawks
Efficient Russell Wilson guides Seahawks past Dallas in preseason game
Thu., Aug. 25, 2016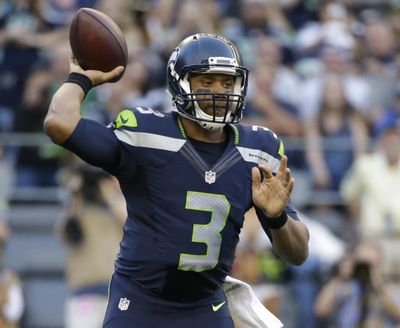 SEATTLE – For this dress rehearsal, Russell Wilson's outfit was regular-season sharp.
The Seahawks' defense? It could still use a better look.
One week after his coach criticized him for holding onto the ball too long, Wilson completed 16 of 21 passes for 192 yards and two touchdown passes – with no sacks. That and 10 points by the starting offense against Dallas' second-team defense in the third quarter led the Seahawks to a 27-17 victory over the Cowboys in the third preseason game Thursday night at CenturyLink Field.
The third preseason game is the one the starters play the most before the regular season. Most will barely play, if at all, next Thursday in the preseason finale at Oakland.
Seattle's defense was not as good as Wilson against the Cowboys. It allowed Dallas 194 yards in the first half – 181 of them by an offense led by rookie backup quarterback Dak Prescott.
Prescott entered after Seattle's Cliff Avril sped around Dallas right tackle Doug Free, raced upfield and tackled Cowboys' franchise QB Tony Romo from behind. The force of Avril's hit crumpled Romo's back and body weight onto his right leg and knee.
Trainers ran out to meet the felled Romo on the field. After a couple moments, Romo walked off the field slowly under his own power.
As he did, Seahawks three-time All-Pro cornerback Richard Sherman walked out of his huddle across the line of scrimmage to talk to and check in on Romo.
Cowboys officials said Romo "tweaked" his back. Three plays after he went out, Romo had his helmet on and began jugging onto the field to re-enter, but coaches called him back to the Dallas sideline for the rest of the night.
Wilson's two scoring throws exemplified him at his best.
In the second quarter he rolled to his right with his teammates – all except wide receiver Paul Richardson. Richardson cut to the left sideline in the end zone. Dallas' Morris Claiborne was step for step with Richardson, on his back and left shoulder. But Wilson's pass plopped perfectly into Richardson's outstretched arms to the left, just out of reach of the leaping cornerback.
Then Christine Michael continued his resurgence filling-in for recuperating lead back Thomas Rawls. Michael ran three times for 47 yards on the opening drive of the second half, showing off his newer, better cut-back runs behind the blocking of right guard Germain Ifedi and center Justin Britt.
In between, Wilson scrambled around long enough for undrafted rookie Tanner McEvoy, moved from safety this month and from wide receiver to tight end this week, to drift into open field for a 43-yard catch to the Dallas 15.
The 6-foot-5 1/2 McEvoy, also a former quarterback and running back at Wisconsin, bolstered his chance to make the team as an extra tight end. Starting tight end Jimmy Graham may not return from knee surgery in time for the start of the regular season Sept. 11, and rookie third-round pick Nick Vannett remains out with a high-ankle sprain.
Wilson then scrambled so long, it seemed like it was tomorrow. He pirouetted twice, turning his back to the line each time. He ran back to about 20 yards from the line of scrimmage. Finally, Tyler Lockett was standing free inside the goal line. Wilson found him with a 9-yard pass and the Seahawks led 20-10.
The play was exactly the opposite of what coach Pete Carroll had said last week Wilson must do to help his offensive line that could have new starters in all five positions this season. Minnesota sacked Wilson four times in the first half last week. Carroll and Wilson blamed it on the quarterback extending plays by holding onto the ball too long, forcing the linemen to have to block too long.
Wilson said this week he would never completely discard that improvisation part of his unique game.
Thursday against Dallas showed Wilson's style cuts both ways for the Seahawks – often spectacularly good, sometimes bad.
Trevone Boykin strengthened his bid to be Wilson's primary backup. The undrafted rookie from TCU entered midway through the third quarter and zoomed 16 yards down the left sideline on a scramble past flat-footed Cowboys for a touchdown. Rookie wide receiver Kenny Lawler had the block at the goal line, and Seattle led 27-10.
On defense, Sherman was slamming into Prescott as he threw. Teammate Frank Clark did that. So did Avril. Yet Prescott kept completing passes with Seahawks all over him in an impressive performance that came a couple of quarters earlier than he and the Cowboys expected.
Prescott completed 15 of 19 passes on Seattle's starters, for 106 yards and a touchdown that K.J. Wright appeared ready to intercept in the end zone. Tight end Jason Witten stole it from behind Wright over his head for Dallas' first score and a 7-0 lead late in the first quarter.
Kam Chancellor aided that Dallas drive by hitting debuting running back, Ezekiel Elliott, the Cowboys' fourth-overall draft choice unnecessarily after an incomplete pass past them. That personal foul and Elliott's running off right end at and past Seattle's Frank Clark lead that seven-play, 81-yard drive.
Chancellor, who returned this week from a groin injury, left after that drive. Kelcie McCray played into the third quarter with the starting defense at strong safety.
Tony McDaniel started at defensive tackle, less than two weeks after he was kayaking in Leavenworth and his agent called the Seahawks to offer a cheap, free-agent tryout. McDaniel tossed aside Cowboys starting lineman and plugged running lanes early, furthering his case to start.
Defensive tackle Jordan Hill made his preseason-game debut just getting back from a groin injury. And rookie second-round pick Jarran Reed in a walking boot this week because of what Carroll said was a toe injury.
Local journalism is essential.
Give directly to The Spokesman-Review's Northwest Passages community forums series -- which helps to offset the costs of several reporter and editor positions at the newspaper -- by using the easy options below. Gifts processed in this system are not tax deductible, but are predominately used to help meet the local financial requirements needed to receive national matching-grant funds.
Subscribe to the sports newsletter
Get the day's top sports headlines and breaking news delivered to your inbox by subscribing here.
---