Sports
Huskies' final record this season should show progress
Fri., Aug. 26, 2016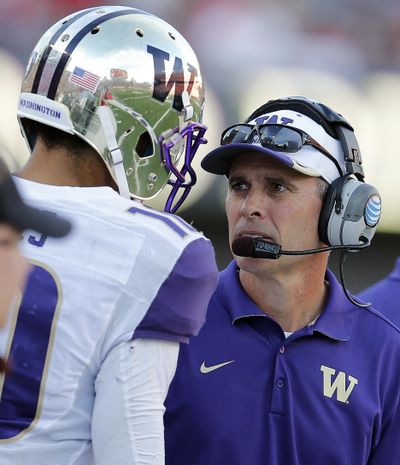 With Washington's 2016 season opener against Rutgers one week away, let's break down the Huskies' schedule and dive into our annual attempt at predicting their final record.
Forecasting the outcome of individual games that won't be played until several weeks from now can be a foolhardy exercise, so I try instead to separate the schedule into distinct groups of games, and try to predict, broadly, how the Huskies might fare in each category.
Here's what I have this year:
Games the Huskies should absolutely win:
vs. Rutgers, Sept. 3; vs. Idaho, Sept. 10; vs. Portland State, Sept. 17; vs. Oregon State, Oct. 22
There isn't a whole lot to say about this portion of the schedule; a loss to any of these teams would be inexcusable. Rutgers is coming off of a 4-8 season and is led by a first-year head coach. Early betting lines have the Huskies as about a 26-point favorite. Idaho is Idaho. Portland State, while on its way up in the Big Sky, is still not a team to whom UW should lose. And Oregon State is the clear-cut pick to finish last in the Pac-12 North. Plus, all four of these games are at home.
Games the Huskies should win, but could certainly lose:
at Arizona, Sept. 24; at California, Nov. 5; vs. Arizona State, Nov. 19
Emphasis on the word "should" here, especially because the Huskies haven't won a game in the state of Arizona in a decade. That Sept. 24 game in Tucson – UW's Pac-12 opener – will be the Huskies' first true test of the season. Don't expect it to be much like last season's game between these teams, which UW won 49-3 over the beat-up Wildcats – but the Huskies should still be favored, and this isn't the kind of game a Pac-12 title contender should lose.
The same can be said of California, though the Golden Bears still have several offensive weapons and I have a feeling their post-Jared Goff identity might not be so bad. Arizona State, picked to finish fifth in the Pac-12 South, seems a hard team to get a handle on, and the Huskies haven't beaten them since 2001. But my guess is UW will be favored in that game, too.
I have a feeling the Huskies won't get through this trio unscathed. That Arizona game will require UW's full concentration, with the big Friday night showdown against Stanford looming the following week. My formal guess: UW goes 2-1 against this group, and doesn't feel great about the one loss.
Tough games against good teams:
vs. Stanford, Sept. 30; at Oregon, Oct. 8; vs. USC, Nov. 12; at Utah, Oct. 29
These games, ultimately, will determine where the Huskies' truly stand in the Pac-12 pecking order. I think Utah will be better than some think – ex-Husky Troy Williams will start for the Utes at quarterback – while Stanford is the media pick to win the league, Oregon is still loaded with offensive playmakers, and USC returns a ton of talent on both sides of the ball.
I don't know if I see the Huskies winning more than two of these games. They should have a big-time environment for the Stanford game, and should match up better with the Cardinal this season. None of these games are unwinnable: Oregon appears vulnerable. The USC game is at home. Utah has a lot to figure out offensively.
But I think the Huskies are still a year away from being the kind of team that can, for example, beat a really good Stanford team and turn around the next week and win at Autzen Stadium (against a team UW hasn't beaten since 2003).
I see the Huskies going 2-2 against these four opponents.
The Apple Cup:
Yes, the Huskies' annual rivalry game against the Cougars should be in a class by itself this season. Both teams are capable of making a run for the Pac-12 North title, meaning this could be the most important Apple Cup in years.
It's in Pullman the day after Thanksgiving (Nov. 25). The Huskies have won three consecutive Apple Cups and six of the last seven, including last season's 45-10 victory in Seattle. But star WSU quarterback Luke Falk didn't play in that game, and if he's healthy when the teams meet this year, the Apple Cup could become one of the most significant rivalry games in the country.
Ultimately, I think it will decide whether the Huskies are an eight- or nine-win team – and right now, I give UW an ever-so-slight edge in this game, considering how loaded it is in the secondary and how dominant its defense has been against the Air Raid in each of the past two seasons (though the Cougars haven't started a healthy No. 1 quarterback in the Apple Cup since 2013).
So while I'm not quite buying the hype of the Huskies as a Pac-12 North champion and College Football Playoff participant, I do think this is a team that will be competitive every week and put together a final record indicative of progress.
Call that final record 9-3, capped by a bowl game that people actually care about, for once.
Local journalism is essential.
Give directly to The Spokesman-Review's Northwest Passages community forums series -- which helps to offset the costs of several reporter and editor positions at the newspaper -- by using the easy options below. Gifts processed in this system are not tax deductible, but are predominately used to help meet the local financial requirements needed to receive national matching-grant funds.
Subscribe to the sports newsletter
Get the day's top sports headlines and breaking news delivered to your inbox by subscribing here.
---