Sports
Kaepernick decision not to stand for anthem gets NFL talking
Sun., Aug. 28, 2016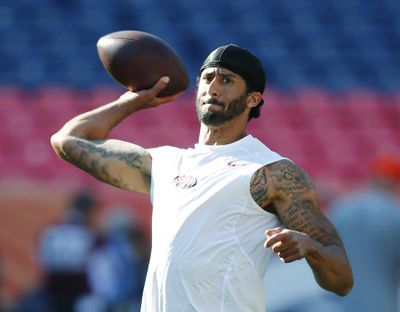 SANTA CLARA, Calif. – Letting his hair go au natural and sprinting between drills as usual, Colin Kaepernick took the field Sunday with the San Francisco 49ers as his stance against standing for the national anthem drew chatter across NFL camps.
Two days after he refused to stand for the "The Star Spangled Banner" before the 49ers' preseason loss to the Packers, Kaepernick stopped briefly on a side field to talk with Harry Edwards and they shared a quick embrace before the quarterback grabbed his helmet and took the field. Edwards is a sociologist and African-American activist who helped plan the "Olympic Project for Human Rights" before the 1968 Mexico City Olympics, where U.S. sprinters and medalists Tommie Smith and John Carlos bowed their heads through the anthem on the medal podium in their black power protest.
Kaepernick, whose hair had been in cornrows during training camp, sat on the bench during Friday's national anthem at Levi's Stadium, a decision he told NFL Media is based on the United States oppressing African-Americans and other minorities. Kaepernick's adoptive parents are Caucasian.
After swirling trade talks all offseason following Kaepernick's three surgeries and sub-par 2015 season, he has done everything so far but play good football.
Coach Chip Kelly said Saturday he still hasn't decided on his starting quarterback in a competition between Kaepernick and Blaine Gabbert, who took over the job from Kaepernick last November and has vowed to be the No. 1 again. Kelly wasn't scheduled to address the media Sunday, but said a day earlier he planned to talk about Kaepernick's choice with the team.
Kaepernick also didn't stand for the anthem before the preseason game on Aug.20 against Denver, Kelly said.
"We recognize his right to do that. So, it's not my right to tell him not to do something. That's his right as a citizen," Kelly said. "We recognize his right as an individual to choose to participate or not participate in the national anthem."
Giants wide receiver Victor Cruz said after his team's exhibition victory against the Jets on Saturday night that the American flag deserves respect – no matter the circumstances in the U.S. or beyond.
"The flag is the flag," Cruz said. "Regardless of how you feel about things that are going on in America today, and the things that are going on across the world with gun violence and things of that nature, you've got to respect the flag, and you've got to stand up with your teammates. It's bigger than just you, in my opinion. I think you go up there, you're with a team, and you go and you know you pledge your allegiance to the flag and sing the national anthem with your team, and then you go about your business, whatever your beliefs are.
"Colin is his own man, he decided to sit down and that is his prerogative, but on a personal standpoint, I think you have to stand up there with your team and understand and it's this game and what's going on around this country is bigger than just you."
Buffalo Bills coach Rex Ryan said Sunday he believes players and coaches should stand for the anthem to show respect and give thanks to members of the armed forces.
"You've got to look at the gifts that we have, the opportunity that we have to play a great game is through the men and women that serve our country," Ryan said before practice on Sunday. "And I think that's an opportunity right there just to show respect."
Without directly addressing Kaepernick, Oakland Raiders coach Jack Del Rio posted on Twitter his appreciation for the armed forces.
"I Appreciate the sacrifices of the brave who have fought for our freedom. We R Free to choose. I choose to (heart the American flag icons)."
Local journalism is essential.
Give directly to The Spokesman-Review's Northwest Passages community forums series -- which helps to offset the costs of several reporter and editor positions at the newspaper -- by using the easy options below. Gifts processed in this system are not tax deductible, but are predominately used to help meet the local financial requirements needed to receive national matching-grant funds.
Subscribe to the sports newsletter
Get the day's top sports headlines and breaking news delivered to your inbox by subscribing here.
---