Sports
Alabama-Florida for SEC title looks like massive mismatch
Fri., Dec. 2, 2016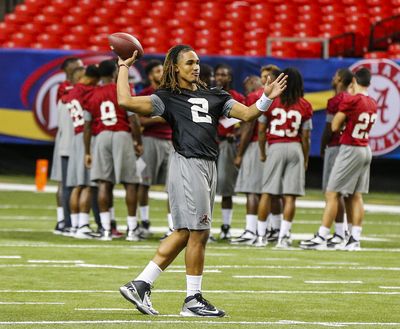 ATLANTA – Talk about a mismatch. Alabama's defense is the best in the nation. Florida's offense looks like one of the worst.
They'll face off Saturday in the Southeastern Conference championship game, with the top-ranked Crimson Tide (12-0, 8-0 SEC) heavily favored to lock up its third straight trip to the College Football Playoff with a victory over the No. 15 Gators (8-3, 6-2).
Alabama has not given up a defensive touchdown in 17 quarters, a span that covers its entire November schedule. The Tide leads the nation in three major categories, giving up the fewest points, rushing yards and total yards.
"When we go out there Saturday, we just try to dominate," defensive lineman Jonathan Allen said. "Just do your job and just dominate the opposing offense. That's the legacy."
Florida will get a jarring reminder of its high-scoring legacy when former coach Steve Spurrier helps with the coin toss before the game.
These Gators are certainly a long way from the Fun `n' Gun days.
Over its last 10 quarters, Florida has scored just one offensive touchdown – a 98-yard pass from Austin Appleby to Tyrie Cleveland that sparked an SEC East-clinching win over LSU. The Gators rank No. 114 nationally in total yards, ahead of only six other Power Five schools, and they haven't shown much ability to move the ball either running or passing.
Now, this offensively challenged team must contend with the stingiest defense in the land.
Coach Jim McElwain joked that it might be best to skip the filmwork this week, just so his players wouldn't realize what they're up against.
Then he turned serious.
"The thing you point out is really how close you are from a consistency standpoint," McElwain said, doing his best to put a positive spin on such a dire predicament. "We had our opportunities last couple games, yet the mindset of finishing is something we have to do."
Good luck with that against the Tide, which has given up 10 points or less in eight games.
"Obviously with these guys that we're playing, the thing that really stands out is how short the explosive play reel is when you look at it," McElwain said. "They don't give a lot of big plays up. You've got to go earn it."
Under coach Nick Saban, Alabama has certainly earned the right to be called one of college football's greatest dynasties. Since the beginning of the 2008 season, the Tide is 110-12 with four national championships.
Saban has won five national titles during his career, leaving him one shy of the record held by Bear Bryant.
Of course, Saban is merely focused on the next one.
"Can't really fall in love with what we've done in the past," he said.
Local journalism is essential.
Give directly to The Spokesman-Review's Northwest Passages community forums series -- which helps to offset the costs of several reporter and editor positions at the newspaper -- by using the easy options below. Gifts processed in this system are not tax deductible, but are predominately used to help meet the local financial requirements needed to receive national matching-grant funds.
Subscribe to the sports newsletter
Get the day's top sports headlines and breaking news delivered to your inbox by subscribing here.
---