Sports
EWU cornerbacks fresh for the FCS playoffs
Fri., Dec. 2, 2016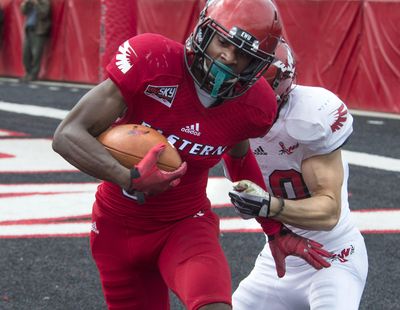 As football's second season begins at Eastern Washington, the Eagles' cornerbacks feel like they're still halfway through the first.
"I feel fresh and I feel great," sophomore corner Nzuzi Webster said before practice Tuesday as Eastern prepared for Saturday's second-round FCS playoff game against Central Arkansas.
When it matters most, second-ranked Eastern (10-1) is reaping the benefits of depth at a crucial position. It was nurtured last year by assistant coach Cherokee Valeria, who felt confident enough this fall enough to rotate Webster, D'londo Tucker, Victor Gamboa and Josh Lewis throughout the season.
Instead of playing 90 snaps a game, they're getting just 50.
"I honestly believe that's the reason we're here today," Valeria said. "It's because they stayed fresh as they season progressed, and none of them is injured."
The maturation of Eastern's corners has paid big dividends this year, allowing defensive coordinator Jeff Schmedding to be more aggressive in his play calling. Interceptions are up and the Eagles are winning more third-down battles as the playoffs loom.
"We feel like we'll get the job done, and we trust each other," Lewis said.
While most of the attention on Saturday will be focused on the battle between EWU's high-flying offense and Central Arkansas' stingy defense – and the availability of wide receiver Cooper Kupp – the other matchup is just as intriguing.
The Bears are 10-2 partly because of a hard-nosed running game and excellent possession receivers – the recipe for playing keep-away from Eastern's offense.
The Bears are averaging 34.7 points to rank 14th in FCS and 439.4 yards to rank 19th. Quarterback Hayden Hildebrand is completing 60.7 percent of his passes, with 19 touchdowns and nine picks.
The Bears' running back corps is among the deepest in the country. Six backs have at least 50 carries, but none has more than 132.
"They do a good job of spreading the ball around, so we have to keep our eyes right," EWU linebacker Ketner Kupp said.
Notes
Several key EWU players are listed as questionable, including Kupp (shoulder), linebacker Miquiyah Zamora, roverback J.J. Njoku and running back Jabari Wilson. … If Eastern wins, it will host North Dakota or Richmond in a quarterfinal game next weekend. … EWU and Central Arkansas have never met, but the Eagles have faced other Southland Conference teams in the postseason. In 2012, Sam Houston State won 45-42 in a semifinal game at Roos Field. Three years earlier, in Baldwin's first postseason game as head coach, the Eagles lost 44-33 at Stephen F. Austin. … Central Arkansas gives up only 72.8 yards a game on the ground but 247 in the air. The Bears like to control the clock, ranking 10th in the nation in time of possession at 33 minutes, 6 seconds. … Eastern finished the regular season at first in passing offense (406.8 yards a game) and third in scoring (44.2 points).
Local journalism is essential.
Give directly to The Spokesman-Review's Northwest Passages community forums series -- which helps to offset the costs of several reporter and editor positions at the newspaper -- by using the easy options below. Gifts processed in this system are not tax deductible, but are predominately used to help meet the local financial requirements needed to receive national matching-grant funds.
Subscribe to the sports newsletter
Get the day's top sports headlines and breaking news delivered to your inbox by subscribing here.
---