Sports
Yuzuru Hanyu and Evgenia Medvedeva retain their GP Final titles
Sat., Dec. 10, 2016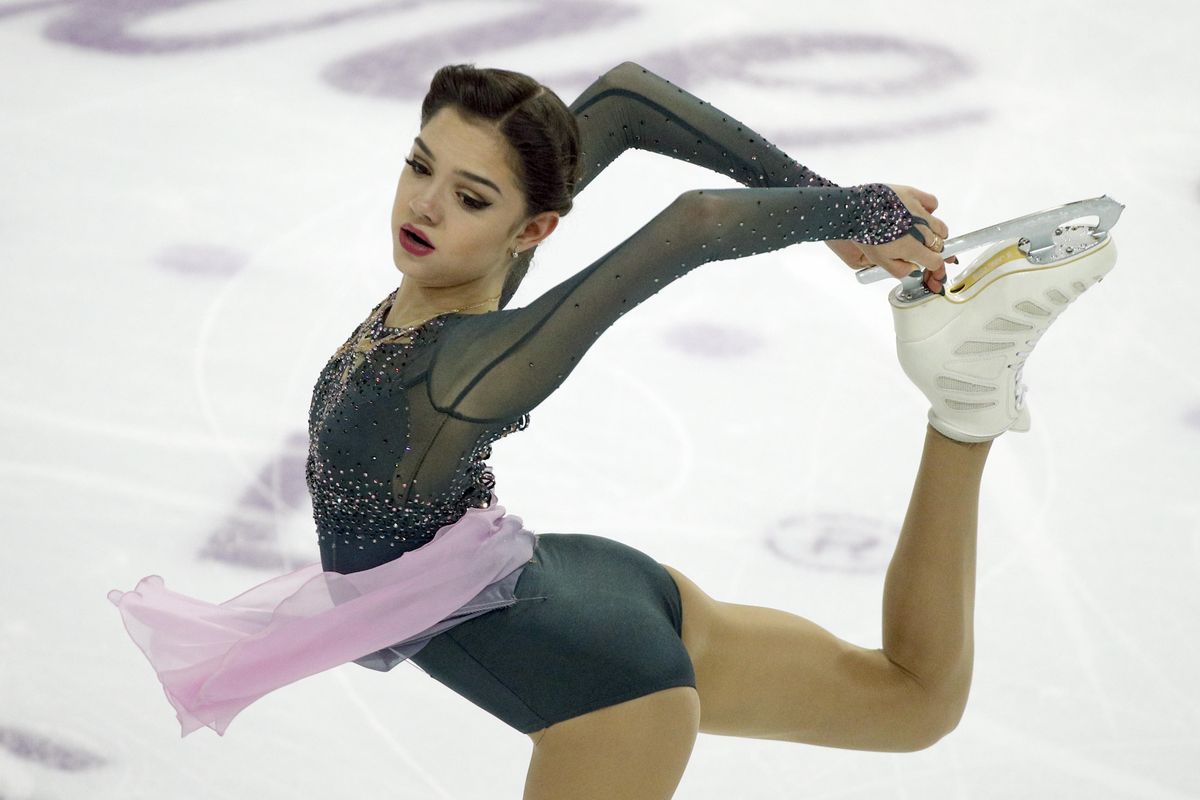 Evgenia Medvedeva of Russia competes in the Ladies Free Skating Program during ISU Grand Prix of Figure Skating Final in Marseille, southern France, Saturday, Dec. 10, 2016. (Christophe Ena / Associated Press)
MARSEILLE, France – Russian teen Evgenia Medvedeva and Japan's Yuzuru Hanyu did not even need their best skating to successfully defend their Grand Prix Final titles on Saturday.
The 17-year-old Medvedeva stumbled on her first jump and, being a strict perfectionist, this was still playing on her mind after the medal ceremony.
"I expected more from myself. I wanted to do more and I could have done more," she said. "The mistake was hard to overlook. It happened to me for the first time that I missed that first (jump)."
Hanyu botched a quad salchow and failed to complete a triple lutz and yet still won a fourth straight title.
But they had enough of a lead from their short programs, and also got some help from their rivals.
"I feel this was a really good experience, I learned something here," Hanyu said.
As he skated to the haunting strings and piano of "Hope and Legacy" by Japanese composer Jo Hisaishi, the crowd was engrossed.
Hanyu started well, executing his quad loop jump as if tip-toeing onto a velvet cushion, rather than landing on rock-hard ice. So when he fell on his quad salchow-triple toe loop attempt, the crowd gasped in surprise. But they still showered the arena with flowers at the end.
"I'm able to connect with the audience," Hanyu said.
His winning score of 293.90 put him way ahead of his established main rivals: Two-time former champion Patrick Chan of Canada and two-time world champion Javier Fernandez of Spain. Both failed to finish in the top three.
Instead, 17-year-old American Nathan Chen got the best free score to finish second overall in his first senior Final with 282.85 points, doing just enough to beat 18-year-old Shoma Uno of Japan on 282.51.
"It came as a surprise to me to come out with a medal today," Chen said.
Uno matched his third-place finish from last year.
Chan was second after Thursday's short program, and Fernandez third.
They both crumbled.
Fernandez stumbled on his quad salchow attempt and fell on the next jump – a triple axel – to finish fourth overall.
Chan did not skate like a three-time world champion, falling three times to drift down to fifth, with only American Adam Rippon behind him.
Those patchy performances put Hanyu's rare errors and Medvedeva's blip into perspective.
Medvedeva could afford to make a mistake, too, having scored a world record in the short program.
When she came onto the ice for her free, the cheers were still echoing around the Palais Omnisports in Marseille following a clinical and elegant lead-grabbing performance from Japan's Satoko Miyahara to the sounds of Gustav Holst's "The Planets."
Medvedeva appeared a little nervous, stumbling backward on the ice after landing awkwardly on a triple flip, triple toe loop.
She glared at the ice, giving it a look of disdain.
But this seemed to spur her on, and her triple lutz was perfect, as were the triple loop and triple flip.
"There is always a back-up plan," Medvedeva said.
Gaining in confidence, the world champion executed a triple salchow-triple toe loop and then a double axel as if going through her training drills.
When her winning score of 227.66 points came in, she wiped her brow. She need not have, because the scores did not end up close.
Miyahara scored 218.33 as she finished runner-up for a second time.
Anna Pogorilya made it two Russian women on the podium, rising up to third on 216.47.
Earlier, former Olympic champions Tessa Virtue and Scott Moir won the ice dance, clinching the elusive title for the first time in their comeback year.
Leading after the short program, the Canadians won comfortably, scoring 197.22 to beat French pair Gabriella Papadakis and Guillaume Cizeron by more than four points (192.81).
World silver medalists Maia and Alex Shibutani, who are brother and sister, were second overnight but the Americans dropped to third with 189.60.
Virtue and Moir, who are also two-time world champions, returned to competitive skating this year after two years away.
They won gold at the 2010 Games on home ice in Vancouver, and took silver two years ago at the Sochi Games in Russia behind Americans Merly Davis and Charlie White. They were also second to Davis and White in the Final for three consecutive years from 2012-14, but there was no stopping them this time.
Local journalism is essential.
Give directly to The Spokesman-Review's Northwest Passages community forums series -- which helps to offset the costs of several reporter and editor positions at the newspaper -- by using the easy options below. Gifts processed in this system are not tax deductible, but are predominately used to help meet the local financial requirements needed to receive national matching-grant funds.
Subscribe to the sports newsletter
Get the day's top sports headlines and breaking news delivered to your inbox by subscribing here.
---