A&E > Entertainment
He's no Danny Tanner: Bob Saget's comedy allows him to get his devils out
Wed., Dec. 14, 2016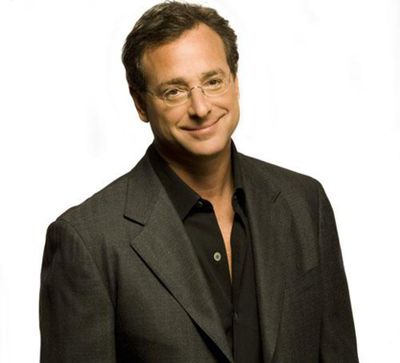 Bob Saget's stand-up is a lot filthier than you might expect. In a way, that's part of the joke: There's the original host of "America's Funniest Home Videos" and Danny Tanner from "Full House" onstage with a routine riddled with F-bombs.
That used to surprise unsuspecting audiences, Saget said during a recent phone interview, but now more people seem familiar with his R-rated reputation before walking into comedy clubs.
"My specials have played so much and I've been on so many different talk shows where they get my sense of humor," Saget said. "Unless it's a 16-year-old millennial who doesn't understand why Bob is talking like that on Twitter when he's Danny Tanner. That's someone who also believes that Anthony Hopkins eats people.
"And I don't know why anyone would pay to see my 'Full House' character, unless they wanted their eyes checked. He looks like an accountant."
Besides, Saget said, his material isn't nearly as shocking as it probably was when, say, "Full House" was in its original run.
" 'South Park' is dirtier than me now," he said. "It's not like I come out and I'm just some shock value dirty guy."
Even so, much of Saget's material will likely still elicit gasps from the most seasoned comedy fans. In fact, it's not uncommon for him to preface a joke with an apology for its content. Saget will be performing at the Spokane Comedy Club this weekend, and his material covers everything from his late parents, his unusual career and all kinds of sexual and scatological subjects.
"My stand-up, I've been doing it since I was 17," Saget said. "So that's something that's always been wrong with me. All the weird childhood crap I had, my stand-up always was like an old friend that let me get onstage and get my devils out."
Saget's routines also include comedy songs – "stand-up set to music," Saget calls them – and show biz stories. If you've seen his Grammy-nominated special "That's What I'm Talkin' About," then you've heard some particularly raunchy anecdotes about Saget's "Full House" co-stars John Stamos and Dave Coulier. Expect more of that if you see him in person.
"I name drop quite a bit," Saget said. "That's as close as I get to Us Weekly. I'll talk about any celebrity I have a funny story about, and I have a lot of them."
And now "Full House," which ran on ABC for eight seasons and still airs regularly in syndication, has been successfully revived as the spin-off series "Fuller House." The new show's second season premiered on Netflix earlier this month, and although the streaming service doesn't release its viewing numbers, it reportedly drew nearly 15 million viewers in its first month of availability.
Saget admits that, even though the show was a hit in its initial run, he never expected to still be a part of the Tanner clan.
"It's wild, man, to go back to something you haven't done for 30 years," he said. "They finally came up with a formula, which is, 'Hey, let's just do the old formula! Let's have the three girls act just like the three guys.' … They're doing it in the same exact style as the old one. I mean, the old one, it's not rocket science, but it's special."
Outside of "Fuller House," Saget says he's about to direct a feature film and is also prepping material for a new hour-long comedy special.
"I've been trying to put this hour together for a couple years now," Saget said. "I have a certain way of working, which is sort of free form, and I do music for half of it. People want that because they're my fans, as silly as that sounds. I don't know, I'm talking like I'm Lady Gaga.
"I love working the whole audience into the show," he continued, "and I do that in my specials as well. I don't look at it as a public speaking forum. I'm not as eloquent as a lot of my peers, but I really do love entertaining people and I love the immaturity and sophistication I try to combine in my stand-up. It's pretty damn immature."
Local journalism is essential.
Give directly to The Spokesman-Review's Northwest Passages community forums series -- which helps to offset the costs of several reporter and editor positions at the newspaper -- by using the easy options below. Gifts processed in this system are not tax deductible, but are predominately used to help meet the local financial requirements needed to receive national matching-grant funds.
Subscribe to the Spokane7 email newsletter
Get the day's top entertainment headlines delivered to your inbox every morning.
---