Log home estate near Spokane Valley hits market at $3.5 million; belonged to former federal official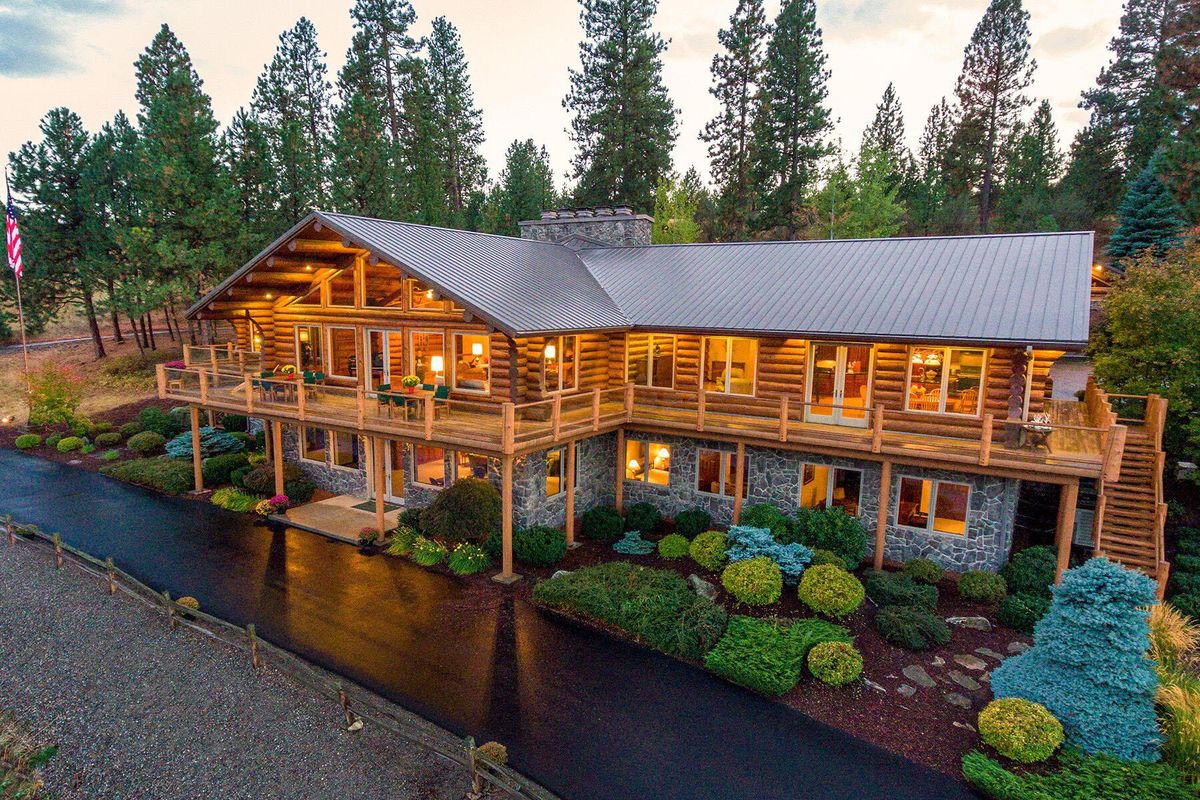 A luxury log home close to the city, yet secluded on 200 forested acres, has just hit the Spokane real estate market for the first time. And it can be yours for only $3.5 million.
Redtail Springs Ranch is not the most expensive residential property in Spokane County history. A Chattaroy estate previously was listed for over $8 million.
But it's the top listing now. The distinctive 10,400-square-foot, six-bedroom lodge, along with two separate 1,500-square-foot bunkhouses, was built by a former high-ranking federal official and his wife.
"It's a great property, and it's a great story," said Lyssa Kopke, a Realtor with Tomlinson Sotheby's International Realty in Coeur d'Alene.
Curt and Adele Berklund found their paradise in the pastoral hills south of Greenacres. They owned and operated timberlands and sawmills in Cottonwood, Elk City and St. Maries, Idaho. Later, he served as national director of the Bureau of Land Management from 1973 to 1977.
After he retired, the couple moved to Spokane, and Curt served on the Spokane County Civil Service Commission.
They built their dream home in the late 1990s on a piece of land with mature forests, spring-fed streams, natural meadows and wildlife – red-tail hawks, white-tailed deer, turkeys, upland game birds and more.
Curt was a modern renaissance man: a college football player, ski jumper, ice hockey player, fisherman, hunter, trapshooter, logger, truck driver, rancher, pilot, businessman, public servant and international consultant. He earned a Doctorate of Administrative Science from the University of Idaho.
Curt tapped his expertise in land management to look after the property. He reforested a former wheat field, planting more than 15,000 Ponderosa pines in neat rows, and he restored the health of spring-fed streams and 80 acres of mature timber.
With just over 200 acres to roam, family and friends could hike, cross-country ski, ride horses, shoot and more. The couple even hosted concerts at the sprawling home, which was built from fine woods and natural materials.
Spruce logs were harvested from stands of dead trees burned in the Yellowstone National Park fires in 1988. The logs were hand-peeled, scribed in the Swedish Cope style and assembled on site by hand. The couple chose Douglas fir for the ceilings and trim, Canadian hard maple for the floors, and cherry for custom cabinetry – all paired with rare granite and fossilized slate.
"When you walk in, it can literally can almost take your breath away, it's so magnificent," Kopke said.
Marketing materials tout how the rural property is a short drive to town.
Curt Berklund, who had been born in a log cabin in Wisconsin, died in his log mansion in April 2013 at age 83. He and Adele had been married 62 years and had six children. She moved out a year later, and a caretaker has resided there since.
Each of the two "bunkhouse" suites behind the house sleeps about 10 people and sits atop a four-car garage. The property also has a 3,000-square-foot pole barn.
---