News > Spokane
Spokane Valley Councilman Ed Pace sparks debate on ridership of STA buses
Thu., Dec. 22, 2016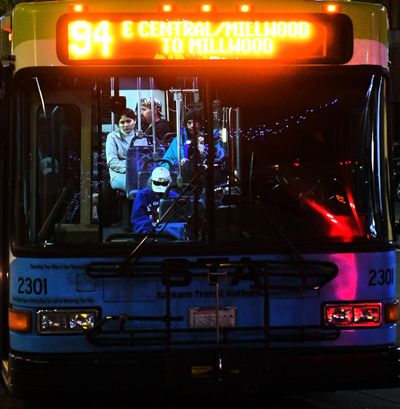 Spokane Valley City Councilman Ed Pace hit a nerve with bus riders earlier this week, when he sent out a Tweet asking Spokane Valley bus riders to take note of how many people were on their buses.
Pace, who's been on the board of the Spokane Transit Authority since he was elected to the City Council three years ago, said he usually sees three or fewer riders on buses in the Valley.
"I have heard the same from constituents," Pace said. "Perhaps these are people who are irritated by it and they may never ride the bus. I don't know."
The only exception, Pace said, are the buses that run to and from the transit center and the designated park-and-ride lots.
Brandon Rapez-Betty, STA spokesman, said the observations don't match STA's numbers but that some buses have few riders, especially toward the end of routes. STA keeps close track of ridership using automatic counters at the ticket box and surveyors on the buses, he said.
"Buses are a lot like roads: sometimes they are really busy but in the middle of the night they don't get much traffic," Rapez-Betty said. "But that doesn't mean you down-size the roads."
Rapez-Betty said the allegation of empty buses isn't new.
"All people have perceptions, typically perceptions that support their values," Rapez-Betty said. "If you are not a regular rider on multiple routes, perhaps how transit works isn't on your mind."
STA pulls 25 percent of its buses during the middle of the day when ridership is low and sends them back out for peak commute hours.
Rapez-Betty said using smaller buses part of the time is not a financially sound solution because it's more expensive to operate two kinds of buses.
On social media, Spokane-area residents accused Pace of not trusting STA's ridership numbers and of trying to get rid of buses.
"It's not about that at all," Pace said. "I trust STA's numbers. I just want to find out why constituents keep telling me there are only three people on the buses out here."
Pace added that he knows counting people in buses this way is not statistically significant.
"I just want to understand what's going on," Pace said.
So far, Pace has only heard from a small number of people since he sent out his social media plea.
Local journalism is essential.
Give directly to The Spokesman-Review's Northwest Passages community forums series -- which helps to offset the costs of several reporter and editor positions at the newspaper -- by using the easy options below. Gifts processed in this system are not tax deductible, but are predominately used to help meet the local financial requirements needed to receive national matching-grant funds.
Subscribe now to get breaking news alerts in your email inbox
Get breaking news delivered to your inbox as it happens.
---