Sports
Surging Eagles prep for high altitude in Arizona
Wed., Feb. 3, 2016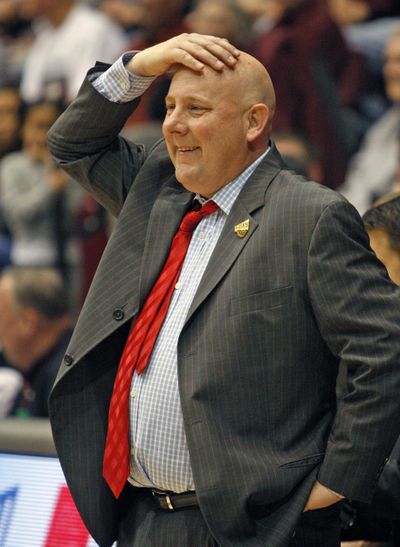 Eastern Washington basketball coach Jim Hayford has been down this road before.
Now he's taking a detour, thanks to some light reading in the offseason.
His Eagles are 8-0 at home but just 3-10 away from Reese Court. On Thursday, they play at Northern Arizona, where his team had one of their worst shooting performances of last season.
Did the 7,000-feet elevation in Flagstaff, Arizona, play a part in the loss? Hayford isn't taking any chances.
That's where the summertime reading comes in.
"They say the altitude really affects you on the second day," said Hayford, who will test that theory keep his team in low-lying Phoenix on Wednesday night. On game day, the Eagles will drive 2 ½ hours to Flagstaff.
"We'll see if we outthought it," said Hayford, whose team is coming off two wins at Reese Court over Portland State and Sacramento State.
At the midway point of the Big Sky Conference season, the Eagles are 5-4 in league play and trying to make a move into the top four; the reward would be a first-round bye in next month's Big Sky postseason tournament in Reno, Nevada.
Like most programs, the Eagles are better at home than on the road. Two years ago, the Eagles narrowly missed out on the postseason after going 3-7 in Big Sky away games. Last year, they were the best road team in the league, going 8-2 en route to a share of the regular-season title.
And this year? Away from Reese Court, the Eagles are a work in progress.
"We had a team meeting before the end of preseason," all-Big Sky forward Venky Jois said. "It was all about the energy we bring to each game."
After practice on Monday, Jois made an appreciative wave to the stands at Reese Court. "At home, it's so easy, with the fans yelling and screaming…. you feel the energy.
"But on the road, you make a mistake and everyone's cheering, the other team makes a run and you feel everything's against you …"
But almost in the same breath, Jois reminded himself that this a veteran team. Of the five starters, only sophomore forward Bogdan Bliznyuk is an underclassmen, and he's one of the top all-around players in the conference.
"We have played enough to not get affected, to know exactly what you have to do. It's not a mystery," Jois said.
The Eagles also are whole for the first time this season. They're 5-2 since transfer Julian Harrell entered the starting lineup following his recovery from hand surgery, the losses coming during a tough trip to Montana.
In those games, "We just came out a little slow," Bliznyuk said. More to the point, the Eagles watched Montana State shoot 45 percent from the field and 50 percent from long range.
Since then, defense has picked up. Last weekend, the Eagles overcame an awful shooting performance by doing everything else well in a 74-67 win over Sacramento State. Looking back, Hayford called it one of his team's best all-around games of the year.
"You just hope winning carries over," Hayford said.
Local journalism is essential.
Give directly to The Spokesman-Review's Northwest Passages community forums series -- which helps to offset the costs of several reporter and editor positions at the newspaper -- by using the easy options below. Gifts processed in this system are not tax deductible, but are predominately used to help meet the local financial requirements needed to receive national matching-grant funds.
Subscribe to the sports newsletter
Get the day's top sports headlines and breaking news delivered to your inbox by subscribing here.
---