Sports > Outdoors
Yellowstone in winter almost a different place
Wed., Feb. 17, 2016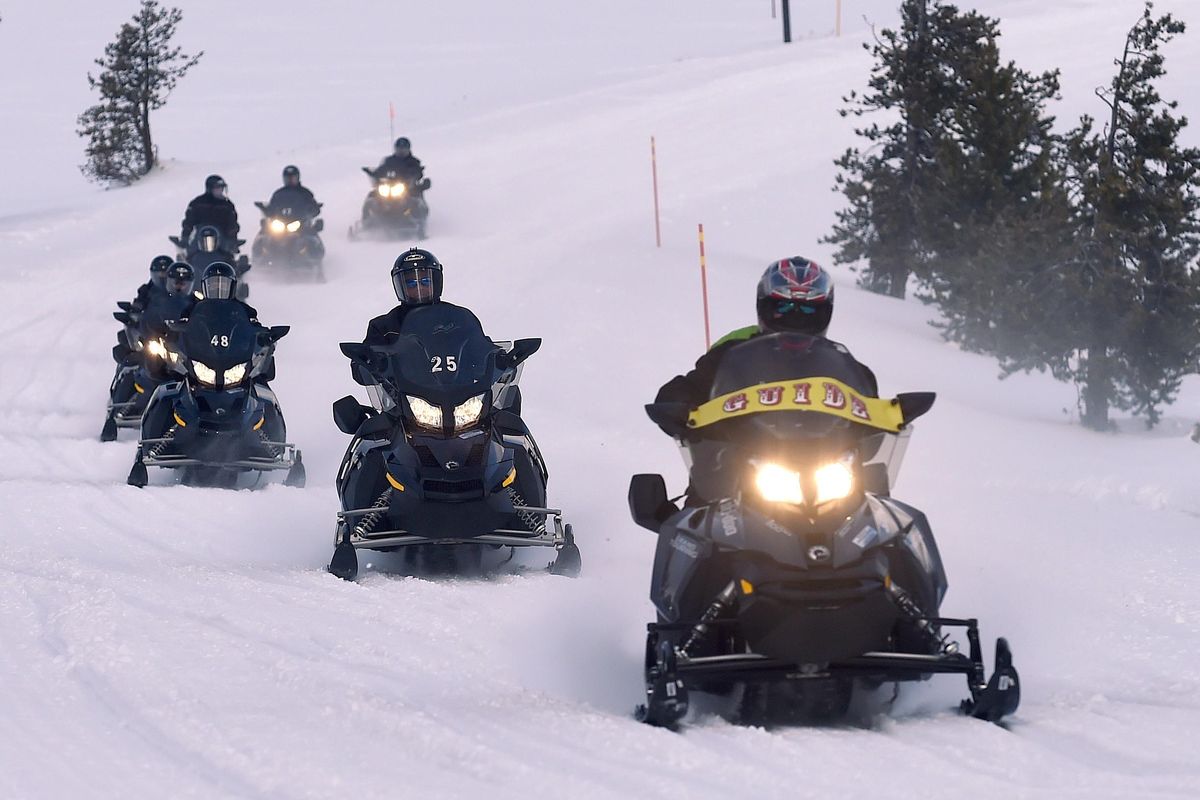 Snowmobilers cruise through Yellowstone National Parkon Jan. 15, 2016, in Montana. (Hannah Potes / AP)
We were headed out on a 100-mile round trip to see Upper and Lower falls of the Yellowstone River by snowmobile, and bison were an accepted trip hazard just like bison jams during the summer months.
"If we pass bison on the road, pull your machine up tight to the one in front of you, like a fence. If you leave a gap, a bison may try to cut through it," advised snowmobile guide Len Tillim.
Some say that you haven't seen Yellowstone National Park until you have seen it in the winter. After spending two consecutive days seeing Yellowstone from this new perspective, I can understand that.
Although I am intimately familiar with the summer park, winter in the park is almost like being in a different place. Steamy thermal features and subzero temperatures create ghostly trees rimed with thick frost. In Hayden Valley, a perfect blanket of snow – unmarred by snowmobile tracks – covered the landscape. Wildlife is even easier to spot against this white background and there are only a fraction of the summer visitors on any given day.
There are five ways you can see Yellowstone in winter.
First, you can be one of the lucky 20 private citizens each day (five each at each of the four winter entry points) who win the lottery to enter the park without a commercial guide. You will need to provide your own four-stroke snowmobile or rent one from a local vendor. The advantage to being lucky is that you can tour at your own pace. However, you can't go anywhere tour-guided snowmobiles can't go.
Second, a drive from Gardiner to Cooke City, Montana is open to passenger vehicles all winter and provides a great way to see the north end of the park. Lamar Valley typically has a lot of wildlife, and if you take a class with the Yellowstone Association you might even spend a night or two at the Yellowstone Institute's facility east of Slough Creek. Cooke City is the end of the road, so either spend the night or return to Gardiner.
Third, you can ski in along the open roads. Disadvantage: it is 14 miles just to Madison Junction, another 14 to Norris and 12 more to Canyon. Old Faithful is more than 16 miles from Madison Junction. Most skiing and snowshoeing opportunities still require a snowcoach ride. Backcountry skiing is available along the Lamar Valley road.
We chose options four and five: snowcoach from West Yellowstone, Montana to Old Faithful and a guided snowmobile trip from West Yellowstone into Canyon to see the nearly frozen waterfalls. These are also available from Gardiner and from Flagg Ranch on the south end, but the rates at West Yellowstone seemed more reasonable.
Snowcoaching has been available in Yellowstone for more than 60 years. The original Bombardier snowcoaches are still in operation and have been retrofitted for better comfort. Our snowcoach, driven by guide Dave Richards, was a modern one fitted with huge tires instead of tracks. Although the tires are still considered experimental by the National Park Service, Richards prefers the tires over the tracked vehicles because they are quieter and give a better ride.
The heated snowcoaches are definitely a comfortable way to see the park. A terrific advantage is the guide, who is much more than just a driver. A good guide knows a lot about the park and will entertain with a running commentary about geology, wildlife and history as you travel.
Snowmobiles are for the slightly more adventurous. You will have to dress warmly, but insulated suits, boots, gloves and helmets are provided as part of the package. You can rent your own machine or ride tandem with a friend.
Whether by snowcoach or snowmobile, there will be many stops along the way to enjoy the winter wonderland of Yellowstone. Madison Junction features a warm restroom with running water (also available at Old Faithful and Canyon) and a cozy warming hut where a surprising variety of food and drinks can be purchased. Other scheduled stops include Midway Geyser Basin, Firehole Drive and Fountain Paint Pots.
Most guides will also stop for wildlife opportunities. Trumpeter swans, bison and waterfowl were plentiful and we also saw red fox, coyotes, elk and bald eagles. Madison and Firehole rivers seemed to have more wildlife than the Madison to Canyon stretch although we did see coyotes in Gibbon Meadow.
If all of this guided opportunity seems a bit too structured, you can customize your tour to just about anything you want to do. You can hire a coach and guide for your group and create exactly the trip you desire. Lodging is even available at Old Faithful Snow Lodge if you want to stay a night or two and enjoy skiing or other activities. All it takes is money.
All in all, seeing Yellowstone in winter is worth the expense. It is certainly a winter wonderland, an awesome place made even more amazing when cloaked in ice and snow.
Local journalism is essential.
Give directly to The Spokesman-Review's Northwest Passages community forums series -- which helps to offset the costs of several reporter and editor positions at the newspaper -- by using the easy options below. Gifts processed in this system are not tax deductible, but are predominately used to help meet the local financial requirements needed to receive national matching-grant funds.
Subscribe to the sports newsletter
Get the day's top sports headlines and breaking news delivered to your inbox by subscribing here.
---