Sports
Poor free-throw shooting dooms Cougars in OT loss to Huskies
WSU can't overcome 14 missed foul shots as Andrews, Murray keep Washington perfect in Pac-12 play
UPDATED: Sat., Jan. 9, 2016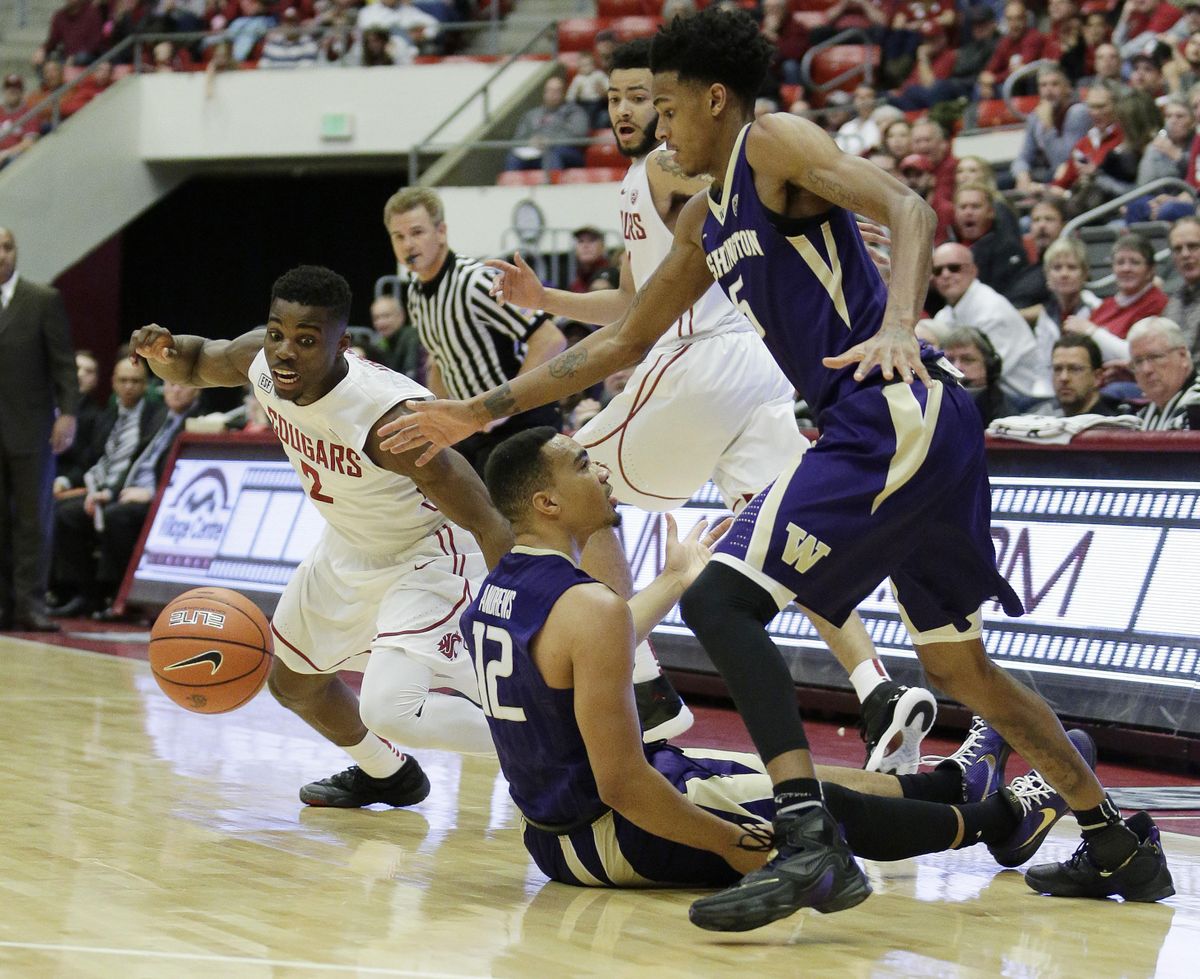 Washington State's Ike Iroegbu (2) goes after a loose ball against Washington's Dejounte Murray, right, as Andrew Andrews looks on during the first half of an NCAA college basketball game, Saturday, Jan. 9, 2016, in Pullman. (Young Kwak / Fr159675 Ap)
PULLMAN – The full cost of Washington State's sudden bout of free throw ineptitude cannot be measured merely as the lump sum of accumulated bricks, taken away from the team's final total in a game that was too close to be decided in regulation.
No, each clanked foul shot was a cruel cut, and a missed opportunity for a team that did not need much to go right to secure a win. Every time the Cougars stepped to line for a freebie only to follow with a "clank" heard throughout Beasley Coliseum, a probable comeback win seemed just a little more impossible.
And while WSU struggled to finish a shot so easy it has "free" in the title, the visiting Washington Huskies overcame a roster turned over by foul trouble to persevere in Pullman, 99-95.
The Cougars, who ranked No. 4 in the Pac-12 in free throw shooting (71.4 percent), missed 14 attempts, shooting just four for seven in overtime and three for eight in the last five minutes of regulation. WSU finished 23 for 37 from the line. UW went 23 for 30.
"I think we pretty much fouled out their whole team and they still kept their composure," Ernie Kent said. "And the game came down, really literally came down in a heavyweight match to free throw shooting."
With the students trickling back from their holiday break, only 4,025 fans were present, making Saturday's the lowest-attended game between the rivals since 2003.
And those who stayed away missed a doozy. Saturday afternoon's affair was chalk full of storylines befitting a rivalry game that has become exceedingly competitive since Kent became WSU's head coach last season. Since Kent arrived, neither team has won on its home court.
The Cougars (9-6, 1-2 Pac-12) roared back from a 10-point deficit with 4:24 to go, which the Huskies built using a flurry of 3-pointers to counter WSU's attempt at playing a zone defense. The game was extremely physical, and it was closely called, to the detriment of the Huskies, who had four players foul out and another two finish with four fouls.
The UW (11-4, 3-0) bench was so depleted that the Huskies finished the game with five guards on the floor, including two players who did not play before the overtime period.
The Huskies are the Pac-12's early surprise team, and will enter the third week of conference play as the only team without a Pac-12 loss. Coach Lorenzo Romar started four members of the team's highly-ranked incoming recruiting class against WSU, including former Rainer Beach star Dejounte Murray.
Murray scored 27 points against the Cougars, many in dazzling fashion. During one stretch he drained a 3-pointer, stole the ball, passed it ahead and was on the receiving end of the ensuing alley-oop pass, which he flushed home with one hand.
"They've been winners," Romar said of his young players. "They're accustomed to winning games, they're accustomed to knowing what it takes, even though they haven't done it at this level."
But the team and the game belong to fifth-year senior Andrew Andrews, who led all scorers with 29 points, had 10 rebounds and seven assists, while making 13 of 17 free throws. The Cougars were so concerned with the scoring ability of Andrews – who has already won two Pac-12 Player of the Week awards this season – that they entered a full court press in the second half, double-teaming Andrews.
"We wanted him to give it up," Charles Callison said. "He's the head of the snake and if you cut the head off the snake, there's nothing. We wanted freshmen to make plays."
The Cougars shot 40 percent from 3-pointers, and received the best performance yet from junior guard Ike Iroegbu, who led the team with 28 points, hitting two-of-three 3-pointers and consistently finishing at the rim after blowing past UW defenders.
Josh Hawkinson set a WSU record by recording his 10th consecutive double-double, 21 points and 20 rebounds, taking advantage of UW's tendency to switch every screen to wait until he was matched up against a guard, and then score in the post.
"They played as hard as they could play," Kent said. "Unfortunately, we came out on the short end and it didn't come down to bad defense, it didn't come down to lack of confidence. It didn't, it came down to bad free throw shooting in a hard, hard-fought battle."
Washington 99, Washington St. 95 (OT)
Washington (11-4)—Chriss 1-5 0-0 2, Thybulle 1-5 2-2 5, Dickerson 8-11 0-0 16, Murray 9-20 4-5 25, Andrews 7-17 13-17 29, Crisp 3-8 0-0 8, Dime 5-7 4-6 14, Green 0-0 0-0 0, Duruisseau 0-0 0-0 0, Dorsey 0-0 0-0 0. Totals 34-73 23-30 99.
Washington St. (9-6)—Longrus 0-1 0-2 0, Hawkinson 5-12 11-16 21, Iroegbu 11-18 4-5 28, Callison 5-16 4-8 14, Johnson 2-4 0-0 5, King 0-0 0-0 0, Suggs 4-7 1-2 10, Redding 0-0 0-0 0, Boese 2-2 0-0 6, Clifford 4-5 3-4 11. Totals 33-65 23-37 95.
Halftime—Washington St. 49-43. End Of Regulation—Tied 87. 3-Point Goals—Washington 8-20 (Murray 3-5, Andrews 2-5, Crisp 2-5, Thybulle 1-3, Chriss 0-2), Washington St. 6-15 (Boese 2-2, Iroegbu 2-3, Johnson 1-2, Suggs 1-3, Callison 0-5). Fouled Out—Chriss, Dickerson, Dime, Suggs, Thybulle. Rebounds—Washington 39 (Andrews 10), Washington St. 42 (Hawkinson 20). Assists—Washington 15 (Andrews, Murray 7), Washington St. 9 (Callison 5). Total Fouls—Washington 30, Washington St. 22. A—4,025.
Local journalism is essential.
Give directly to The Spokesman-Review's Northwest Passages community forums series -- which helps to offset the costs of several reporter and editor positions at the newspaper -- by using the easy options below. Gifts processed in this system are not tax deductible, but are predominately used to help meet the local financial requirements needed to receive national matching-grant funds.
Subscribe to the sports newsletter
Get the day's top sports headlines and breaking news delivered to your inbox by subscribing here.
---