Sports > Outdoors
Pack mules do the heavy lifting while offering their brand of education
Sat., July 23, 2016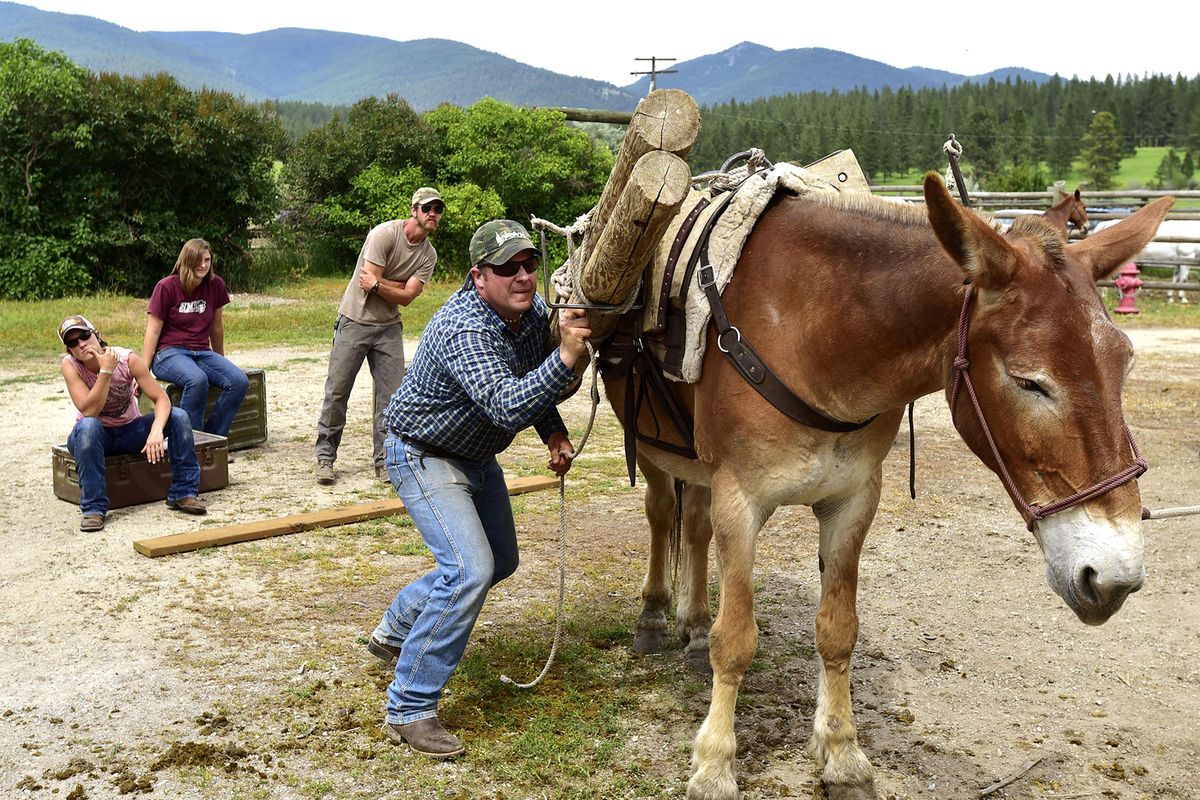 Casey Burns demonstrates how to attach a load to a lumber bunk on Bart during a packing class at the Ninemile Remount Depot. Burns is a fourth-generation packer and is the chief packer at Ninemile, the U.S. Forest Service mule packing headquarters for the Northern Region. (TOM BAUER/Missoulian / Missoulian)
The best teachers at the Ninemile Remount Depot's packing class never say a word, and might kick you into next week if you get a lesson wrong.
Bert, Bart, Ernie and Palmer keep an impassive watch on their students as they swing wooden planks, fuel tanks, chainsaws, canvas sheets and rope on and off their saddles. As the heavy lifters of the U.S. Forest Service's backcountry freight delivery system, these mules give the final grade.
"I'm only here two weeks a year, but when I walked up, Palmer nickered at me – 'Oh, you're back,' " said Smoke Elser, the lead human teacher at the Remount Depot's annual spring packing workshop. "They all know how to teach this class. They establish relationships with people. And they take care of themselves."
Elser's 15 students all came to Ninemile to learn an ancient art. Working with beasts of burden was one of the cornerstones of civilization. Now we have helicopters and four-wheelers and power tools, but there remain some places where Stone Age rules still apply. Montana has about 3.5 million acres of them.
This marks the 36th year Elser has taught at the Ninemile Remount Center. He also teaches 50 to 60 students at the University of Montana every winter.
"I'm tired," he said. "I'm 82 years old. But the art of packing is disappearing. That's the only reason I keep doing it."
After decades of leading dudes into the Bob Marshall Wilderness, Elser gave up his outfitting license a few years ago. But he couldn't get used to retirement. So he keeps his hand in by working with Casey Burns, the chief packer at Ninemile and a fourth-generation student of the mules.
"My uncle was a packer – Jerry Burns out of Lincoln – it's in the family line," Burns said, greeting visitors with a firm three-fingered handshake. He lost all of them in an accident with a wood planer, but surgeons were able to reattach all but one.
Casey Burns' great-grandfather was running mules for the U.S. Geological Survey between 1897 and 1907, helping the U.S. Forest Service determine what was national forest and what wasn't. Jerry Burns served in Vietnam, and returned to Montana to become one of the Forest Service's first law enforcement agents in the Scapegoat area. Casey Burns recalled spending several grade-school summers tagging along with the trail crews his uncle led, too young to do anything but wonder.
"As a kid I didn't know what wilderness was," he said. "I assumed everything around us was backcountry. But as long as we have wilderness, this tradition will continue."
By law, federally designated wilderness must be managed by the least invasive, nonmechanized methods possible when any kind of human management is deemed essential at all. That means using cross-cut saws to clear deadfall from trails, block-and-tackle rigs to lift bridge timbers and spud bars to pry rocks out of trail treads. Mules are perfect for hauling such heavy gear in and out of the wilderness.
They're also essential for regular national forest where firefighters get parachuted into roadless woods to control wildfire. The U.S. military needs to keep its mule-packing skills fresh for activity in places like Afghanistan. And the outfitting industry has seen a resurgence of customers wanting to take a pack string for family vacations deep in the backcountry.
All of those variations have schooled with the Ninemile mules. This spring's class included a Forest Service law enforcement officer who wore his gun to class, a large animal veterinarian, and two apprentice packers for the Bob Marshall Wilderness Foundation who will be resupplying groups of volunteers who spend their summers doing maintenance work deep behind the Rocky Mountain Front.
"This is my introduction to the entire stock experience," said Keean Ruane, an American Conservation Corps worker from Flagstaff, Arizona. His biggest eye-opener was the range of things that could travel by horseback. Elser's tale of packing a piano into a backwoods camp was the one Ruane planned to share with family.
Rope forms the foundation of that training. Ruane was trying to remember the array of a dozen hitches, bends and knots that literally hold packing together.
The knots built on each other. Combine a basket hitch, barrel hitch and a clove hitch, and you get a timber hitch that will attach a 12-foot plank to a mule's saddle.
The timber hitch works well for a couple of planks. Pack a lot, and you may need a lumber bunk. This specialized block of cottonwood with a hand-forged iron "J" ensures the boards stay together and ride above a mule's ears. A veteran like Bart knows how to duck his head below the upper end of the plank.
'The cool thing about a mule is they know that," Burns said. "They don't want something whacking them around the head when they're going down the trail."
Loads change as the trip goes on. Fuel tanks get emptied. Garbage bags fill up. But the mule saddles always have to ride even.
"We pack rocks all the time," Burns said. "You need them to balance the load.
"It really screws up the geologists. We'll pack a rock out of the creek bottom and leave it on top of the pass."
Local journalism is essential.
Give directly to The Spokesman-Review's Northwest Passages community forums series -- which helps to offset the costs of several reporter and editor positions at the newspaper -- by using the easy options below. Gifts processed in this system are not tax deductible, but are predominately used to help meet the local financial requirements needed to receive national matching-grant funds.
Subscribe to the sports newsletter
Get the day's top sports headlines and breaking news delivered to your inbox by subscribing here.
---