Washington Democrats meet for state convention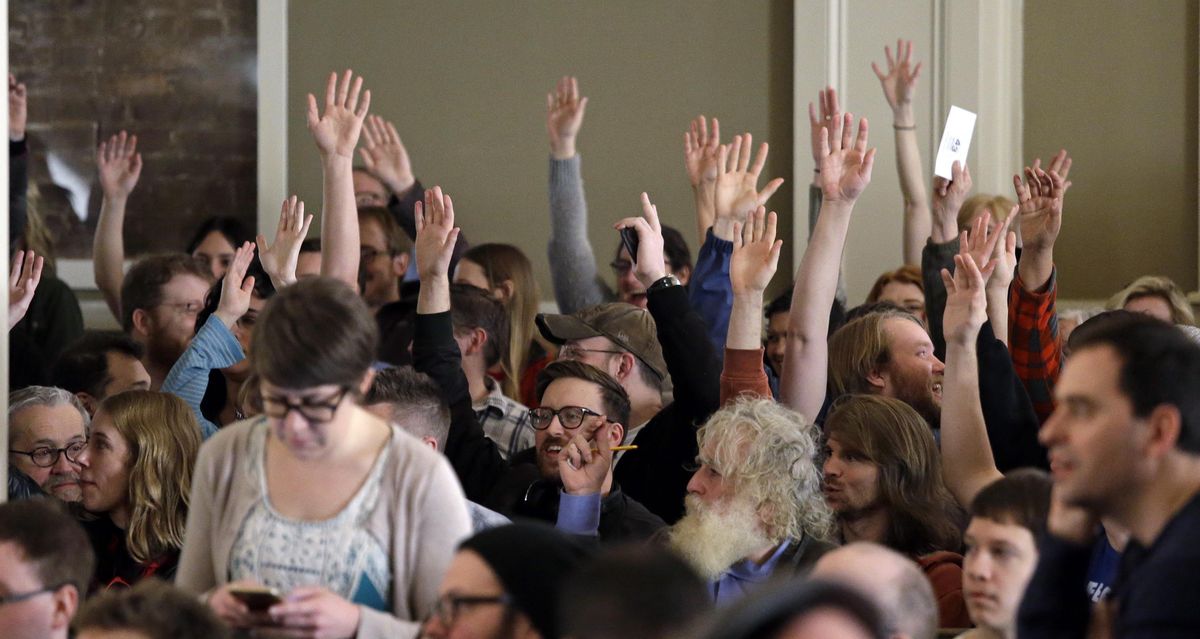 TACOMA, Wash. – Washington Democrats convened for their three-day state convention on Friday to pass a party platform and finish electing delegates to the national convention this summer.
About 1,400 people are expected to be on hand at the Greater Tacoma Convention and Trade Center for meetings ranging from workshops on grassroots organizing to meetings on resolutions related to the platform.
State party spokesman Marc Siegel said that the convention is a good opportunity for Democrats across the state "to gather, conduct party business and get ready for the campaigns ahead."
"You'll see a very vibrant spirit as folks turn toward November," he said.
Supporters of Bernie Sanders far outnumbered those supporting the presumed nominee, Hillary Clinton.
The selection of delegates is a formality and the two candidates will be awarded delegates proportional to their finish at the Democratic caucuses in March. Sanders, who won the caucuses, will have 74 delegates representing him at the national convention in Philadelphia in July. Clinton will have 27 delegates from Washington state. In addition, 17 superdelegates, most of whom have already pledged their support to Clinton, will represent the state at the convention.
Donna Burdick, a Sanders delegate from Everett, was carrying a life-sized crocheted upper body of Bernie Sanders that she made following the caucuses.
She said she's not ready to give up hope for Sanders because Clinton is "the status quo."
"I want progress," she said.
If nothing else, Burdick said she hopes that she hopes that the strength of Sanders supporters helps push Clinton to supporting goals like single-payer health care and tuition-free college.
"Those two issues would help the lower income people a lot," she said.
Gloria Hatcher-Mays, a Clinton delegate from Renton, was working at a Clinton booth at the convention. She said that while Sanders supporters were still a force in the state, "there's a shift from the caucuses, where it was just all Bernie all the time."
"We're seeing a lot of people shifting gears," she said. "I do think we're going to be able to unite."
On Saturday, the party will adopt its platform and elect the presidential electors who will cast the state's Electoral College vote in December.
Sixty-seven delegates were elected at the party's May congressional caucuses. On Sunday, the remaining 34 national delegates and eight alternates to the Democratic National Convention will be elected.
---