News > Nation/World
U.S. official: Debris from same type of plane as MH370
Wed., March 2, 2016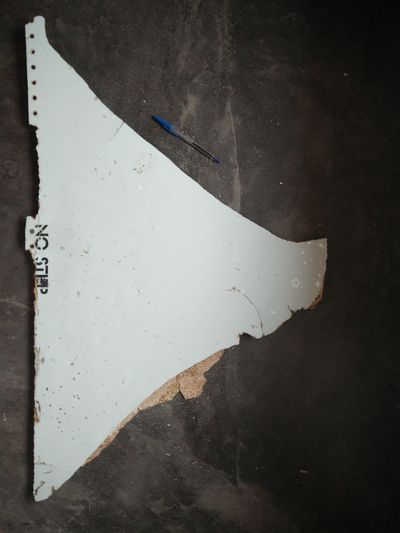 WASHINGTON – Debris that washed up in Mozambique has been tentatively identified as a part from the same type of aircraft as the missing Malaysia Airlines Flight 370, a U.S. official said Wednesday.
Photos of the debris discovered over the weekend appear to show the fixed leading edge of the right-hand tail section of a Boeing 777, said the official, who spoke on condition of anonymity because he wasn't authorized to speak publicly. Flight 370, which disappeared two years ago with 239 people aboard, is the only known missing 777.
People who have handled the part, called a horizontal stabilizer, say it appears to be made of fiberglass composite on the outside, with aluminum honeycombing on the inside, the official said.
The Australian Transport Safety Bureau, which is running the search for the plane in remote waters off Australia's west coast, said the part was expected to be transported to Australia for examination.
Malaysian transport minister Liow Tiong Lai also confirmed in tweets about the discovery that it appears the debris may have come from the missing plane.
"Based on early reports, high possibility debris found in Mozambique belongs to a B777," Liow said in a series of tweets.
"It is yet to be confirmed & verified. @dca–malaysia working w Australian counterparts to retrieve the debris." He urged "everyone to avoid undue speculation as we are not able to conclude that the debris belongs to #mh370 at this time."
Australian officials have seen photographs of the debris and have been in communication with Blaine Gibson, the American man who found the part, said Dan O'Malley, a spokesman for the Australian Transport Safety Bureau.
Australia will work with Malaysian investigators to examine the object once it arrives in Australia, O'Malley said.
Local journalism is essential.
Give directly to The Spokesman-Review's Northwest Passages community forums series -- which helps to offset the costs of several reporter and editor positions at the newspaper -- by using the easy options below. Gifts processed in this system are not tax deductible, but are predominately used to help meet the local financial requirements needed to receive national matching-grant funds.
Subscribe to the Coronavirus newsletter
Get the day's latest Coronavirus news delivered to your inbox by subscribing to our newsletter.
---