News > Obituaries
Obituary: Mcmaster, Lois Margaret (Hubrig)
Age 86
Wed., March 2, 2016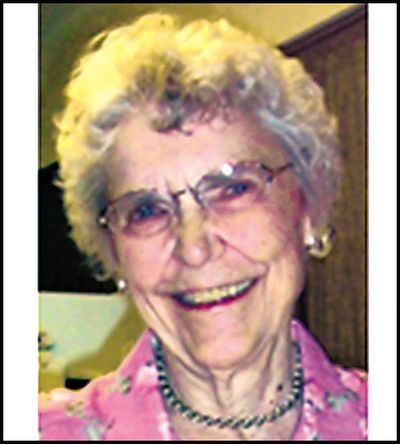 McMASTER, Lois Margaret (Hubrig)

(Age 86)

Lois Margaret McMaster, formerly of Sun City, AZ, passed away on February 22, 2016 at Royal Oaks Life Care Center, Sun City, AZ.
A 'Celebration of Life' Service will be held at Zion Lutheran Church, 8304 E. Buckeye, Spokane Valley, WA , on March 7, 2016 at 11:00 am.
Lois was born on April 11, 1929 in DeVillo Township, Fairmount, ND, to Gustav and Anna (Medenwaldt) Hubrig.
She was baptized, raised and continued in the Lutheran faith.

A couple of years after the family moved to Wahpeton, ND, Lois met and fell in love with Jerome "Jerry" McMaster and were wed June 12, 1946 in Wahpeton, ND which lasted 55 years until his death on September 4, 2001.
They moved to Spokane around 1954 and in 1960 they bought a small farm in Millwood (rural Spokane) and were members of Zion Lutheran Church.
While raising her family, she continued her education which lead to a 30-year career at Spokane Community College.
Lois was well known for her optimism no matter what obstacles presented themselves.
"When given lemons, make lemonade", would have best described Lois!
She was a fantastic cook and loved to feed everyone and the Holiday feasts laid testimony to these facts.
Other than her parents and husband, she was preceded in death by a daughter, Ranee Rohwer; and four brothers, Alfred (Elaine) Hubrig of Fairmount, ND, Earl (Fern) Hubrig of 1000 Palms, CA, Ferail (Margie) Hubrig of Selma, CA, Sylvan (Agnes) Hubrig of Sun City, AZ.

She is survived by a son, Rande (Veva) McMaster; a daughter, Robin (Kim) Caudill; seven grandchildren; ten great-grandchildren; and three great-great-grandchildren.
Lois and Jerry's cremated remains will be laid to rest at Pines Cemetery Mausoleum, Spokane Valley, WA.
Local journalism is essential.
Give directly to The Spokesman-Review's Northwest Passages community forums series -- which helps to offset the costs of several reporter and editor positions at the newspaper -- by using the easy options below. Gifts processed in this system are not tax deductible, but are predominately used to help meet the local financial requirements needed to receive national matching-grant funds.
Subscribe to the Coronavirus newsletter
Get the day's latest Coronavirus news delivered to your inbox by subscribing to our newsletter.
---