News > Obituaries
Obituary: Tesarik, Dorothea Joanne
Age 95
Wed., March 2, 2016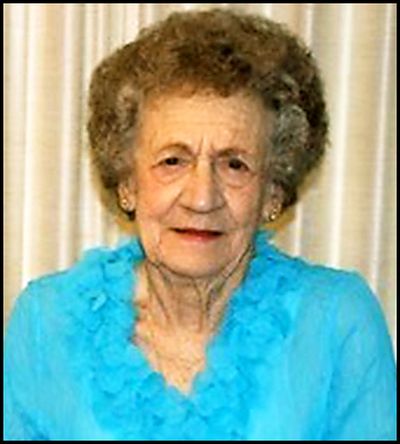 TESARIK,

Dorothea Joanne

Passed away February 23, 2016.
She was born May 22, 1920 to Charles Adam and Anna Marie Gave in Taylor, North Dakota.
Her family moved to White Bluff, WA in 1921 and to Spokane in 1925.
She graduated from North Central High School in 1938.
She was a hostess for Washington Motor Coach.
Dodie (Dorothea) worked for Safeway Stores for 32 years, most at the Lincoln Heights stores.
After retiring, she spent 17 winters in Mesa, AZ., where she danced and performed with the Val Vista Tappers.
She spent her remaining years in Spokane.
Dodie was preceded in death by her mother and father, her sister Inez Gunning, brothers Leslie E. Gabe, Charles H. Gabe, Douglas R. Gabe and son Thomas L. Tesarik.
She is survived by son James R. (Marcia) Tesarik of Spokane and daughter Joanne M. Hannawalt of Renton, WA, seven grandchildren, three stepgrandchildren, nine great-grandchildren and one great-great-grandchild.
Local journalism is essential.
Give directly to The Spokesman-Review's Northwest Passages community forums series -- which helps to offset the costs of several reporter and editor positions at the newspaper -- by using the easy options below. Gifts processed in this system are not tax deductible, but are predominately used to help meet the local financial requirements needed to receive national matching-grant funds.
Subscribe to the Coronavirus newsletter
Get the day's latest Coronavirus news delivered to your inbox by subscribing to our newsletter.
---